Ross Douthat, a columnist for the New York Times who editorializes for the Republican Establishment, fired off a (since-deleted) tweet Wednesday that declared, "Good news guys I've figured out how the Trump campaign ends[.]" Douthat added a link to a two-minute YouTube video that shows the brutal assassination attempt of a fictional presidential candidate.
The clip (below) is from the film "The Dead Zone," where the assassination attempt is portrayed as a heroic and selfless act to stop a George Wallace-esque demagogue well on his way to the Oval Office.
—
—
Courtesy of Gateway Pundit, here's a screen grab of Douthat's tweet:
—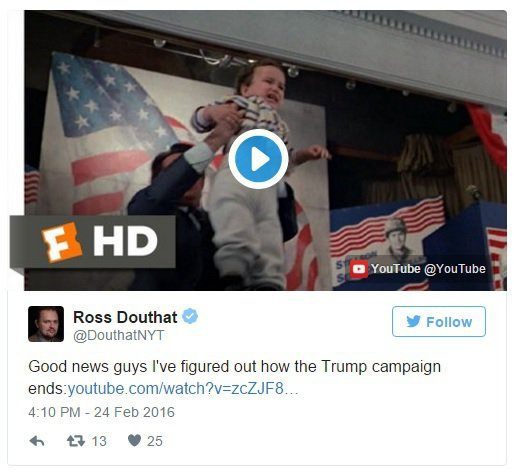 —
Even though, like all segregationists, segregationist George Wallace was a Democrat, right-leaning New York Times' columnists now seem eager to join left-wing outlets like Politico and The Daily Beast and MSNBC and Slate in the George Wallace-ing of Donald Trump.
And  now that Trump is the prohibitive frontrunner, why not joke about taking that idea straight through to the end, straight through to an assassination attempt that "saves America" just as "The Demagogue" starts winning presidential primaries.
Douthat has apologized for his "joke." We should accept the apology and move on. Everyone makes mistakes. Everyone makes bad jokes. And everyone should be appalled by our Orwellian culture that wipes away entire people and careers over such things.
But that doesn't change this fact….
How lucky is Douthat that he chose an "accepted" target for such a thing? If it had been a Hillary Clinton or a Bernie Sanders or, heaven forbid (no sarcasm there), President Obama, a New York Times security guard would currently be watching a columnist fill a cardboard box.
That's not going to happen here, though, because according to our Media Betters, "othering" a Republican into something assassinate-able, means only having to say you're sorry.
Follow John Nolte on Twitter @NolteNC