Breitbart Texas traveled to the Mexican States of Tamaulipas and Coahuila to recruit citizen journalists willing to risk their lives and expose the cartels silencing their communities.  The writers would face certain death at the hands of the various cartels that operate in those areas including the Gulf Cartel and Los Zetas if a pseudonym were not used. Breitbart Texas' Cartel Chronicles are published in both English and in their original Spanish. This article was written by Coahuila's "JM Martinez" and Breitbart Texas' Ildefonso Ortiz.
PIEDRAS NEGRAS, Coahuila — A team of Los Zetas cartel gunmen brazenly crossed the Texas border waters of the Rio Grande in order to elude Mexican authorities who had been chasing them. Once in Texas, the Los Zetas gunmen were able to disappear into the the United States without any U.S. law enforcement agency doing anything about it.
While Mexican authorities were not able to continue the pursuit, they did seize a dark SUV and the weapons that Los Zetas gunmen had been carrying.  The case began when a team of police officers with the Investigative Police from the Coahuila's Attorney General's Office received information about an area that was being used as a drug trafficking and human smuggling hub for Los Zetas.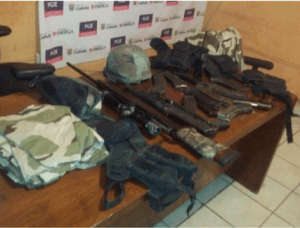 Acting on the intelligence, the Coahuila agents learned that certain areas along the Riverana Highway which connects the border cities of Piedras Negras and Acuna was being used as staging areas for smuggling activity. The agents were searching the area near the 32 kilometer marker when they spotted an SUV with several Los Zetas gunmen inside. MExican authorities turned on their lights and sirens and began to chase the gunmen.
As the chase continued, the gunmen turned off into a dirt road and then began taking a series of turns into various other makeshift roads that ended up leading the Los Zetas gunmen to the banks of the Rio Grande.  The cartel gunmen left the truck and some of their weapons behind and crossed the river into the United States where they were able to disappear without U.S. law enforcement being able to do anything about it.
Coahuila PGJE investigators ended up seizing a 2015 Toyota Tundra with various weapons tactical gear and communication equipment inside.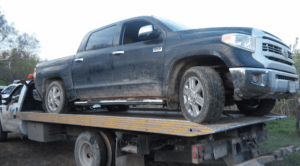 The weapons were turned over to the PGJE's ballistics department in order to carry out the mandatory investigation and documenting procedures.
Coahuila's Investigative Police and other PGJE' teams such as the GATES continue target and actively hunt down cartel operations as groups like Los Zetas continue trying to reclaim their lost territories.
The case shows the frontal attack against organized crime that Mexican authorities have taken in this border state. However, Coahuila's enforcement actions also show the lack of coordination by U.S. border enforcement which allowed a team of Zeta hit men to enter the United States and disappear.