Mexican authorities are currently investigating soap opera starlet Kate Del Castillo under suspicion that Mexican drug lord Joaquin "El Chapo" Guzman may have given her money to start a tequila company.
As previously reported by Breitbart Texas, Guzman spent months on the run after a high profile escape from a maximum security prison. The drug lord's luck ran out when authorities caught him in Los Mochis, Sinaloa. Shortly after the capture, Rolling Stone Magazine published an article by Hollywood activist Sean Penn about a meeting that he and Del Castillo had with El Chapo about a biographical movie.
Penn's stunt was highly criticized by journalists in Mexico and Latin America as a slap in the face to the ones who have died trying to shed light into Mexico's drug violence. The story was also criticized for having praised El Chapo rather than shown the ruthless reality of the drug war.
Since that interview, as Breitbart Texas previously reported, Penn has come out publicly stating that the interview was a failure.
Breitbart Texas first reported about how the drug lord had been infatuated with Del Castillo and the two had been exchanging messages and conversations. New revelations published by Mexico's SinEmbargo.Mx show that the connection may have crossed over into a business relation.
Mexican Attorney General Arely Gomez said that they are investigating the tequila connection as well as who paid for the travel by Del Castillo and Penn to meet with Guzman, SinEmbargo.Mx reported.
The tequila deals with Tequila Honor, a new startup liquor brand that Del Castillo is undertaking. Various leaked text messages from Guzman to Del Castillo point to the drug lord having had interests in the tequila brand.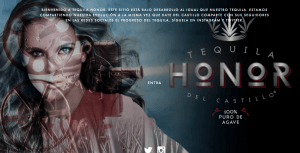 "We have have indications but we do not have jurisdictional certainty that is the reason for the investigation," Gomez said.
Despite being famous in Mexico, Del Castillo has a dual citizenship and lives in the United States, that is why Gomez said she could provide her statements to authorities at one of the Mexican consulates near her.
Ildefonso Ortiz is an award winning journalist with Breitbart Texas you can follow him on Twitter and on Facebook.