A Spanish-speaking Facebook group is being used to alert 29,753 members of law enforcement checkpoints. Posts on the page claims it is alerting those "who don't have a driver license and [to] report accidents" but it could also be used to avoid law enforcement for any criminal activity, including human, drug, and sex trafficking.
The social media page titled "Reten De Law Policia (Checkpoint) California" targets checkpoints in California but members on the Facebook page also discuss traveling across state lines.
The Facebook page — which is currently accessible to anyone in the public with a Facebook account — purports to show photos and warnings about law enforcement locations and checkpoints.
Updates on the page also appear to receive a great deal of interaction and responses. This one posted in El Monte, California on July 2nd has received over 145 reactions and over 50 shares. It is inquiring about Ramona, California, a small city in San Diego County. The county shares a border with Mexico.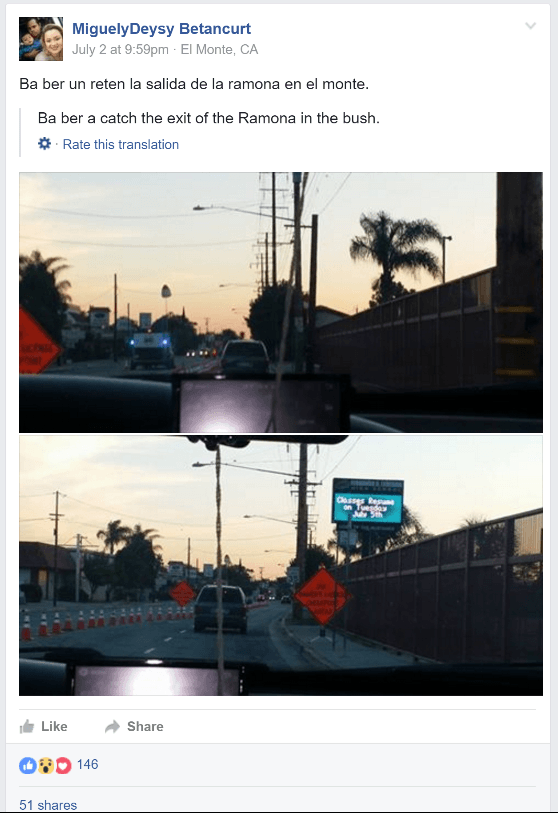 This post on June 24 with a photo of the Ontario, California, police department had 262 reactions and 175 shares. One Facebook user appeared to warn another  by tagging her in the comment section.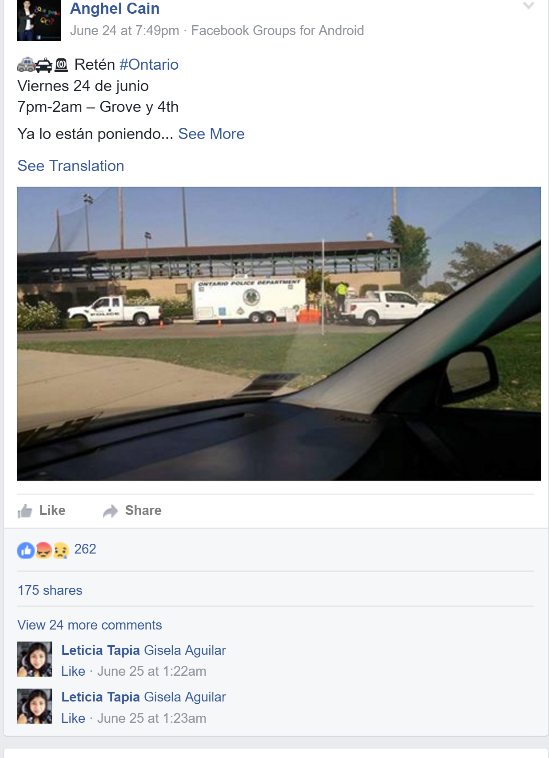 The Facebook page is also used to ask if there are roadblocks at a particular location or if a particular area is "all clean."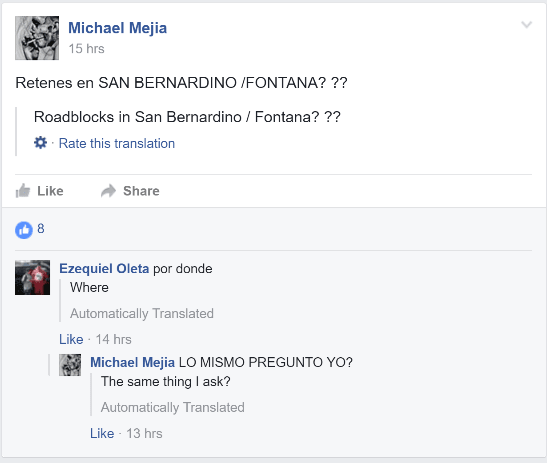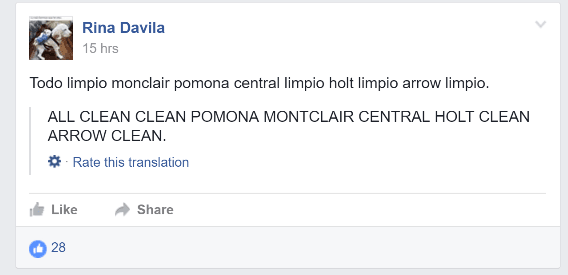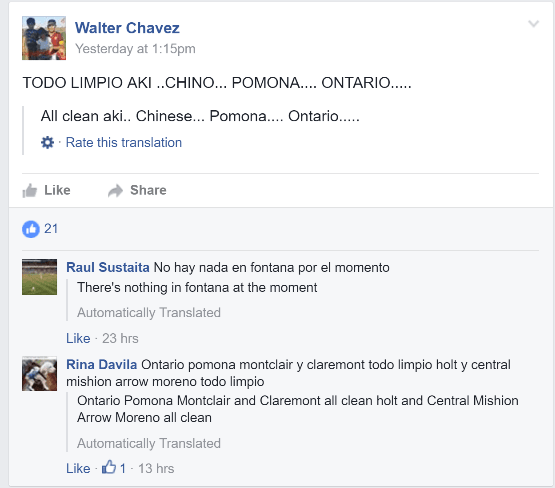 Facebook provides readers with a link where posts can be clicked to instantly get a translation from Spanish to English.
On July 4, it also warned those in the group, "Don't buy of illegal immigrants that apparently the fine is a minimum of $1000 and / or a maximum a year in prison for anyone who is caught using illegal fireworks." [translated] However, a look at the Facebook "Checkpoint" page shows it is not just used for the Fourth of July or for holidays.
The page has postings of photos of Border Patrol vehicles with notations of, "Be careful my people saw this post on this page." [translated]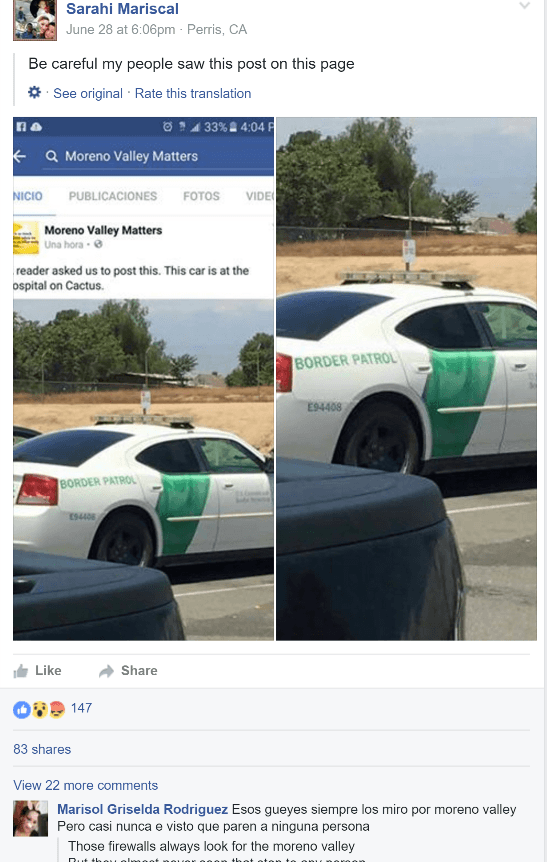 A group member apparently used the page to ask if one can safely travel across state lines, here asking "if there's catch from San Francisco to the or to Nevada." Comments were made to the post to answer the question.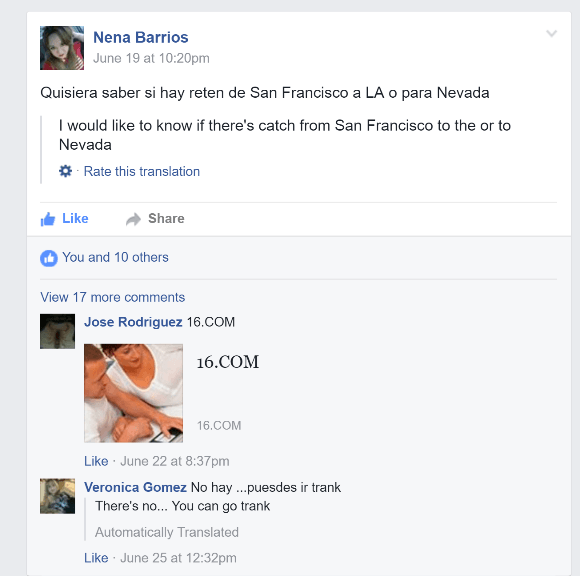 A comment to another Facebook post asked about going to Dallas, Texas.
The apparent administrator of the Facebook page is Anghel Cain. According to his personal Facebook page, he is a "Presentador at Ritmo Sin Fronteras and LATV and he lives in Santa Ana, California. It also says he is from Mexico City, Mexico.
On June 14, Cain asked group members:
"Who here likes posting checkpoints without me having to approve the post? If I activate you guys can report retainers without me having to approve the posting,,,, I would support reportandoa who post sales, flyers and things that have nothing to do with the group? Or we continue like this? I ask because someone wanted to stream live a challenge and could not do it at the time. I couldn't wait for me to approve." [translated]
On June 6, the administrator Anghel Cain conducted a poll of the group saying:
"Despite the fact that this group is to help the people who don't have a driver license and report accidents, a lot of people sent me to claims that we are alerting the 'drunk' and that almost all have license, thanks to the ab60. I answer that by law the police has to publish every challenge that they do and that we can just share the information. Even so i want to know if this group is helping people and ask them if we continue with the group or shut it down or create a new one that don't say 'roadblocks' Think and vote in the poll." [translated]
The overwhelming answer to his poll, as seen in the screen shot below, was in support of continuing the group. This category received 953 votes as of the time of this article.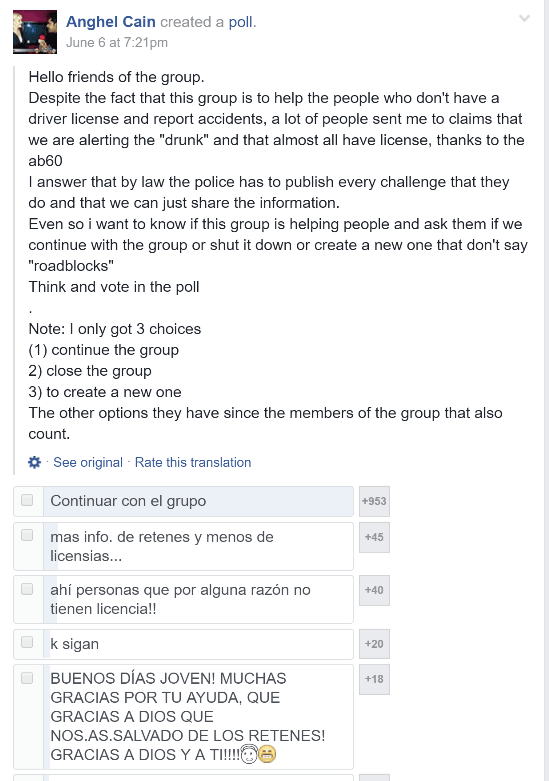 The reference to "ab60" in the post is to California's Assembly Bill 60. As reported by Breitbart News in January 2015, California starting implementing the law that allows illegal aliens to obtain a driver's license in the state. During the first year, 605,000 driver's licenses were issued.
"It seems the purpose of this Facebook page is to help illegal aliens and Spanish-speaking U.S. citizens who are unable to obtain a driver's license to avoid law enforcement," Jon Feere told Breitbart Texas.
Feere, who serves as the Legal Policy Analyst for the Center for Immigration Studies (CIS) added, "Most of the posts are from California, a state that gives out driver's licenses to illegal aliens, so one wonders what is precluding these individuals from getting one. Did they fail the exam? Are they unwilling to purchase insurance? These are questions one must ask whether we're talking about U.S. citizens or illegal aliens. But it does suggest that offering driver's licenses to illegal aliens does not mean that illegal aliens will stop driving if they can't pass a driving test or are unable or unwilling to purchase insurance."
The legal policy analyst concluded, "A Facebook page like this is undoubtedly beneficial to foreign nationals who have sneaked across the border and are smuggling people or drugs. It's notable that many of the checkpoint notices are specific to southern California."
Sheriff-elect Benny Martinez, who is a deputy in Brooks County, told Breitbart Texas that he believes the Facebook page is being used to "detour criminals from highways and byways where there is a law enforcement presence." Brooks County is just one county from the Texas-Mexico border and Martinez deals with illegal immigration issues daily.
The border area deputy added, "If I were in the criminal element in California, I would use the Facebook page if I were involved in narcotics or human trafficking. I would ask where is law enforcement today, and I would look for the coordination of federal and local law enforcement authorities." He noted that criminals can now use their GPS to go around checkpoints and law enforcement covered areas and use back roads.
Facebook CEO Mark Zuckerberg has been called the "dictator" of the "biggest nation of the world," and there is no doubt about the social media company's ability to influence content, as reported by Breitbart News. The 32-year-old billionaire has been criticized for promoting amnesty through his lobbyist group Fwd.US, and he has been accused of suppressing conservative content.
In May, Stephen K. Bannon and Alexander Marlow of Breitbart reported that Zuckerberg announced he was planning a "pat conservatives on the head" session with "leading conservatives" to discuss the scandal involving his company's suppression of conservative media. They wrote, "We have zero interest in a Facebook photo-op" and noted that despite Facebook's suppression of conservative content in its Trending News section, Breitbart News was #15 in the world on Facebook for total engagement, #12 in the world on Facebook for Shares, and #10 in the world on Facebook for comments.
Breitbart Texas raised questions on July 5 about the company's blocking a gun range owner's Facebook page. The page was restored the same day after the article appeared on Breitbart's front page.
Lana Shadwick is a contributing writer and legal analyst for Breitbart Texas. She has served as a prosecutor and associate judge in Texas. Follow her on Twitter @LanaShadwick2.