MATAMOROS, Tamaulipas — A female kickball coach from Brownsville, Texas has been criminally charged in connection with kidnapping a 14-year-old female and taking her to Mexico.
The kidnapping took place last week when, according to information provided to Breitbart Texas by Brownsville police, 30-year-old Claudia Guerra allegedly kidnapped 14-year-old Erika Govea before taking her south of the border. Preliminary information points to the teen running away with Guerra, however due to her age, the case became criminal in nature. Guerra has since been charged with one count of aggravated kidnapping, her bond was set at $200,000.
In response to the kidnapping, Texas cops reached out to their counterparts in Mexico. Mexico's Attorney General's Office (PGR) issued an Amber alert in an effort to locate the missing teen.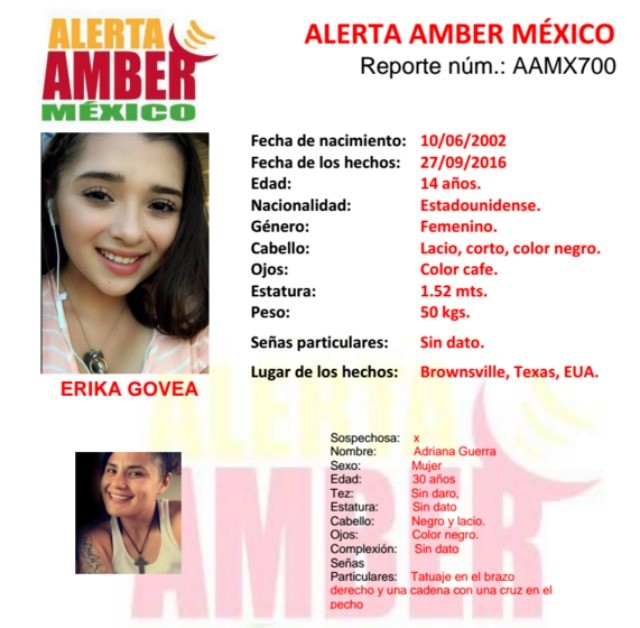 According to information released by the Tamaulipas government, members of the state police unit located the teen at a a local business that belonged to a relative of Guerra. The relative told authorities that Guerra had convinced the teen to return to Texas to avoid getting in trouble with authorities.
Mexican authorities claim they took Guerra to one of the local bridges for her arrest by Texas authorities. That version of events varies from the version provided by Brownsville Police, who claim that Guerra drove her vehicle to the bridge in an effort to return to Brownsville and that is when she was placed under arrest.
Editor's Note: Breitbart Texas traveled to the Mexican States of Tamaulipas, Coahuila and Nuevo León to recruit citizen journalists willing to risk their lives and expose the cartels silencing their communities.  The writers would face certain death at the hands of the various cartels that operate in those areas including the Gulf Cartel and Los Zetas if a pseudonym were not used. Breitbart Texas' Cartel Chronicles are published in both English and in their original Spanish. This article was written by "J.A. Espinoza" from Matamoros.