Mexican President Enrique Peña Nieto took to Twitter early Wednesday morning to celebrate the U.S. electoral process and congratulate President-Elect Donald J. Trump on his victory.
"The American people have chosen their next President," Peña Nieto wrote in Spanish on Twitter. "I congratulate USA on their electoral process and reiterate my disposition to work together with Donald Trump in favor of a bilateral relationship."

Mexico and the U.S. are friends, partners and allies that must continue collaborating for competitively and the development of North America, the president said.
"I trust that Mexico and the U.S. will continue strengthening the bond of cooperation and mutual respect," Peña Nieto said.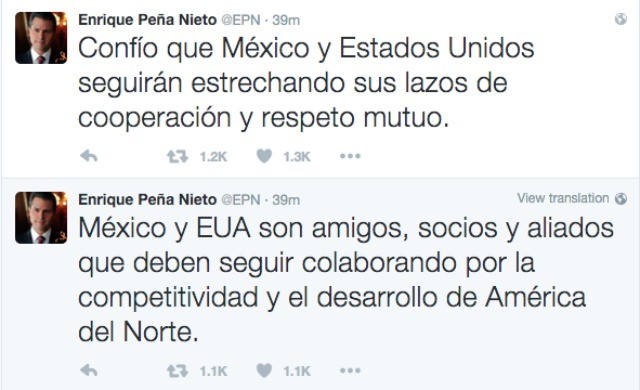 Peña Nieto's comments come hours after Donald Trump won a tight race for the White House. One of the key issues in the campaign focused on was Mexico's lack of cooperation in blocking lucrative human smuggling and drug trafficking routes that have allowed cartels to flourish.
As Breitbart Texas has been reporting, the south Texas area known as the Rio Grande Valley is being used by the Gulf Cartel as one of their main smuggling routes used to move record setting numbers of illegal immigrants who have overwhelmed the detention and enforcement capabilities of federal authorities. Despite the attention on the U.S. side, Mexican cartels are able to operate with complete impunity south of the border. 
Ildefonso Ortiz is an award winning journalist with Breitbart Texas. He co-founded the Cartel Chronicles project and you can follow him on Twitter and on Facebook.