The Texas man accused of killing 13 seniors returning from a church retreat had taken drugs and smoked marijuana before driving his pickup truck. He also admitted to texting before the crash.
Court records stated Jack D. Young, 20, took prescription pills and may have smoked marijuana before departing on a trip in his truck that would kill 13 members of the First Baptist Church of New Braunfels, the San Antonio Express-News reported Tuesday night. The records state Young confessed to taking two pills of Clonazepam. He said the pills make him sleepy. Clonazepam is the generic form of Ambien and Lexapro.
Texas DPS troopers said they had probable cause at the crash scene to believe Young was intoxicated. Troopers cited a video taken by a passenger of a vehicle following Young before the crash and Young statements at the scene as evidence for a blood draw to determine his level of intoxication. In the video, Young's truck could be seen weaving far across the center line and right side shoulder.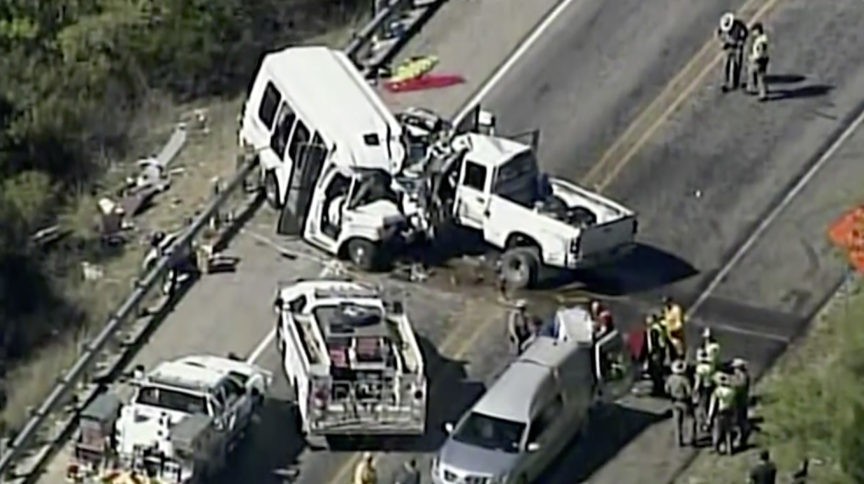 Jody Kuchler, 55, recorded the revealing video as he called police to report the hazardous driving of 20-year-old Jack Dillon Young, the pickup truck's driver. The San Antonio Express-News released the video showing the white Dodge pickup truck repeatedly crossing the center line and right shoulder marker. Kuchler recorded for approximately 20 minutes while attempting to get police to respond, the Daily Mail reported.
Kuchler told reporters he recorded up to the moment of the collision with the church bus. He said they driver, Young, told him, "I'm sorry, I'm sorry. I was texting." Kuchler said he responded, "Son, do you know what you just did?" to which Young responded, "I'm sorry. I'm sorry."
Troopers also found two complete marijuana cigarettes and five partially smoked joints, the San Antonio newspaper reported.
Charges against the young man are pending at this time. District Attorney Daniel Kindred he will await the results of the toxicology reports before filing charges.
Kuchler also had a search warrant for Young's phone and for a recording device in Young's truck that captures the vehicle's speed, braking, and steering data at the time of the crash.
Bob Price serves as associate editor and senior political news contributor for Breitbart Texas. He is a founding member of the Breitbart Texas team. Follow him on Twitter @BobPriceBBTX and Facebook.