A college professor in Puerto Rico created a new mobile app to make a game out of stopping President Donald Trump's border walls.
Professor Carlos Marcial Torres created a new mobile app game based on the classic hit Tetris. The app is titled, "Stop the Wall." He opens the game with a screen depicting President Trump.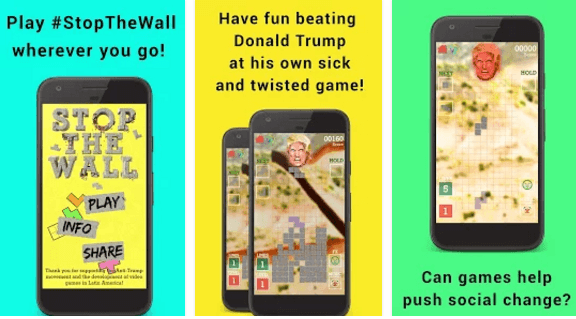 "The game is 'reactionary.' Reacting to Trump's xenophobic, racist and hate phrases and thoughts. We use technology to combat all that," Torres, 33, Al Dia reported.
Torres added many "Trump phrases" into the game, and at one point he adds, "The wall just got 10 feet taller," followed by, "I would build a great wall and nobody builds walls better than me, believe me." The game is distributed both on iTunes and Google Play. Google says the game has been downloaded to Android devices between 100 and 500 times, while Apple does not indicate the number of downloads. Apple does say the app has not received enough ratings to have a displayed average rating.
The game's description on the download page states:
Finally, a game based on a classic block puzzle where you have to stop Donald Trump's Wall of Infamy. Have fun while being socially conscious. Compete against your friends to see who can #StopTheWall longer. Share your high scores with all the people in your social networks. Invite your friends (and even Donald Trump) to try and beat your high score.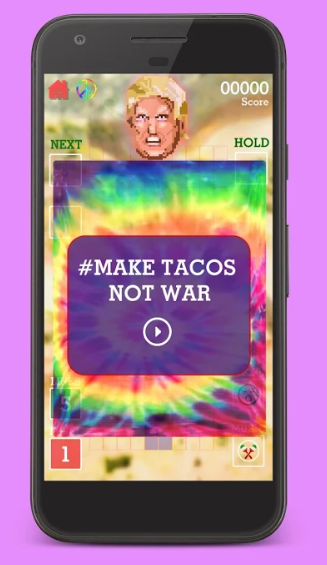 Torres continues, saying, "The immigration issue is one of the most important and significant of the moment, and Trump is one of the most followed guys in the world."
He said people from countries all over the world have been downloading his app. Those include Taiwan, Australia, the U.S., Mexico, China, Norway and the United Kingdom. The professor claims he also built the app to protest the lack of economic support of local filmmakers by the Puerto Rican government.
Torres ends the game with more "Trumpisms," and a score screen stating "#MakeAmericaMexicoAgain."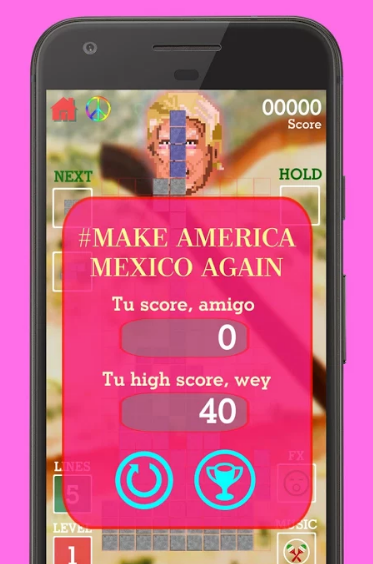 "Build that wall, build that wall, build that wall" and "Mexico will pay for the wall, and they're going to be happy about it," players hear when signing out of the app.
Bob Price serves as associate editor and senior political news contributor for Breitbart Texas. He is a founding member of the Breitbart Texas team. Follow him on Twitter @BobPriceBBTX and Facebook.