A Florida mayor issued mandatory evacuation orders for his beachfront community while calling Irma a "nuclear hurricane." The Category 5 hurricane is expected to hit Florida on Sunday morning.
Miami Beach Mayor Philip Levine ordered a mandatory evacuation of the south Florida community. When a local CBS affiliate told the mayor many residents are saying they will not leave, Levine responded, "This is a nuclear hurricane. They should leave the beach, they must leave the beach."
Barrier Islands, like the one occupied by Miami Beach, are nature's barricade against storm surges and high winds for the mainland. As such, it will bear the full frontal assault of the now Category 5 hurricane if it follows the currently predicted path.
The National Hurricane Center predicts (with a high degree of uncertainty) that Irma will make landfall, or remain slightly offshore, in the Miami Beach area as the sun rises on Sunday morning. The storm is currently producing 175 mph winds that extend at hurricane force up to 60 miles from the storm's eye. The center of Hurricane Irma is about 65 miles NNE of the Dominican Republic and is moving to the WNW (290 degrees) at 16 mph.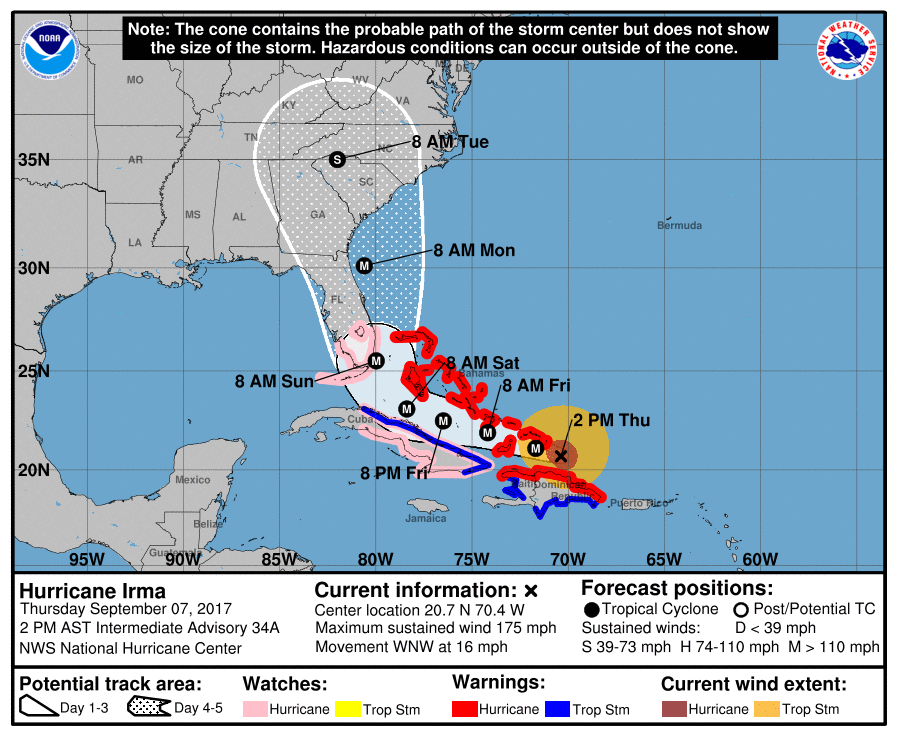 In addition to the heavy winds, which could still be at Category 4 levels by the time the storm reaches Florida, a dangerous storm surge could produce catastrophic damage. Forecasts for a storm surge in Florida have not yet been released, but surges of up to 20 feet have preceded the storm's arrival on some of the islands that Irma left destroyed in its wake. Miami Beach sits three feet above sea level and is home to more than 100,000 people.
"This storm will envelope us whether it is onshore or offshore," Levine explained. "It won't make a difference.
"As you know, as of yesterday, I have been telling our residents I strongly urge they please leave Miami Beach," the Miami Beach mayor expressed. You have friends, you have family – go visit them," Levine said. "Get out of the barrier island and I am very happy Mayor Gimenez issue the mandatory evacuation early this evening."
Follow complete coverage of Hurricane Irma on Breitbart News.
Bob Price serves as associate editor and senior political news contributor for Breitbart Texas. He is a founding member of the Breitbart Texas team. Follow him on Twitter @BobPriceBBTX and Facebook.