It has been nearly two years since author Chuck Palahniuk promised fans a sequel to his 1996 novel Fight Club.
Last month, Palahniuk gave fans a sneak peek at Fight Club 2 by releasing the first six pages of the 10-issue graphic novel. The first issue hits newsstands and comic book stores on May 27.
According to theWrap, the graphic novel picks up nine years after the events of the first book. The anonymous narrator gets a name, Sebastian, and is apparently married to Marla Singer, whom he once described as "the little scratch on the roof of your mouth that would heal if only you could stop tonguing it, but you can't." The couple have a young son, and of course, Tyler Durden lurks just below the surface.
Palahniuk's book was turned into a 1999 cult classic film, starring Edward Norton as the Narrator, Brad Pitt as Tyler Durden, and Helena Bonham Carter as Marla Singer.
On Monday, Palahniuk and artist David Mack revealed the cover of the series' second issue, a twisted take on Grant Wood's "American Gothic" painting. In the image, Sebastian (if that is indeed his real name) and Marla stand in front of a house built of matches, while what one presumes is the watchful eye of Tyler Durden peers out from the attic. Sebastian is bruised and bloodied, hinting at more underground fight club action, and he holds a rose in one hand in a send-up of Wood's farmer with a pitchfork.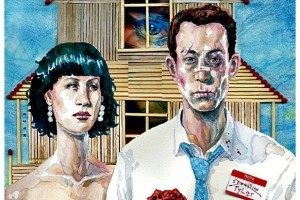 "Some imaginary friends never go away," the series description reads. "Ten years after starting Project Mayhem, he lives a mundane life. A kid, a wife, pills to keep his destiny at bay. But it won't last long; the wife has seen to that. The time has come… Rize or Die."
The series' publisher, Dark Horse Comics, is running a social media campaign to get the word out about the series. Those who successfully spread the word get a set of leather-bound books from Palahniuk.
The second issue of the 10-issue series drops June 24. However, eager fans can pick up a free preview on Free Comic Book Day, May 2.