It has been a busy week for the National Union of Students (NUS). Yesterday it received a scolding from the prime minister on national television. Now it has much bigger concerns: so-called Zionist soft drinks.
Representatives voted Monday to "censor" and force an "apology" out of their own president for accepting money from Coca-Cola, a company with a human rights record that appears to trouble them more that that of terror sympathizers CAGE. But sweet-toothed sabbatical officers from 51 universities weren't happy and signed a counter petition to keep Coke on campus.
Megan Dunn, the new NUS president who describes herself as a "drinker of diet coke" in her Twitter bio (see below), has apparently been "legitimizing apartheid" by accepting sponsorship from Coca-Cola (who have two factories in "occupied" Israel) for the NUS Awards, held earlier this month.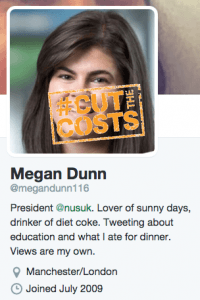 This did not go down well and 10 right-on officials who are now threatening to boycott the awards. These include; the Black Students' Officer, the Disabled Students' Officer, the Society and Citizenship VP, the GLBT Officer, the Welfare VP, the Women's Officer and the International Students' Officer.
They met for their first "national executive committee" (NEC) event yesterday. The newly-elected executives are even more fanatically left-wing than their predecessors, and this year they're ramping up their righteous crusade against oppression, the Tories, and… confectionary.
They passed a motion to officially "censor" gluttonous Dunn, as well as requiring her and the vice-president to repent and "publish a formal apology stating that it was a mistake to accept Coca-Cola's sponsorship and that this, and previous NUS statements, broke the policy of the union."
Motion 11 demands that the NEC "cut all ties" with the companies listed on the Boycott, Divestment and Sanctions (BDS) website. "Boycott these products and companies to stop Israeli apartheid" it states, listing weapons manufacturers, clothing companies, software firms, medical goods, face cream, and yes, soft drinks, all apparently associated with apartheid and oppression.
Coca-Cola owns scores of other soft drink brands, including Capri Sun, Oasis, Relentless, Lilt, Sprite, Fanta, Schweppes, Dr. Pepper, Powerade, Evian and Innocent. So a rebellious group of 150 sabbatical officers have signed the counter petition arguing that motion 11 fails to "advance student rights" and "prevents student Unions from buying Coca-Cola… without any form of consultation."
We can only pray for those parched students looking for a Sprite to ease a hangover, but the NUS already no-platforms UKIP, and many student unions ban right-wing tabloids and have gone "fossil free," so would it would surprise no-one if Zionist sugary treats were next in line for the totalitarian treatment of the NUS.