At least nine people have been killed and 21 wounded after a gunman opened fire on shoppers in the German city of Munich before killing himself. The attacker has been identified as Ali David Sonboly, an 18-year-old German-Iranian dual citizen.
UPDATE 1500 BST — Story summary:
18-year-old Ali David Sonboly, a German-Iranian dual national, shot and killed nine people in a mall in the city of Munich yesterday.
Sonboly then turned the gun on himself.
Police have said there is no evidence linking him to Islamic State, however they did find literature about mass shootings in his room.
Sonboly apparently had a history of mental health issues and received psychiatric treatment.
He used an unlicensed Glock-17 to carry out the attack.
He also reportedly used a hacked Facebook account to lure people to the location of the attack by promising free food.
Police and the media have been trying to link the attack to Norwegian nationalist Anders Breivik.
UPDATE 1410 BST — Now German Interior Minister Thomas de Maizière says the attacker had no links to international terrorism.
De Maiziere confirms: no indication the #Munich attacker had a connection to internationl terrorism #muenchen

— Kate Connolly (@connollyberlin) July 23, 2016
UPDATE 1355 BST — First image of attacker emerges.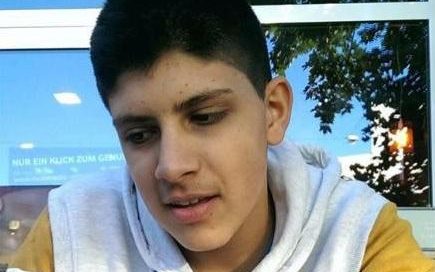 UPDATE 1340 BST — German Chancellor Angela Merkel has spoken on the attack.
She said that Germany is mourning for those who will never see their families again: "We share in your grief – we think of you and are suffering with you."
She added that the attack was so much more difficult to bear because it comes just days after train axe attack, and the attack in Nice.
"We are in profound mourning" – Angela Merkel on the #Munich shooting https://t.co/J8EA6DnrSe
https://t.co/0TTVR5Goiy

— BBC Breaking News (@BBCBreaking) July 23, 2016
UPDATE 1300 BST — After denying Islamist links, police try to link gunman to Anders Breivik, the Norwegian nationalist who killed 77 people five years ago yesterday.
UPDATE 1150 BST — It appears reports of the attacker luring people to the scene with a Facebook post are correct, AP reports:
Munich police investigator Robert Heimberger says it appears that the shooter hacked a Facebook account and sent a message urging people to come to the mall for a free giveaway.

The posting, sent from a young woman's account, urged people to come to the mall at 4 p.m., saying: "I'll give you something if you want, but not too expensive."

Heimberger says: "It appears it was prepared by the suspect and then sent out."

The woman shortly after reported that her account had been hacked.
Latest on Munich: Police say the shooter hacked a Facebook account, urged people to come to the mall for a giveaway. https://t.co/fzOePVKakf

— The Associated Press (@AP) July 23, 2016
UPDATE 1140 BST — Details of the victims are coming to light, Reuters reports.
Kosovan media reported that three of the victims were of Kosovan origin. Naim Zabergja, the father of one of the victims wrote on Facebook: "With great sadness I want to inform you that my son Dijamant Zabergja, 21, was killed yesterday in Munich."

A second victim was named by her brother on Facebook as Armela Segashi, who he said died along with a third, Sabina Sulaj.
UPDATE 1135 BST — Police found a book on spree killings in the attacker's bedroom.
#Munich police found this book at the home of gunman. Title means: 'TROUBLE IN HEAD – Why School Kids Kill' @akhbar pic.twitter.com/vGx4JvewA0

— Jenan Moussa (@jenanmoussa) July 23, 2016
UPDATE 1130 BST — Police call the attack a "classic shooting rampage" and say it is not a terror attack.
BREAKING NEWS: Prosecutor says Munich attack appears to be 'classic shooting rampage', not terrorism https://t.co/ZCwe3oy1mG

— Fox News Alert (@foxnewsalert) July 23, 2016
UPDATE 1120 BST — Germany's gun control laws did not prevent this shooting.
Police said he used a Glock-17, a weapon for which he did not hold a license.
#MunichShooting: gun was a 9mm Glock 17. Gunman did not have a fire arms license

— Paul McNamara (@PGMcNamara) July 23, 2016
UPDATE 1055 BST — Munich Police Hold Press Conference
Police chief Hubertus Andrae says officers have found no evidence to link the attacker to Islamic State, and there are no indications he had help from anyone else.
The attacker is confirmed as being 18 years old and based in Munich. He was born in Germany.
He had an unlicensed 2mm weapon and 300 rounds in his bag. Police fired at him, but did not hit him.
Although police found no Islamist literature in his home they did find literature about spree shootings.
His body was found with a single gunshot in the head, suggesting suicide.
No apparent political motive.
The victims are aged between 15 and 45. All lived in the local area and no tourists were involved.
The gunman had received psychiatric treatment.
UPDATE 1040 BST — The attacker's full name is allegedly Ali David Sonboly.
The Munich gunman who shot dead nine people has been named https://t.co/1CyQvtOYI6 pic.twitter.com/jxliJhKCkY

— The Independent (@Independent) July 23, 2016
UPDATE 1010 BST — Attacker named as "David S."
Munich Shooter Named As David S., Spiegel Says Citing Police Sources https://t.co/2fdRDhhSk5 via @L0gg0l

— Liveuamap World (@lumworld) July 23, 2016
UPDATE 0945 BST — There are now claims the gunman may have lured victims to the McDonalds with a Facebook page offering free food.
#Munich gunman 'lured victims to McDonald's with fake Facebook advert offering free food' https://t.co/Thh9lqTgPz pic.twitter.com/hrgENQzUHN

— The Sun (@TheSun) July 23, 2016
UPDATE 0935 BST — Islamic State have celebrated the attack, but have so far not claimed responsibility.
ISIS propaganda channel: "Munich so far not claimed by Islamic State. But everything hurting infidels make us happy" pic.twitter.com/9MW0BluaoN

— Jenan Moussa (@jenanmoussa) July 22, 2016
UPDATE 0925 BST — Chancellor Angela Merkel to meet with heads of security later today:
#Munich: At 12.30pm the security cabinet meets at the Chancellery. Chllr #Merkel,different Ministers+heads of security authorities take part

— GermanForeignOffice (@GermanyDiplo) July 23, 2016
UPDATE 0920 BST — AFP reports there are security fears over the legendary Bayreuth opera festival: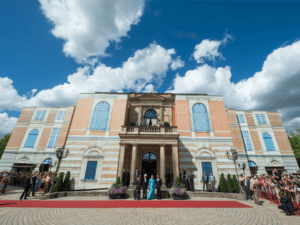 The curtain goes up just days after an 18-year-old German-Iranian went on a shooting rampage in Munich killing nine people before shooting himself.

Only a week earlier, five people were after injured in an axe attack on a Bavarian train in Wuerzburg that was claimed by the Islamic State jihadist group.

Bayreuth is just a two-hour ride from both incidents.

Tighter security on Bayreuth's mythic Green Hill — on which stands the Festspielhaus festival theatre — has been in place since the start of rehearsals in June.

Town authorities called for stepped measures following rumours that this year's new production, which no one has seen yet, of Richard Wagner's last opera, "Parsifal", could be seen as being critical of Islam.

According to media reports, subsequently dismissed by the production's director Uwe Eric Laufenberg, the "Flowermaidens" in the opera were to have worn burqas.

Festival insiders say the heightened security could sour the hitherto idyllic summer atmosphere in Bayreuth's world-famous Festspielhaus, the theatre built to Wagner's own designs.
UPDATE 0915 BST — Iran has condemned the attack.
AFP reports:
Foreign ministry spokesman Bahram Ghasemi denounced "the killing of innocent and defenceless people" and expressed Iran's solidarity with the German government and people, official IRNA news agency reported.

Ghasemi also called for a "relentless and comprehensive fight" to eradicate violence.
UPDATE 0900 BST — What we know so far:
At least nine people were shot and killed in an attack on a shopping mall in the German city of Munich.
Police now say there was only one gunman,and have identified him as a German-Iranian dual national.
After the rampage, the gunman shot and killed himself.
Munich police say his motive is still "fully unknown".
One bystander confronted the gunman, shouting insults at him, prompting the gunman to shout "I am German!" before killing himself.
Three people are reportedly in a "serious condition".
UPDATE 0845 BST — German tabloid Bild is reporting that police are questioning the suspected gunman's father as forensic teams search the apartment where he lived with his parents.
Neighbours have described him as a "quiet guy".
"A friend of mine went to school with him and said he was rather a quiet guy. He recognised him from the videos from the scene," said one.
UPDATE 0840 BST — A woman has laid nine white roses and lit nine candles this morning at the scene of yesterday's attack.
UPDATE 0245 BST — Lines up with the eyewitness report that the killer targeted children at the McDonald's. Number of wounded revised to 16.
#UPDATE Munich police chief says the victims wounded in Munich include youths, children, @AP reports say

— WDBJ7 (@WDBJ7) July 23, 2016
The sad result of #munich #gunfire
10 fatal casualties, among them the shooter
16 injured
For more see(german text):https://t.co/ZooBf7NG6J

— Polizei München (@PolizeiMuenchen) July 23, 2016
UPDATE 0155 BST — Cautious "all-clear." Number of wounded now given as 21.
Update #Munich Police gives 'cautious all-clear signal', says the motive of the attacker still unclear: Reports

— NDTV (@ndtv) July 23, 2016
UPDATE 0147 BST — Killer had dual citizenship.
BREAKING: Munich police say gunman was 18-year-old man with German and Iranian citizenship

— Reuters World (@ReutersWorld) July 23, 2016
UPDATE 0131 BST — Killer was 18-year-old German-Iranian man.
UPDATE: Munich police chief says three men seen fleeing scene of shooting were found to be uninvolved

— Reuters Top News (@Reuters) July 23, 2016
Breaking: Munich shooting suspect was 18 year-old German national from Iran: https://t.co/WLtAfWnIH4

— Michael Weiss (@michaeldweiss) July 23, 2016
UPDATE 0042 BST — Body count climbs again.
BREAKING: Police say 10 dead, including likely attacker, in Munich shooting.

— The Associated Press (@AP) July 22, 2016
UPDATE 0033 BST — Only one attacker after all?
#BREAKING: #Munich POLICE SAY SUSPECTED GUNMAN IN SHOOTING ATTACKS KILLED HIMSELF, MAY HAVE BEEN SOLE SHOOTER IN #MunichShooting

— Jon Haworth (@JonHaworth_) July 22, 2016
#BREAKING Munich police say shooter 'probably' alone, committed suicide

— AFP news agency (@AFP) July 22, 2016
We found a man, who killed him himself.
We assume, that he was the only shooter. #gunfire #munich

— Polizei München (@PolizeiMuenchen) July 22, 2016
UPDATE 0025 BST — Wire photos of the aftermath and police searching for suspects
UPDATE 0015 BST — Public transit resumes
Munich police: public transit is running again. https://t.co/RwDYyjZU7M

— Anton Troianovski (@antontroian) July 22, 2016
UPDATE 0011 BST — At least 10 wounded
We know of at least 10 injured persons. Police operations are still running. The Situation is still not clear.#gunfire #munich

— Polizei München (@PolizeiMuenchen) July 22, 2016
UPDATE 0005 BST — Police: Attackers have "Islamist background"
https://twitter.com/jaketapper/status/756618595191312388
UPDATE 2249 BST — Images of Individuals Arrested Surface
Getty Images has published photographs of three men under arrest and monitored by police, including two men visibly not wearing pants. Getty's captions note it is unclear what the men's relationship is to the shooting, or if they are considered suspects. The men were arrested near Marienplatz square.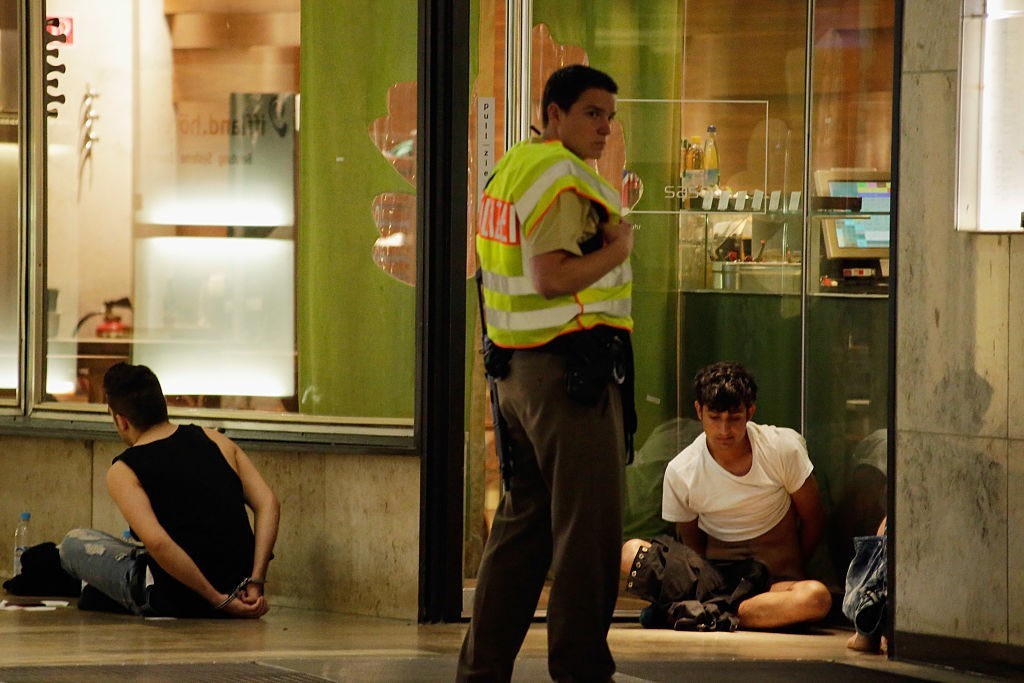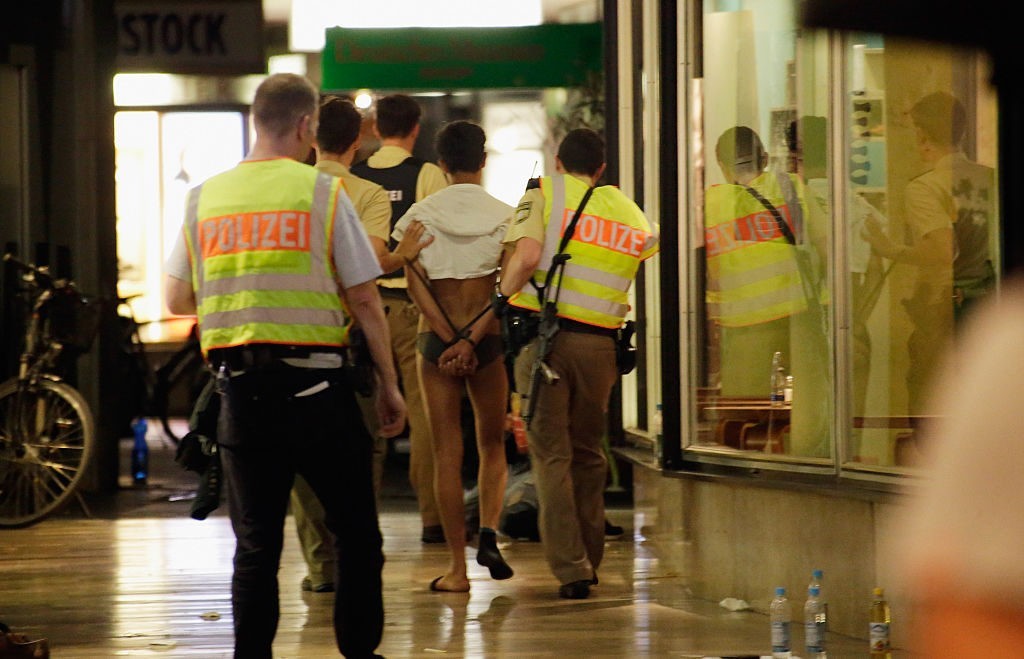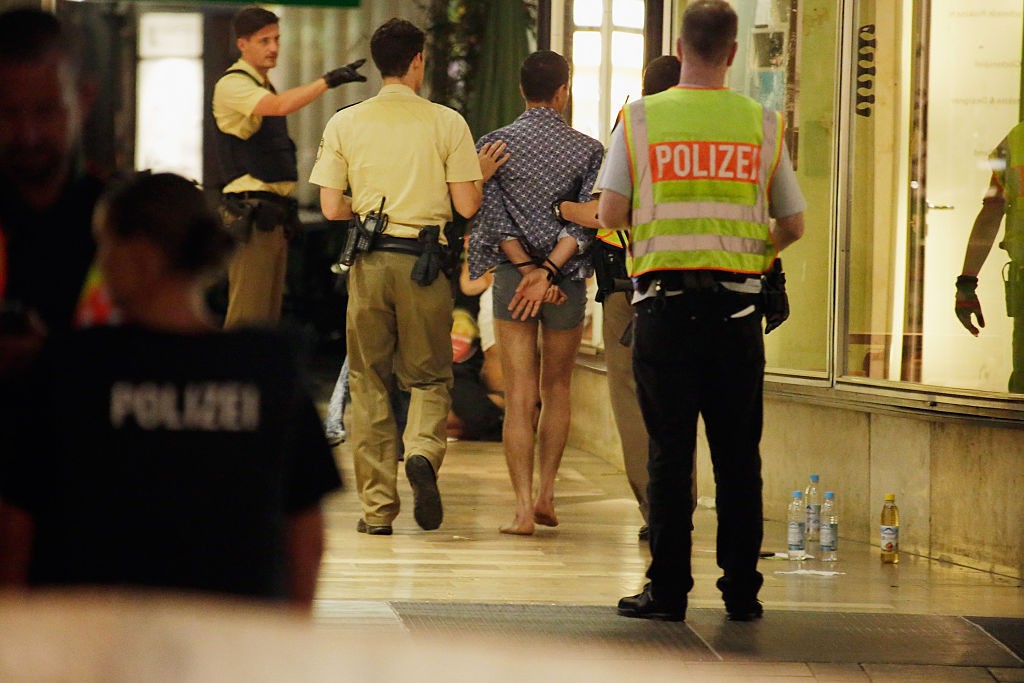 UPDATE 2235 BST — Reuters: Location of Ninth Body About 1KM from Shooting
BREAKING: Munich police spokesman says ninth body found about one kilometer from scene of shooting attack.

— Reuters Top News (@Reuters) July 22, 2016
UPDATE 2235 BST — Merkel Chief of Staff: No Confirmation of Terrorist Link
Peter Altmaier, Chief of Staff to Chancellor Angela Merkel, said in a German television interview that police have yet to be able to confirm a link between the gunmen and any terrorist groups, though the investigation is active, according to DeutscheWelle.
UPDATE 2211 BST — President Obama Weighs In: 'Our Way of Life, Our Freedom… Depends on Law Enforcement"
President Obama says "we don't yet know exactly what's happening" in Munich, noting it is an "active situation," but pledges support to Germany. Obama also jokes about concern over his daughter leaving to college soon.
Watch as @POTUS provides an update on the developing situation in #Munich, Germany: https://t.co/RKJMCirtS9

— The White House (@WhiteHouse) July 22, 2016
UPDATE 2141 BST — Munich Police: Potential 9th Person Dead, May Be Attacker or Accomplice
In a tweet, Munich police say they are investigating whether a ninth person killed is one of the gunmen; police previously stated they believed up to three attackers were on the loose.
Bei einer weiteren toten Person prüfen wir gerade eine mögliche Tatbeteiligung. #oez#Schießerei#münchen

— Polizei München (@PolizeiMuenchen) July 22, 2016
UPDATE 2138 BST — White House Condemns 'Apparent Terrorist Attack'
White House Press Secretary Joshua Earnest has released a statement, asserting that Washington "condemns in the strongest terms" the "apparent" terrorist attack in Munich.
White House just now on German terror attack: pic.twitter.com/xqUDRKwU3c

— West Wing Reports (@WestWingReport) July 22, 2016
UPDATE 2134 BST — Witness Says Gunmen Appeared to Target Children, 8 Dead
#Munich witness told @BrianToddCNN that the gunman "appeared to be targeting children." https://t.co/o1hLj39ACt

— The Lead CNN (@TheLeadCNN) July 22, 2016
Those still in the shopping center currently under siege have reportedly been told to leave the center with their hands up.
Police have now confirmed eight deaths.
UPDATE 2130 BST — CNN Reports Witnesses Heard 'Allahu Akbar' Shouts
An eyewitness identifying herself as a Muslim tells CNN she heard shouts of "Allahu Akbar" as shots rang out, confirmed that she heard correctly because "I am a Muslim." 

UPDATE 2124 BST — US Consulate in Munich warns citizens to stay away
US citizens – don't go to @usconsmunich due to uncertain security situation. Call +49-89-2888-0 for emergency help https://t.co/z5yGt2u8Up

— US Consulate Munich (@usconsmunich) July 22, 2016
The Consulate also advises individuals to avoid plazas and public squares until police life the state of emergency in the city.
UPDATE 2100 BST — Müncheners urged to 'check in' after terror attack 
Police have called for people in Munich to go on Facebook and check in to the emergency system Facebook created to help locate people in terror attacks and natural disasters.
Safety – Check von Facebook: https://t.co/dwTcLyfEbg #münchen #schießerei #oez

— Polizei München (@PolizeiMuenchen) July 22, 2016
UPDATE 2035 BST — Latest from Munich Police — 6 Dead
Munich police have officially declared six dead in the shootings so far. A police spokesman speaking to media earlier said:
"What I can tell you is there was an incident at the OEZ [Olympia], we have sent police and all emergency services there. What happened, at the moment there are three attackers… we have at the moment 100 people on site and we are trying to evacuate around 100 people". The spokesman said he could not answer questions about the identities of the attackers, that the injured were in "double figures" and warned Müncheners to stay indoors.
Update:
On ne sait pas combien de blessés personnes on doit recenser. Malheureusement on a six personnes tuées. #oez, #münchen, #schießerei

— Polizei München (@PolizeiMuenchen) July 22, 2016
st
UPDATE 2030 BST — ISIS-linked communications channel praises attack A journalist with the pan-Arabic Al Aan Satelite TV network has tweeted screenshots of what she claims is an "ISIS propaganda channel" which has not claimed responsibility. The messages, which appear to come from a Whatsapp group read: "Munich so far not claimed by Islamic State. But everything hurting infidels make us happy".
ISIS propaganda channel: "Munich so far not claimed by Islamic State. But everything hurting infidels make us happy" pic.twitter.com/9MW0BluaoN

— Jenan Moussa (@jenanmoussa) July 22, 2016
UPDATE 2020 BST — 'At Least 6 Dead' says European agency The European news agency AFP has reported there are at least six dead in the ongoing Munich 'terror' attack with three shooters still at large. No confirmation yet on motives for attack.
#UPDATE 'At least 6 dead' in #Munich shooting, police source says, 3 armed suspects at large https://t.co/0cuR0THbN2 pic.twitter.com/dhXknZ7KH5

— AFP news agency (@AFP) July 22, 2016
UPDATE 2000 BST — Video of emergency services tending to wounded
A video showing stretchers being prepared to take wounded and an injured man lying supine with a sheet over his body has been uploaded to Twitter.
https://twitter.com/DenTheRizzle/status/756562430646509568
UPDATE 1940 BST — Well-meaning Müncheners opening their doors to strangers in wake of terror attack
Munich residents have been using the hashtag #offenetür (open door) to offer their hospitality to people unable to get home amid the chaos in the city.
#offenetür #opendoor #porteouverte #münchen anyone who needs help for anyone who wants help, feel free to use and contact

— Uğur (@AuguriSarban) July 22, 2016
you can stay at our place: barer str. 48, depiereux #munich #offenetür #opendoor #portrouverte

— Philipp Depiereux (@Depiereux) July 22, 2016
Our office is an #opendoor. Sendlinger Str 47. Direct message us, so we can open you up. #offenetür https://t.co/o8RnvI8X2t

— GRÜNE JUGEND München (@gj_muenchen) July 22, 2016
However, others have pointed out the inherent danger in opening doors to strangers at a time when gunmen are on the loose, warning people to take precautions before they open the door.
https://twitter.com/BarryLegg/status/756556421320368129
https://twitter.com/BarryLegg/status/756557070380494848
UPDATE 1935 BST — Second Terror Attack in Munich in 2016 
German police are reportedly now treating the shooting as a terror attack. Breitbart London reported in May about another terror attack in the German city of Munich, where one died and three were injured.
The attacker reportedly shouted "Allahu Akbar" as he stabbed his fellow passengers on a train. Read more.
UPDATE 1925 BST — Updates from Munich Police 
BREAKING: Police say they suspect Munich shooting is terror attack. https://t.co/PvRtd9pwa5 pic.twitter.com/Z1jxFzQLHg

— Reuters Top News (@Reuters) July 22, 2016
Munich police have posted a series of tweets which appear to suggest that gun fire is being heard elsewhere in the city, including mentions of a "shootout" at approximately 18:50pm. They are repeating advice to avoid public areas warning "the suspects are still on the run," but are underscoring that the situation remains "confusing".
A Police statement stated:
"At 17.50 o' clock witnesses came forward at the police station and reported a shooting in the area of Hanau Street. Witnesses report three different people with guns.
"Type and number of victims is unknown. The police are using all available forces with the support of special forces, the federal police and neighbouring [forces].
"At the moment no perpetrators have been arrested… Due to the unclear situation we ask all people in the metropolitan area to stay at home or In nearby buildings to seek shelter. The operation of the public transport is currently suspended.
"As soon as more information becomes available, it will be reported".
UPDATE 1915 BST — Three confirmed dead 
The German Interior Ministry has confirmed three dead, the Telegraph has reported.
However, German sources including the Muencher Abendzeitung are reporting that the death toll is much higher, with perhaps as many as 15 casualties. It is not known how many have been injured. An employee within the centre told Reuters "many shots were fired."
UPDATE 1900 BST — WARNING GRAPHIC 
Munich police have asked witnesses not to share pictures of the situation as it unfolds as they track the shooter/s, however a number of images have been posted. While some actually show other attacks including the 2013 Kenyan mall attack, others are more clearly genuine with visible landmarks and signs that show they were likely taken in Germany.
This graphic image shows a first responder standing outside the Olympia McDonalds attending to a victim — the Saturn electrical store next door can be seen in the background.
UPDATE 1855 BST — Reports that Munich Police are dealing with multiple shootings — Mall and Metro station
Marienplatz Metro station in the centre of Munich is reported to be the location of a second shooting according to reports, although there are presently no confirmed reports of injuries.
UPDATE: Reports of second shooting at #Munich at Marienplatz metro station – @SkyNews

— Conflict News (@Conflicts) July 22, 2016
Reports of a third shooting location in the city have not yet been confirmed.
UPDATE 1845 BST — Staff at mall are in hiding
Reuters are reporting that staff are still hiding out in the building, according to a member of staff who contacted the news agency by phone.
If so, events could evolve into a hostage situation, although there are currently no suggestions that that is the case.
UPDATE: Staff still hiding out in Munich shopping center after shooting – Employee by phone

— Reuters World (@ReutersWorld) July 22, 2016
UPDATE 1835 BST — Video claiming to show shooter posted to social media
A Twitter video showing a man with what appears to be a pistol shooting at bystanders also clearly shows a distinctively laid out branch of the McDonalds fast-food chain. Local images and Google Street View strongly suggests the video is in fact from Munich as claimed.
Watch: Deleted #Munich #Munchen #OEZ Video of attacker opening fire outside Olympia McDonalds pic.twitter.com/wEpMncOBeL

— Oliver JJ Lane (@oliver_lane) July 22, 2016
UPDATE 1820 BST — Images of armed police on roof
Tweet pictures taken from neighbouring buildings to the Munich shopping mall at the centre of this evening's apparent attack clearly show Germnan police officers in ordinary patrol dress — rather than armed response order — crouched and taking cover with weapons drawn on the car-park roof. The images may fuel speculation that there may still be an active shooter in the area.
A Munich police source is being reported on Britain's Sky News as saying there was more than one shooter and there have not yet been any arrests.
https://twitter.com/IqfishLP/status/756537111650729985
https://twitter.com/13CT013/status/756533996432023553
UPDATE 1810 BST — Video emerges of situation outside the Munich Olympic Mall
Periscope video of Munich police responding to shooting @NKLaI89 https://t.co/BifVQIWGYJ

— Oliver JJ Lane (@oliver_lane) July 22, 2016
UPDATE 1805 BST — Germans told to expect more terrorism
The attacks have come only 48 hours after a warning by German Interior Minister Thomas de Maiziere who claimed that Germans should prepare themselves for more terror attacks in the wake of the axe attack in Wuerzburg. "In Germany we must also expect attacks by small groups of radicalised 'lone-wolf' attackers," he said. Read more at Breitbart London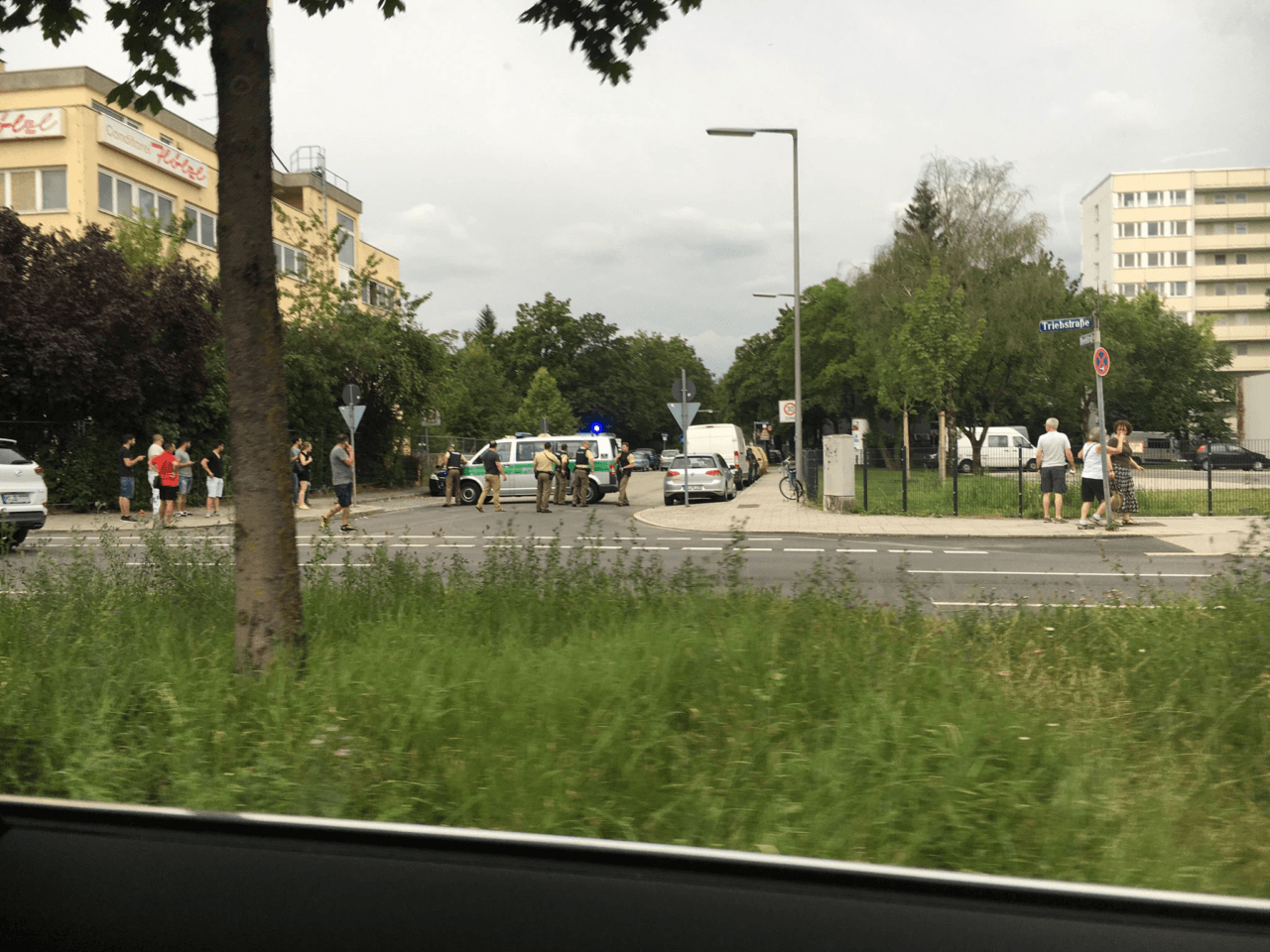 UPDATE 1800 BST — Confused reports coming out of Munich
There may be an active shooter in the Munich shopping mall, with reports of between one and 15 casualties presently being reported in European media.
The story so far:
The gunshots were heard at the Olympiapark shopping centre in Munich and police have announced on twitter that anyone in the area should leave immediately.
Im Moment haben wir einen großen Polizeieinsatz am OEZ. Bitte meiden Sie den Bereich um das Einkaufszentrum.

— Polizei München (@PolizeiMuenchen) July 22, 2016
A major police operation is currently underway as many witnesses are reporting a very large police presence in the area.
Unconfirmed reports are stating that there may be several casualties as at least one alleged witness has posted a picture of what appears to be injured victims, though there is still no word from Munich police.
https://twitter.com/GoldenKrant/status/756526524485033984
The shopping mall is located in the old Olympic park which was built for the 1972 Olympics. The Munich Olympics is well known for being the site of the massacre of Israeli athletes by Palestinian gunmen.