A strong majority of Europeans across 11 nations are opposed to the European Union's (EU) immigration policies, including nearly nine in 10 Hungarians.
The survey was conducted by the Nézőpont Institute in Austria, Bulgaria, Croatia, the Czech Republic, Germany, Hungary, Poland, Romania, Serbia, Slovakia, and Slovenia.
It revealed that 74 per cent of respondents in those countries believed that the EU's migration policies have or will be negative for the continent.
Central Europeans were the most opposed, with 89 per cent of Slovaks and Hungarians holding a negative view of the policies, closely followed by 88 per cent of Czechs.
Meanwhile, 63 per cent of Austrians and 58 per cent of Germans also said the mass immigration overseen by the EU is bad for the bloc.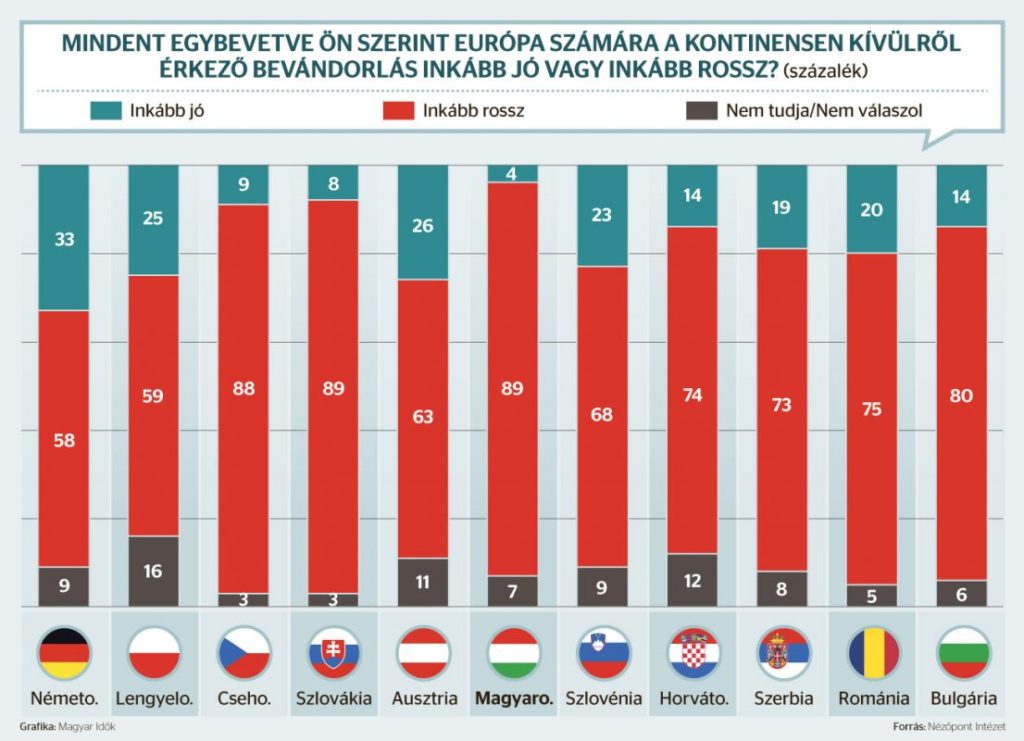 Furthermore, when asked about Hungary's rejection of forced EU migrant quotas, 56 per cent of people in the Visegrád nations (Czech Republic, Hungary, Poland, and Slovakia) say they agreed with the Hungarian premier's fight against them.
The migrant relocation scheme was forced through the European Parliament in September 2015, regardless as to whether all nations and their populations agreed.
A number of Eastern and Central European countries resisted the plan, and have since challenged the scheme in the courts – arguing they did not vote for it and placing blame for the migrant crisis with the EU and Germany – as the EU threatens sanctions.
Hungary has also constructed a border fence along its southern frontier to stem the flow of migrants from the Middle East and Africa passing through its territories on the way to Northern and Central Europe.
Since the barrier's construction, Hungary has reportedly slashed illegal immigration by over 99 per cent.
Hungarian Prime Minister Viktor Orbán ordered the fence's construction after the migrant crises of 2015 when border controls were suspended and more than a million migrants arrived.
Since then, European forces have picked up hundreds of thousands of illegal migrants in the Mediterranean and EU leaders have promised to bring in more migrants by legal means.