LONDON, United Kingdom: Thousands of Free Speech fans rallied on London's Whitehall Sunday, protesting directly outside Downing Street on the first Day For Freedom march.
Speakers including Breitbart London's Raheem Kassam, UKIP leader Gerard Batten, former English Defence League leader and street organiser turned citizen journalist Tommy Robinson, and YouTube comedian Count Dankula.
Organisers estimate that between four and six thousand attended the event, with approximately 200 counter-protesters staying briefly at the beginning of the event.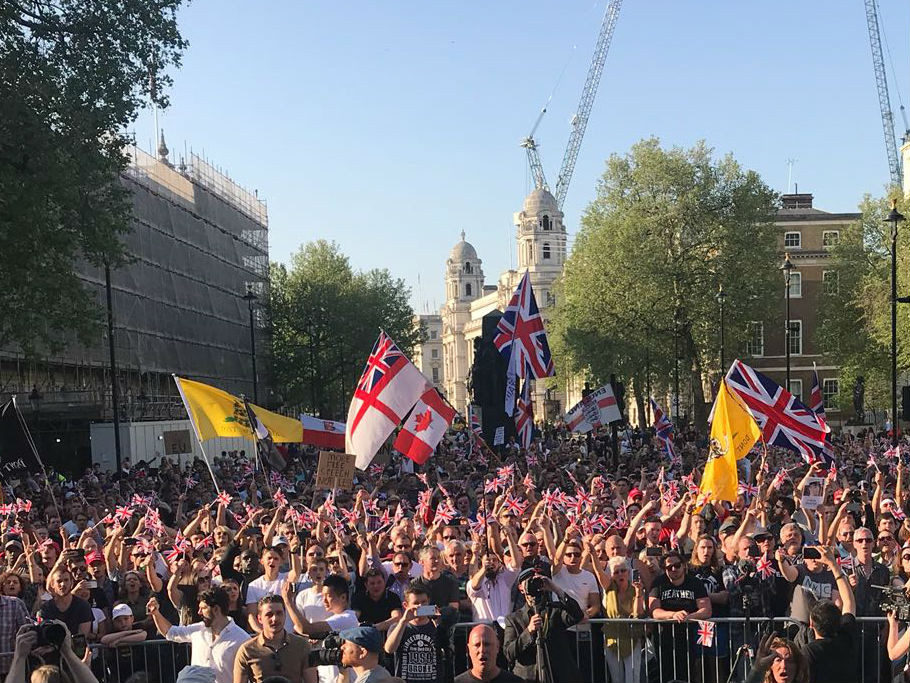 The size of the rally and the failure of counter-protestors evidently surprised London leftists, with The Guardian reporting the comments of anti-Free speech protester Freddi Hyde-Thompson who "was shocked to find the counter-protesters outnumbered." He said: "It's really worrying… This cannot come to London and there be more of them than there are of us."
The Evening Standard reports there was one arrest at the event in connection with a public order offence and the possession of class-A drugs. It is not clear on what side of the protests that arrest took place.
Messages of support for freedom, including Breitbart London editor Raheem Kassam taking to the stage to express his "love" for the presence of the left-wing counter demonstration as a welcome expression of freedom of speech was not matched on the other side of the barricade. Anti-Freedom of Speech demonstrators were recorded at the event chanting that their enemies should shoot themselves.
Coverage of the event on mainstream media broadcasters such as the BBC television news was notable by its absence, and stood in strong contrast to coverage to other recent protests. Breitbart London reported at the time of the announcement of President Trump's visit to London in December that despite only gathering a couple of dozen of supporters, an anti-Trump protest outside the U.S. embassy received enormous media attention.
Follow Oliver Lane on Facebook, Twitter: Follow @Oliver_Lane

or e-mail: olane[at]breitbart.com