Welcome to Breitbart News's live coverage of the aftermath of Election Day, 2016. Check this page for updates on president-elect Donald Trump, celebrating a shocking upset win, and the reactions from Democratic candidate Hillary Clinton, the bipartisan political establishment, and legacy media outlets.
All times Eastern.
7:13 PM — Mexican newspaper not taking this too well. Via elgrafico.mx: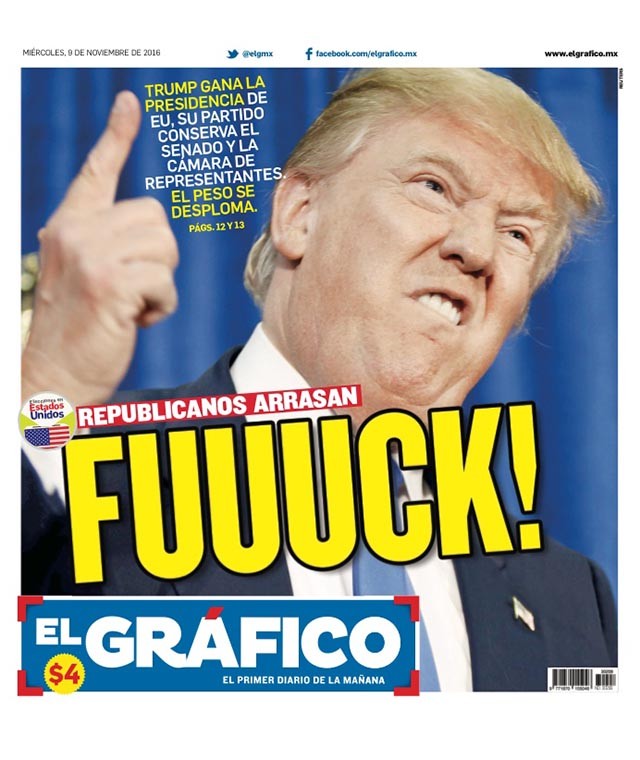 6:58 PM —
It's here.
"Can't Stump the Trump" is an amateur YouTube channel where an anonymous college student mashed up news clips with 4chan memes to cheer on president-elect Donald Trump, starting in the Republican primary -- while simultaneously documenting his insane, against-all-odds political ascent from an Alt Right perspective. It's crudely assembled, it's vulgar, and it's become an online campaign tradition as infamous as Matt Drudge's debate polls. "Comrade Stump," as he calls himself on Twitter, created several memes that stuck for Trump's fan base. By making a dubstep song,
"Centipede" by Knife Party
, the theme song to the series, a nature documentary voiceover sampled in the prelude inspired Trump supporters to call themselves "centipedes" and "nimble navigators" and crack jokes about Trump being a "predator" with "hollow fangs." Several other running jokes include air horns blaring after every Trump putdown or unfortunate event for his opponents, a video game sprite animation delivering a "kill shot" on defeated foes, and overlaying the faces of political players on meme-friendly movie clips such as
Star Wars: Episode III's climactic lightsaber fight
. On the night of Trump's epic victory, CSTT uploaded a teaser video ("Volume 29.5: THE MADMAN DID IT") to sate his fans until a proper wrap-up for the series. Watch it below: https://www.youtube.com/watch?v=cjPMzBfPoqc
6:35 PM —
President Richard Nixon send a letter to current President-elect Donald Trump predicting that he was capable of a successful political career.
In 1987, Nixon wrote Trump regarding a television appearance his wife, former First Lady Pat Nixon, greatly enjoyed. Trump had agreed to a profile on the popular show
Donahue
, airing in December of that year. "As you can imagine, she is an expert on politics and she predicts that whenever you decide to run for office you will be a winner!" the short letter read.
The letter became public as part of the release of a Donald Trump biography titled
Never Enough: Donald Trump and the Pursuit of Success
. It would take nearly three decades for Trump to decide to run for office, proving the 37th president correct. On Tuesday, Donald Trump became president-elect of the United States, sweeping Democratic opponent Hillary Clinton in reliably blue states like Michigan and Wisconsin. As Republican nominee, Nixon won the 1968 largely on the back of a campaign targeting middle-class Americans who felt the Kennedy and Johnson administrations had allowed the government to descend into chaos, particularly in the context of the rudderless Vietnam war. These voters he dubbed the "
Silent Majority
" in a 1969 speech. Trump's campaign echoed many of the sentiments of that election, down to
using the term
to refer to those whose livelihoods were threatened or eliminated entirely by the growing global economy. Below, Trump's
Donahue
appearance that impressed the Nixons:
6:33 PM — Bernie: "Trump tapped into the anger of a declining middle class that is sick of establishment economics, establishment politics, and the establishment media."
Just in: the view from Burlington. @BernieSanders on @RealDonaldTrump's election pic.twitter.com/fIE1laaPrk

— Gabriel Debenedetti (@gdebenedetti) November 9, 2016
5:21 PM —
MoveOn.org released the following press release Wednesday afternoon:
Americans to Come Together in Hundreds Peaceful Gatherings of Solidarity, Resistance, and Resolve Following Election Results

Hundreds of Americans, dozens of organizations to gather peacefully outside the White House and in cities and towns nationwide to take a continued stand against misogyny, racism, Islamophobia, and xenophobia.

Tonight, thousands of Americans will come together at hundreds of peaceful gatherings in cities and towns across the nation, including outside the White House, following the results of Tuesday's presidential election.

The gatherings – organized by MoveOn.org and allies – will affirm a continued rejection of Donald Trump's bigotry, xenophobia, Islamophobia, and misogyny and demonstrate our resolve to fight together for the America we still believe is possible.

Within two hours of the call-to-action, MoveOn members had created more than 200 gatherings nationwide, with the number continuing to grow on Wednesday afternoon.

WHAT: Hundreds of peaceful gatherings of solidarity, resistance, and resolve nationwide

WHEN / WHERE: Find local gatherings here. Major gatherings include in New York City's Columbus Circle and outside the White House in Washington, DC.

RSVP: Please email press@moveon.org to confirm attendance.

"This is a disaster. We fought our hearts out to avert this reality. But now it's here," MoveOn.org staff wrote to members on Wednesday. "The new president-elect and many of his most prominent supporters have targeted, demeaned, and threatened millions of us—and millions of our friends, family, and loved ones. Both chambers of Congress remain in Republican hands. We are entering an era of profound and unprecedented challenge, a time of danger for our communities and our country. In this moment, we have to take care of ourselves, our families, and our friends—especially those of us who are on the front lines facing hate, including Latinos, women, immigrants, refugees, Black people, Muslims, LGBT Americans, and so many others. And we need to make it clear that we will continue to stand together."
4:55 PM — Canadian politician ultra triggered.
I was hoping to tweet this at Trump, but I'm going have to tweet it at all Americans. And this isn't a joke, it's actually sad. pic.twitter.com/01Tb6BiwS4

— Norm Kelly (@norm) November 9, 2016
4:49 PM — Of all people, Juanita Broaddrick deserves a victory lap today. From Breitbart Jerusalem Bureau Chief Aaron Klein:
Juanita Broaddrick, the woman who accused Bill Clinton of raping her twice in a hotel room in 1978, declared on Wednesday that for her personally Donald Trump's victory means "Bill and Hillary Clinton no longer have any control over me."
3:23 PM —
NOW: Josh Earnest: "There are a lot of people who voted for Obama who voted for Trump in 2016… I don't have an explanation for that" pic.twitter.com/ur1OwvZSU1

— CBS News (@CBSNews) November 9, 2016
2:43 PM —
Louise Mensch, the former Conservative MP and founder of the News Corp-owned blog Heat Street, has made her Twitter account private after Donald Trump's upset victory in Tuesday's presidential election.
From the beginning, Mensch has been a staunch supporter of the #NeverTrump campaign, with a Twitter bio staunchly declaring that 
you "Can Stump The Trump."
  Wikileaks revealed that she 
pitched ad campaign scripts to Hillary Clinton's inner circle,
 and 
echoed the Democratic candidate's attacks on Pepe the Frog
. Mensch and Heat Street also showed strong support for Evan McMullin, the independent conservative candidate who tried to spoil Trump's chances in Utah. However, after the results had come in, Mensch began to break down. An 
archive of her account
 from around 9AM UTC shows tweets of her claiming that an "FBI coup" pushed Trump into office, even though he was a "racist, Russian spy." Her bio now reads "Stumped by Trump."
Jack Hadfield is a student at the University of Warwick and a regular contributor to Breitbart Tech. You can follow him on Twitter @ToryBastard_, on Gab @JH or email him at jack@yiannopoulos.net.
2:15 PM — Elizabeth Warren.
Statement to The Globe from @SenWarren on the 2016 election results. pic.twitter.com/thrapUfdkS

— Annie Linskey (@AnnieLinskey) November 9, 2016
2:01 PM —
AFL-CIO Pres. Richard Trumka: "More than anything, this election is an indictment of politics as usual."

— Alex Seitz-Wald (@aseitzwald) November 9, 2016
1:27 PM —
(AP) Republican Donald Trump won the presidency fueled by a surge of working-class whites across a band of Midwestern states. Those are the kind of voters who had helped anchor Democratic presidential victories for a generation.
Trump won states such as Pennsylvania and Iowa that had twice backed Barack Obama. Exit polls and unofficial returns reflect deep racial, gender, economic and cultural divides across the region and nationally. Trump's support Tuesday skewed older, more male and overwhelmingly white. His supporters said they are deeply dissatisfied with the federal government and eager for change. That's according to the exit polls conducted by Edison Research for national media outlets. Democrat Hillary Clinton's support was anchored in cities, but it wasn't enough to overcome Trump's advantages in small towns, rural areas and many suburbs.
1:07 PM —
OAKLAND, Calif. (AP) -- Demonstrators opposed to the election of Donald Trump smashed windows and set garbage bins on fire in downtown Oakland, California early Wednesday, as protesters swarmed streets across the country in response to the election. The protests elsewhere were generally peaceful.
In Oregon, dozens of people blocked traffic in downtown Portland and forced a delay for trains on two light rail lines. Media reports said the crowd grew to about 300 people, including some who sat in the middle of the road to block traffic. The crowd of anti-Trump protesters burned American flags and chanted "That's not my president."
In Pennsylvania, hundreds of University of Pittsburgh students marched through the streets, with some in the crowd calling for unity. The student-run campus newspaper, the Pitt News, tweeted about an event later Wednesday titled "Emergency Meeting: Let's Unite to Stop President Trump."
In Seattle, a group of about 100 protesters gathered in the Capital Hill neighborhood, blocked roads and set a trash bin on fire.
The Oakland protest grew to about 250 people by late Tuesday evening, according to police. Officer Marco Marquez said protesters damaged five businesses, breaking windows and spraying graffiti.
Police issued a citation for a vehicle code violation, but did not make any arrests.
A woman was struck by a car and severely injured when protesters got onto a highway early Wednesday morning, the California Highway Patrol said. Protesters vandalized the driver's SUV before officers intervened. The highway was closed for about 20 minutes.
Marquez said the department is fully staffed for the possibility of another protest Wednesday evening.
Oakland is a hotbed of violent protest in the San Francisco Bay Area. Protesters briefly shut down two major freeways, vandalized police cars and looted businesses two years ago when a Missouri grand jury decided not to indict a white police officer in the fatal shooting of a black teenager in Ferguson.
And nearly 80 people were arrested after a night in 2010 that saw rioters using metal bats to break store windows, setting fires and looting after a white transit police officer, Johannes Mehserle, was acquitted of murder and convicted of involuntary manslaughter in the slaying of Oscar Grant, an unarmed black man who was shot dead on a train platform the previous year.
Elsewhere in California, police said at least 500 people swarmed on streets in and around UCLA, some shouting anti-Trump expletives and others chanting "Not my president!"
Smaller demonstrators were held at University of California campuses and neighborhoods in Berkeley, Irvine and Davis and at San Jose State.
12:45 PM —
With only New Hampshire left to be called, Clinton has turned in the Democratic Party's worst Electoral College performance in 28 years pic.twitter.com/APU85Ty50q

— Dan O'Donnell (@DanODonnellShow) November 9, 2016
12:42 PM — Egyptian president congratulates Trump. In mid-September, Breitbart News spoke with Egyptian leaders who heavily insinuated they looked forward to a Trump administration.

Egypt's president Sisi "became first world leader to call US President-Elect Donald Trump to congratulate him on his electoral victory,"

— Shibley Telhami (@ShibleyTelhami) November 9, 2016
12:29 PM —
"I could not be prouder of her," says Obama about Hillary Clinton

— Charlie Spiering (@charliespiering) November 9, 2016
Obama appears upbeat and optimistic, making sure he is the POTUS of hope, not bitterness

— Charlie Spiering (@charliespiering) November 9, 2016
"Don't get cynical" says Obama, not for the last time

— Charlie Spiering (@charliespiering) November 9, 2016
"You beat me badly" Joe Biden reminds Obama, who apparently forgot that his VP ran for president against him in '08

— Charlie Spiering (@charliespiering) November 9, 2016
12:23 PM —
"The presidency and the vice presidency is bigger than any of us" says Obama, adding that he wishes for Trump's success pic.twitter.com/bIpdhtV0Ui

— Charlie Spiering (@charliespiering) November 9, 2016
12:22 PM — 2016.
"I had a chance to talk to President-elect Trump last night" — President Obama.

— Mike Memoli (@mikememoli) November 9, 2016
12:19 PM —
George W. Bush, who reportedly didn't vote for Trump, says he called Trump this morning to congratulate him. pic.twitter.com/I04RwkB2HF

— Jennifer Jacobs (@JenniferJJacobs) November 9, 2016
12:17 PM —
No one has officially called the state of Michigan yet, but a local newspaper says that the final tally shows Donald Trump prevailing over Hillary Clinton.
From the Detroit Free Press:
With seven critical Genessee County precincts now reporting results, Donald Trump appears to have won Michigan by 13,225 votes -- a margin of less than three-tenths of a percent --  out of more than 4.8 million cast, according to unofficial results posted late this morning by the state. Trump held a 12,488-vote lead over Hillary Clinton through the morning. But with all 83 Michigan counties reporting, Clinton won 2,264,361. Trump's margin of victory was exceedingly close: He won 47.6% compared to 47.33% for Clinton, according to updated state totals updated at 11:20 a.m. today. The Associated Press has not yet called the race.
Read the rest of the story here.
12:06 PM — Trump spokesman on Hillary's remarks:
Very classy speech from @HillaryClinton. Important step in bringing our country together.

— Jason Miller (@JasonMillerinDC) November 9, 2016
12:05 PM — Wikileaks not yet done with John Podesta.
RELEASE: The Podesta Emails Part 36 #PodestaEmails #PodestaEmails36 #HillaryClinton #imWithHer https://t.co/wzxeh7hZLU pic.twitter.com/LAvSddeoG2

— WikiLeaks (@wikileaks) November 9, 2016
12:03 PM — Video message from Bibi Netanyahu:
President-elect @realDonaldTrump, my friend,
Congratulations on being elected President of the USA. You are a great friend of Israel. pic.twitter.com/KmtY1ThB5r

— PM of Israel (@IsraeliPM) November 9, 2016
11:53 AM — Clinton quotes Paul's epistle to the Galatians: "Let us not become weary in doing good, for at the proper time we will reap a harvest if we do not give up."
11:52 AM —
.@HillaryClinton to little girls; Never doubt you are valuable and powerful and deserving

— Anita Kumar (@anitakumar01) November 9, 2016
Clinton: "I know we have still not shattered that highest and hardest glass ceiling, but someday someone will."

— Phil Mattingly (@Phil_Mattingly) November 9, 2016
11:51 AM —
"This loss hurts, but please never stop believing that fighting for what's right is worth it," @HillaryClinton says to young supporters.

— Jeff Zeleny (@jeffzeleny) November 9, 2016
11:47 AM — 
"My love for you means more than I can ever express," Clinton tells Bill, Chelsea, Marc, Charlotte, Aidan, Rodham bros

— Jennifer Epstein (@jeneps) November 9, 2016
11:46 AM — Clinton: "To Barack and Michelle Obama, our country owes you an enormous debt of gratitude."
11:45 AM — 2016.
https://twitter.com/carlquintanilla/status/796391138638827520
11:44 AM — Clinton: "Donald Trump is going to be our president and we owe him an open mind and a chance to lead."
11:42 AM — Clinton: "I know how disappointed you feel, because I feel it too. And so do tens of millions of Americans who invested their hopes and dreams in this effort. This is painful, and it will be for a long time."
11:40 AM — Hillary all smiles as she takes the stage and hugs Kaine, accompanied by Bill, Chelsea, and son-in-law Marc. "Thank you all so much. Very rowdy group," she says as room bursts into standing ovation.
11:39 AM — Kaine subtly attacks Trump: "Nobody had to worry whether she'd doubt the outcome of an election."
11:37 AM — Kaine reciting the parable of the workers in the field, eyes visibly welling up. Says Clinton was loyal to workers who contributed to the campaign later, just as she was to those who were there from the beginning.
11:36 AM — Kaine gets a big round of applause after touting Clinton winning the popular vote. "That is an amazing accomplishment," he says.
11:34 AM — Tim Kaine and his wife take the stage at Clinton's first public event since conceding the race Tuesday night. "My wife Ann and I are so proud of Hillary Clinton," he opens.
11:33 AM —
(AP) Democratic Gov. Maggie Hassan is declaring victory in the New Hampshire Senate race. But incumbent Republican Sen. Kelly Ayotte is not conceding.
The Associated Press has yet to call the race. Unofficial results have Hassan up by fewer than 700 votes.
In a statement Hassan says: "It's clear that we have maintained the lead and have won this race."
But Ayotte issued her own statement saying: "We look forward to results being announced by the secretary of state, and ensuring that every vote is counted in this race that has received an historic level of interest."
New Hampshire is the only Senate race where a winner has not yet been declared. Regardless of which way it goes, Republicans will retain control of the Senate. Either party could request a recount.
11:23 AM — Ryan: Obamacare is collapsing under its own weight. "With a unified Republican government, we can fix this."
11:21 AM — Ryan: Trump heard the voices in America that others didn't, says he has a "mandate."
11:18 AM — Paul Ryan congratulates Trump and says that his "coattails" boosted Republicans in down-ballot races, says Trump's speech set the "perfect tone" for country to move forward.
10:41 AM — Hillary Clinton is late for a 10:30 speech she announced this morning.
Already 10mins after HRC was expected to speak & still a huge line of press waiting outside the New Yorker pic.twitter.com/Y77FPEfzOf

— Liz Kreutz (@ABCLiz) November 9, 2016
10:41 AM —
Matt Yglesias of Vox works out his feelings Wednesday morning after the American public voted to hold Hillary Clinton accountable for exposing the nation's secrets to amateur hackers -- rebuking the FBI's contorted rationale not to prosecute her lawbreaking.
From Vox:
The media's coverage of the 2016 race didn't win the election for Donald Trump, but it didn't help.
Back in September, Gallup presented the findings of an important research project that, in retrospect, ought to have prompted a lot more soul searching among members of the press. What they did was, over an extended period of time, survey people and ask them what they were hearing about the two candidates.
The answer is that with regard to Hillary Clinton, they heard a lot about email. With regard to Trump, they heard about nothing in particular.
Read the rest of the tantrum here.
10:24 AM —
WASHINGTON (AP) -- Conceding his party's staggering electoral defeat, President Barack Obama on Wednesday invited President-elect Donald Trump to meet with him to discuss the handover of power from his administration to Trump's.
The White House said Obama called the Republican in the early hours of the morning to congratulate him on his victory in the presidential campaign, which marked a forceful rebuke by voters to Obama's eight years in office. The two leaders planned to meet Thursday at the White House, where Obama was to update Trump about ongoing planning for the transition.
Obama was to offer his first reaction to the election later Wednesday in a televised statement that the White House said would focus on "what steps we can take as a country to come together after this hard-fought election season."
"Ensuring a smooth transition of power is one of the top priorities the president identified at the beginning of the year and a meeting with the president-elect is the next step," White House press secretary Josh Earnest said in a statement.
For Obama, the act of holding the meeting is a humbling blow to his legacy and to his hopes for leaving a lasting imprint on the nation's policies. Trump has vowed to rip up much of what Obama accomplished, including his signature health care law, the Iran nuclear deal and a painstakingly negotiated trade deal with Asia.
Obama also called Hillary Clinton after it became clear she'd lost the race. The White House said Obama had "expressed admiration for the strong campaign she waged throughout the country."
It was unclear how substantive Obama's call was with Trump, or how long it lasted, although the White House noted that Obama placed the call from his residence in the White House, rather than from the West Wing.
Trump's campaign manager, Kellyanne Conway, described it as a "warm conversation" and a "gracious exchange." She said Trump had missed the president's original call as Trump was speaking to supporters in New York, then called him back after leaving the stage.
Like Clinton and other Democrats, Obama didn't appear to see Trump's victory coming. As he campaigned vigorously for Clinton in the race's final days, Obama said he was confident that if Americans showed up to vote, they'd choose against electing the billionaire former reality TV star with no formal government experience.
He had also warned supporters in apocalyptic terms that "the fate of the republic" rested on Clinton defeating Trump on Election Day.