This graphic put together by the International Centre for Migration Policy in conjunction with Reuters shows the routes migrants take to get into Europe, and inevitably, up to countries like Germany, the United Kingdom, and Sweden.
Noteworthy is the city in bold, Agadez in Niger, which is known to many as the key hub for migrants making their way into Europe from West and Central Africa. The Economist said of the city:
Take the example of Agadez, a smuggling entrepot in northern Niger. According to the report, at least half of all west African migrants who reach Lampedusa first pass through this warren of adobe houses. The ethnic Toubou who dominate the trade charge migrants between $200 and $300 for passage into southern Libya, or ask them to carry drugs in lieu of payment.

Smuggling is the town's main business. When 92 people died near Agadez last September after their vehicles broke down in the Sahara, Niger's authorities promised to stamp out large-scale people-smuggling. But with revenues of perhaps $1m a week at stake, officials inevitably connive. Even when raids do take place, the smugglers simply switch routes and tactics.

"Dismantling the networks of intermediaries, drivers, guides, migrant 'welcome centres' and clandestine migration consultants would place the regional economy of Agadez under significant stress," says a diplomat in Niger. The towns of Gao in Mali and Tamanrasset in southern Algeria share a similar profile: traffickers, tribal chiefs, corrupt officials, jobless desperadoes and jihadists all rub along to claim a slice of the profits. These networks create a living for many thousands of people.
The Spanish colonial enclaves of Ceuta and Melilla also act as points of interest for migrants who are able to get onto Spanish sovereign territory, and therefore European soil, and claim asylum from within Morocco.
GRAPHIC: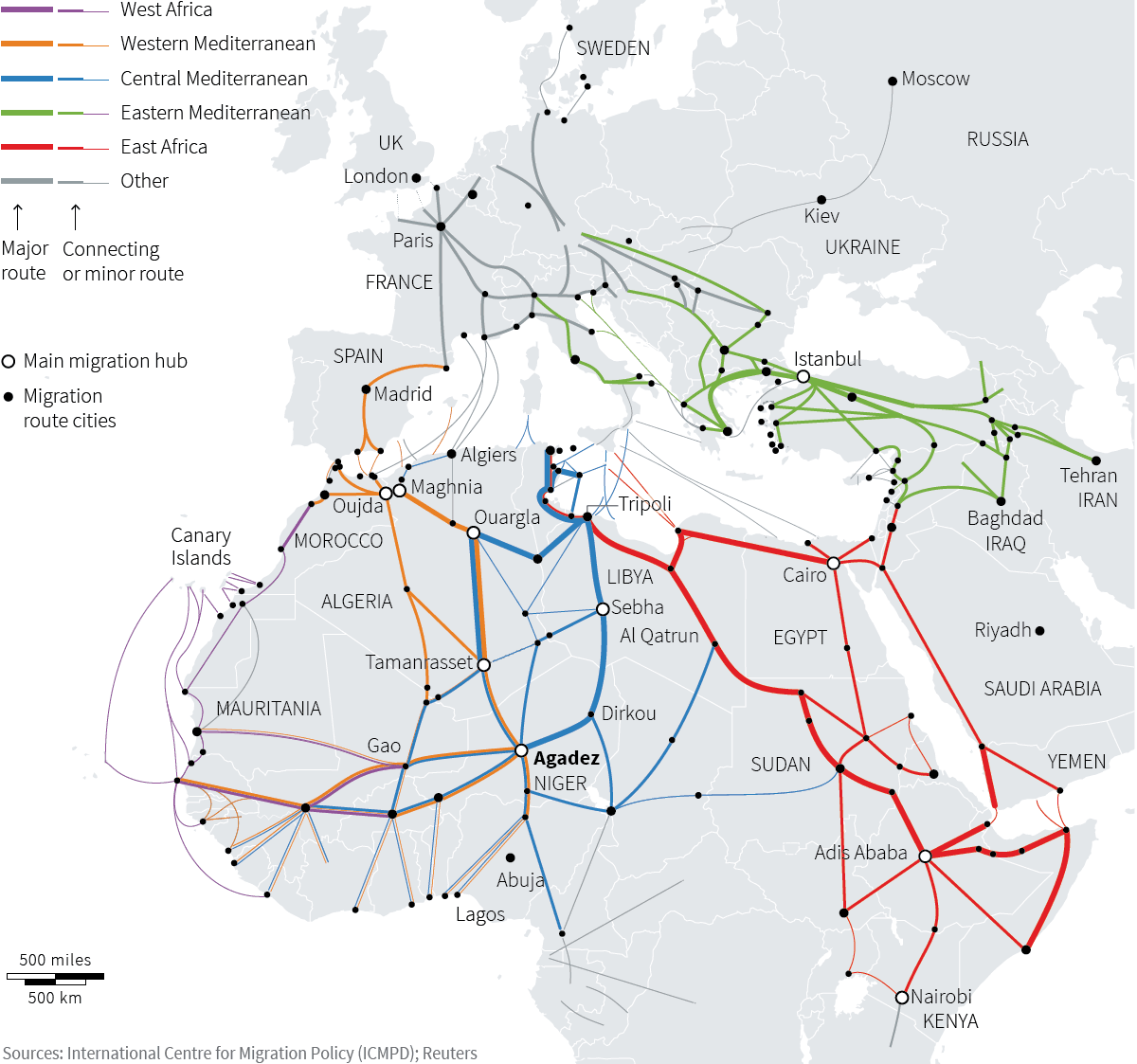 Credit: Reuters