Israeli archaeologists discovered a 1,500-year-old slab of marble with Hebrew inscriptions (pictured) by Kursi near the Sea of Galilee in Israel's north, reaffirming a Jewish presence at what Christians believe to be the location of Jesus' "Miracle of the Swine." 
University of Haifa researchers found the marble during an excavation in Kursi, on the shores of the Sea of Galilee. The discovery is the first piece of evidence confirming the existence of a Jewish or early Christian community in Kursi, mentioned in the New Testament as the place that Jesus performed the Miracle of the Swine.
According to Christian tradition, Jesus healed two men said to have been possessed by demons by driving them into a herd of pigs.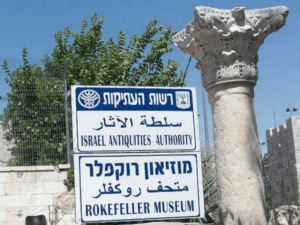 The slab, thought to be a commemoration tablet dating from 500 CE, has a large Hebrew inscription which begin with the words "remembered for good." Researchers believe that the person it commemorates must have been particularly influential.
"There's nothing similar to such a detailed and expensive dedication in archaeological findings discovered in Israel so far," said Prof. Michal Artzi from the University of Haifa.
The scientists also identified the words amen and marmaria, which could either refer to marble or to Mary, Jesus' mother.
The excavation was supervised by Artzi, Dr. Haim Cohen, the Israel Antiquities Authority and the Israel Nature and Parks Authority.