The former Grand Mufti of Jerusalem, Sheikh Ekrima Sa'id Sabri, has been barred from entering the UK as part of a delegation organised by the pro-Palestinian group EuroPal.
Sheikh Sabri is the current imam of Jerusalem's Al-Aqsa Mosque. He has previously called for the destruction of Britain and the U.S. as well as displaying a long record of anti-Semitic hate speech. As Breitbart Jerusalem reported, he was due to be in Britain from 11 to 15 September with a visit to the Houses of Parliament on his itinerary.
Christians United for Israel (CUFI) report they have seen an email sent to all MPs informing them the sheikh and one other member of the touring party have "both been unsuccessful in obtaining an entry visa for technical reasons, and therefore will not be joining the delegation."
CUFI launched an online petition to stop the visit that currently stands with over 18,000 signatures of support. See below: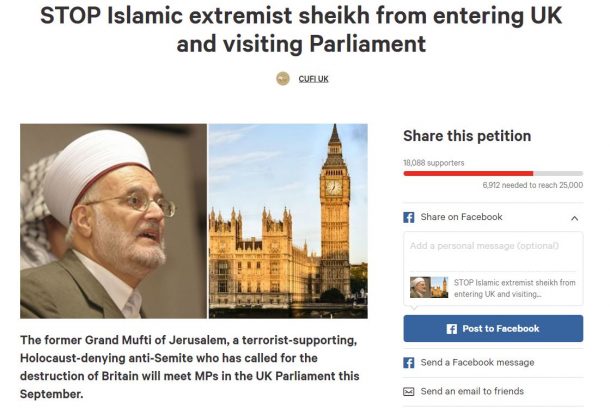 In an exclusive interview with Breitbart Jerusalem's Ali Waked last month, Sheikh Sabri declared Israel's recent decision to remove metal detectors from the disputed Al-Aqsa Mosque site on the Temple Mount was a "victory."
Sheikh Sabri also reportedly warned that "the struggle still isn't over," referring to control over the Temple Mount.
In the past he has flatly denied the Holocaust, stating: "Six million Jews dead? No way, they were much fewer. Let's stop with this fairy tale exploited by Israel to capture international solidarity." He has also called for the destruction of America and Britain, adding Jews are "the most cowardly creatures Allah has ever created" and he is "filled with rage" towards them.
Follow Simon Kent on Twitter:

Follow @SunSimonKent

or e-mail to: skent@breitbart.com