Democrats are converting their emotional protests against "family separation" into unpopular calls for the catch-and-release of many Central American migrants into ordinary Americans' jobsites and schools.
The pre-election, pro-migration push is a huge risk, according to a poll by The Economist and YouGov which shows 3:1 public opposition to the Democrats's catch-and-release policy. That opposition to catch-and-release was reinforced by President Donald Trump's June 20 Executive Order to keep families together in detention until their appeal is decided by a judge.
Many Democrats are pushing their demand that migrants caught at the border be quickly released into Americans' workplaces and schools. Family detention "does not solve the problem," New York Sen. Kirsten Gillibrand told reporters. "Indefinite detainment of families is also inhumane – these children should be in school," she told TheHill.com.
Sen. Dick Durbin, the second-ranking Democrat in the Senate, declared that Trump's "Executive Order criminalizes asylum-seekers and seeks to indefinitely detain their children. Locking up whole families is no solution at all."
"The idea that the way to end family separation is to indefinitely jail kids with their parents in family gulags at the border is as morally reprehensible as separating kids from their parents," claimed Frank Sharry, a pro-migration activist who runs the America's Voice group. "Gulags" refer to the Soviet Union's vast number of Nazi-style prison camps created by Josef Stalin to house — and kill — tens of millions of people.
Democrats are labelling Trump's opposition to catch-and-release as "indefinite family detention."
"To the extent that families can stay together that's a good thing, but indefinite family detention is not a solution to the problem," said New Jersey Sen. Bob Menendez, who was part of the Democrats' disastrous "Gang of Eight" amnesty campaign.
The Economist/YouGov poll of 1,500 adults was taken in mid-June. It shows that only 19 percent of Americans prefer the Democrats's call to "release the [migrant] families and have them report back for an immigration hearing at a later date."
The low score included only 17 percent of swing-voters and 7 percent of Republicans, 16 percent of blacks and 20 percent of Hispanics.
In contrast, 39 percent of swing-voters preferred the option of "Hold families together in family detention centers until an immigration hearing at a later date." Another 18 percent favored separating the families and placing the children in shelters run by a government agency or in "juvenile detention centers."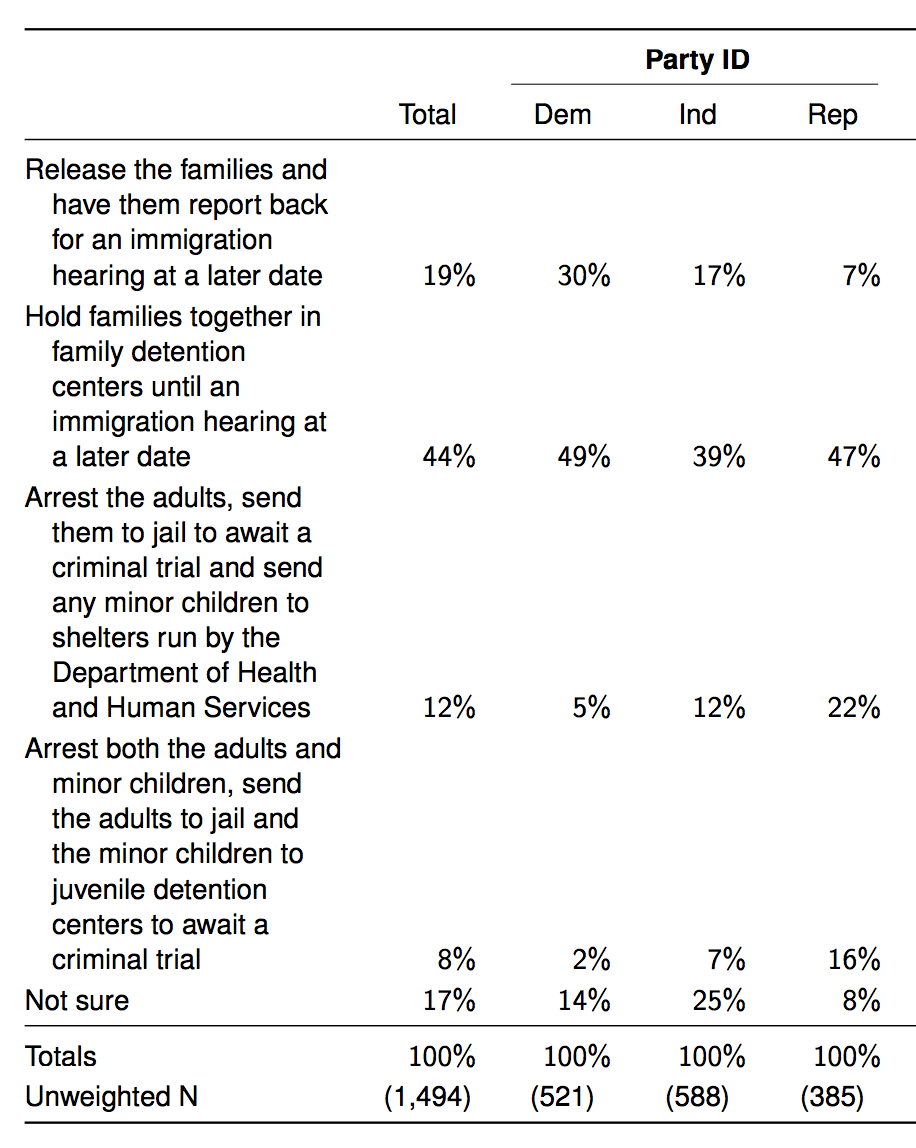 The poll shows a 17 percent vs. 58 percent split among independents against the Democratic Party's easy-migration view, with another 25 percent hiding their views.
That poll likely understates public opposition to the Democrats' "catch and release" policy. The question gently described the migrants as "families  …. without proper documentation," and 17 percent of respondents declined to answer the question. Many people hide views they believe to be unpopular under "don't know" or "not sure" answers.
But progressives are determined to preserve the catch-and-release policies that they helped created under President Barack Obama, and which allowed 400,000 migrants to get work-permits and a huge number of under-educated children fit into overcrowded American schools in working-class districts.
Democratic mega-donor Tom Steyer, for example is funding a TV ad which portrays children at the border's migrant-processing facilities as the prisoners of Trump's "child interment camps."
The Washington Times reported that Oregon Sen. Jeff Merkley offered an alternative phrase: "It sounds like they're planning a handcuffs-for-all strategy, where children will be locked up along with their parents."
California's Sen. Kamala Harris stayed with the cage theme, saying "We're going to go from babies in cages to babies with their mommies in cages."
The American Civil Liberties Union filed a lawsuit in February opposing family separation or and the detention of migrants until their hearings. Politico reported:
"What we don't want to see happen is we'll keep the child and parent together but we're going to detain them for a long time," [ACLU lawyer Lee] Gelernt said, adding that that would violate the Flores settlement. "We don't want to see a situation where they're building more and more detention facilities."
The 1997 Flores settlement has put an Obama-appointed judge in a critical position of power over the administration catch-and-release policy. Trump's Executive Order tells Attorney Gen. Jeff Sessions to seek the judge's approval for long-term detention of families in DHS facilities — but she is likely to reject her political allies' views by rejecting Trump's appeal.
Democrats in the Senate will back up that rejection, forcing Trump to either restart Obama-style catch-and-release or restart of his policy of detaining adults and sheltering children until their lawsuits are completed. That detention-and-shelter policy is denounced by Democrats as "family separation" — and it could become a big issue in the 2014 election.
Another question in the YouGov poll showed Americans are willing to take a harder line when placed under pressure.
The poll asked "Do you approve or disapprove of the new federal policy to arrest and send to jail anyone who crosses the border into the United States without proper documentation?" Overall, strong support for the "arrest and jail" policy beat strong opposition by 30 percent to 22 percent.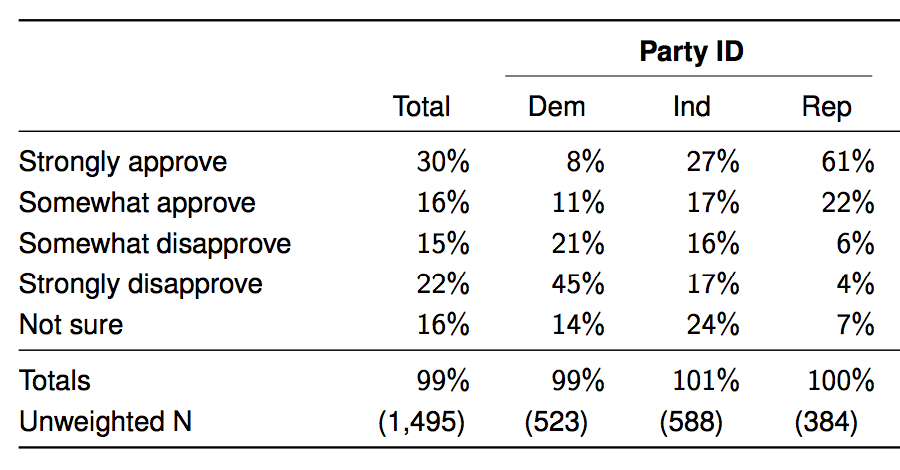 Among independents, that question got 17 percent strong opposition but 27 percent strong approval — plus a huge 24 percent of people saying "not sure."
As Democrats push the issue, they are likely to force people off the fence and into Trump's column.
That is what happened in the summer of 2014, when the the public quickly hardened their views as a flood of migrants came over the border to exploit the easy migration rules set by former President Barack Obama.
In late July of 2014, Obama's ratings had crashed by 25 percent and his border policies were opposed by 58 percent of Democrats and 67 percent of independents. An AP/GFK poll in July showed 57 percent strong disapproval of his border policies. A Fox poll in July showed that 52 percent of independents said the "children" should be sent home "as soon as possible." A July 31 Washington Post article said "Immigration has emerged as perhaps President Obama's worst issue — definitely for today, and maybe of his entire presidency."
In the November election of that year, Democrats lost nine Senate seats, and Trump moved ahead with plans to run for President.
Amnesty advocates rely on business-funded "Nation of Immigrants" push-polls to show apparent voter support for immigration and immigrants.
But "choice" polls reveal most voters' often-ignored preference that CEOs should hire Americans at decent wages before hiring migrants. Those Americans include many blue-collar Blacks, Latinos, and people who hide their opinions from pollsters. Similarly, the 2018 polls show that GOP voters are far more concerned about migration — more properly, the economics of migration — than they are concerned about illegal migration and MS-13, taxes, or the return of Rep. Nancy Pelosi.