MCALLEN, Texas — A kidnapping cell from the Mexican Gulf Cartel crossed into the Texas border city of Sullivan and took a man at gunpoint from his house. The cartel sicarios then brought the U.S. citizen into Mexico where they held him for ransom.
The kidnapping took place on August 27 in Sullivan City, Texas, after which the victim was taken on a raft over the Rio Grande and then taken to the Mexican border city of Reynosa, information provided to Breitbart Texas by Mexico's Attorney General's Office revealed.
Mexican Federal Police officers raided a cartel stash house in the Arboledas neighborhood from where they rescued the unidentified U.S. citizen. The kidnappers had been demanding a ransom for the man's safe return.
Authorities identified one of the kidnappers as Jose Guadalupe Hernandez, who has since been sent to a federal detention center in Durango where he is expected to face kidnapping and other charges.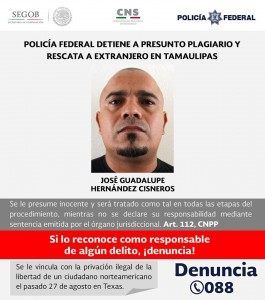 Mexican authorities have not yet released the victim's name.
The August kidnapping took place just six days after a firefight in the nearby city of La Grulla, Texas, that resulted in two gunmen dying and two others having to be rushed to the ER with multiple gunshot wounds, Breitbart Texas reported at the time.
Sullivan City is in Hidalgo County and La Grulla in the border county of Starr, both of which are just north of the Mexican area known as La Riberena. That area has been a high traffic crossing point for the Mexican Gulf Cartel because the remote area lacks a border fence. This makes the Rio Grande the only physical obstacle for the cartel drug runners.
Last summer Breitbart Texas was in the city of La Joya, Texas, not far from Sullivan City, when a prison gang member who was an associate of the Gulf Cartel barricaded himself in a house and had a three hour shootout with Texas law enforcement. The hundreds of rounds exchanged that day resulted in two injured police officers and in the death of the gunman.
As reported by Breitbart Texas, various Gulf Cartel commanders and their associates have been known to operate in the Starr County area. One such case is that of Benicio "Comandante Veneno" Lopez who, while having a pending capital murder charge in Hidalgo County, he was able to carry out a kidnapping in Starr County as well as other crimes such as arson and theft.
Also in Starr County, authorities were able to capture Orlando "Comandante Boris" Rodriguez who had been trying to hide out in his Texas home.
Despite the many claims of a safe border by cabinet officials in Washington, cartel members continue to work in Mexico while managing to hide out in Texas, Breitbart Texas reported.
Ildefonso Ortiz is an award winning journalist with Breitbart Texas you can follow him on Twitter and on Facebook.