Former Secretary of State Hillary Clinton told supporters at Long Beach City College on Monday afternoon that she's "tired of" Republican presidential nominee Donald Trump.
The anti-Donald Trump messaging began before Clinton took the stage, as warm-up speakers — including Lt. Gov. Gavin Newsom — primed the crowd with attacks on the GOP's presumptive nominee.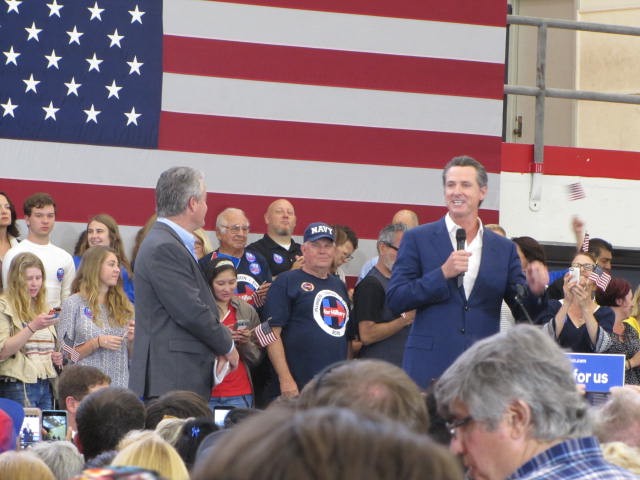 The crowd responded with boos as talk of Trump commenced.
California State Senator Ricardo Lara started the crowd chanting, "¡Si se puede!" and thanked the Service Employees International Union (SEIU) and National Education Association (NEA) — the nation's largest teachers' union — just before leaving the stage.
Many of the rallygoers wore NEA stickers and t-shirts; the NEA endorsed Clinton last October in a contentious decision.
A handful of Sen. Bernie Sanders for President supporters marched their signs along the line of Clinton supporters waiting to enter the venue. One Sanders supporter held a sign suggesting a joint ticket with Sanders and Green Party candidate Jill Stein.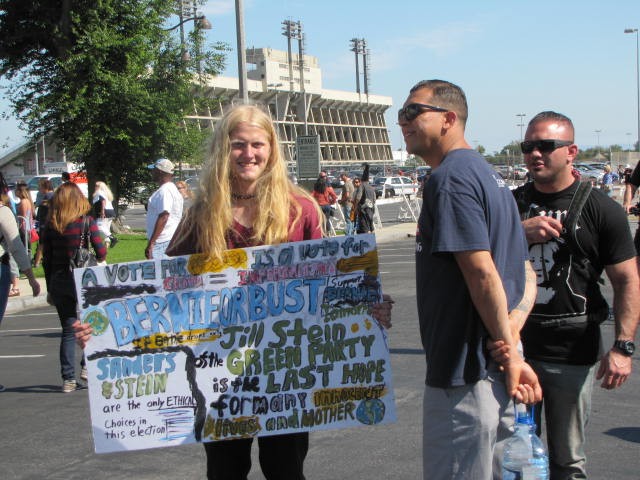 As Clinton took the stage and music boomed throughout the gym, her fans cheered raucously.
Clinton called herself "a progressive" who wants to get things done.
"We're gonna fight climate change," was among her promises. "I have a plan to install half a billion more solar panels by the end of my first term," she added.
She told the crowd that "some country is going to be the clean energy superpower, I think it's going to be either China, Germany, or us. I want it to be us."
Clinton made other promises, including "equal pay" for women, an increase in the minimum wage, "affordable" college, college debt forgiveness, adding on to Obamacare (the Affordable Care Act), "ending over-incarceration," expanding abortion access, "defending, not defunding Planned Parenthood," protecting LGBT marriage, appointing Supreme Court justices who will overturn Citizens United, boosting collective bargaining, and more gun control.
President Barack Obama was also mentioned: "I'm going to build on the good work President Obama has done for which he doesn't get enough credit by the way," Clinton said. Obama has yet to endorse in the presidential race but is expected to do so soon, according to the New York Times.
"I'm tired of Donald Trump," Clinton said launching into several recitations of "I'm tired of him…".
"I don't know what country he lives in," she lamented. "I personally can't wait to debate him."
Clinton claimed she would unify the country, quoting former Republican President Abraham Lincoln's statement: "A house divided against itself cannot stand."
Clinton promised that she "will go anywhere, anytime to seek common ground," citing her terms in the U.S. Senate and as Secretary of State as evidence.
She went on to urge the audience, "I need you to turn out tomorrow … Make a very clear statement: We have repudiated Donald Trump. We are getting ready for the fall election."
"Together we will create the future America deserves," she concluded.
News broke from the Associated Press shortly before Clinton took the stage that she had garnered enough delegates to secure the Democratic Party's presidential nomination based on their count of superdelegates. A Sanders spokesman subsequently said the call is premature as superdelegates haven't voted yet, according to the Los Angeles Times.
A couple of rally attendees sported Bernie paraphernalia. They left the main floor before the rally concluded.
Long Beach Fire Department marshalRich Brandt estimated the crowd inside the rally at 1,600 with another approximately 1,000 that were left waiting outside.
Follow Michelle Moons on Twitter @MichelleDiana