PHILADELPHIA, Pennsylvania — Groups of disgruntled delegates for Sen. Bernie Sanders (I-VT) heckled, protested, and eventually walked out of the Democratic National Convention during Hillary Clinton's speech accepting her party's nomination on Thursday night.
Though by no means universal — many Sanders delegates cheered Clinton enthusiastically — the protests were virtually unprecedented in the history of acceptance speeches at party conventions.
Hundreds of Sanders delegates had arrived at the Wells Fargo Arena Thursday afternoon wearing fluorescent green T-shirts bearing the slogan, "Enough is Enough." The shirts, which glowed in the dark, were produced by members of the Oregon delegation after convention officials turned out the lights in their section to hide their protests the night before.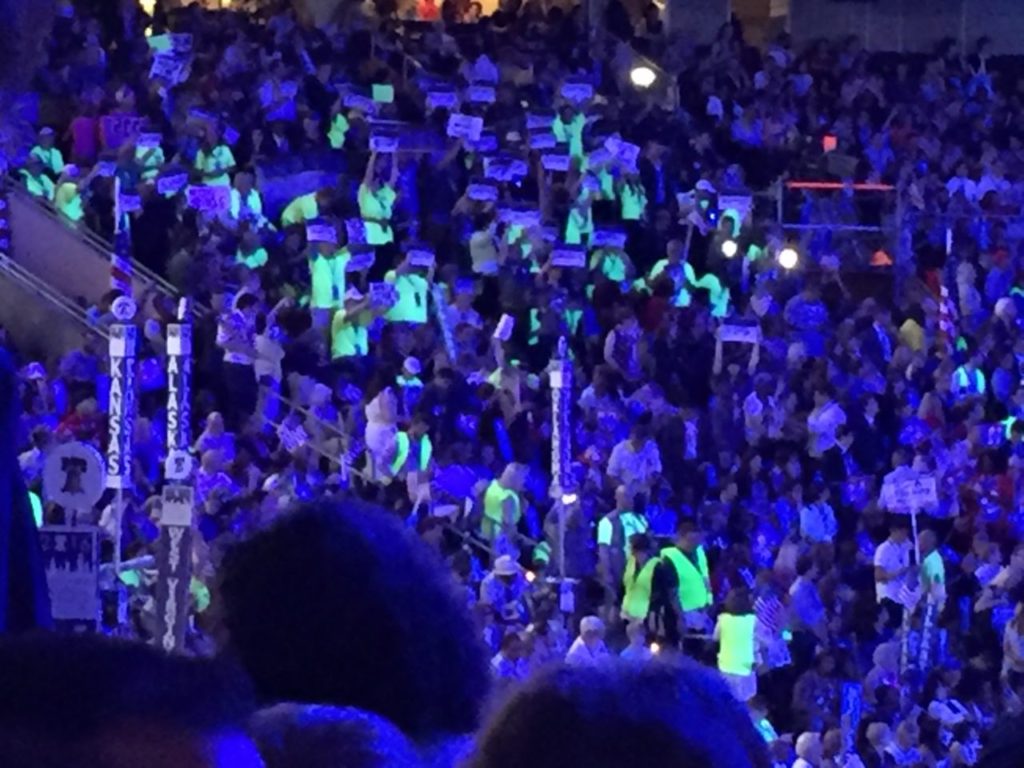 As Clinton took the stage, some California delegates unfurled a hidden banner that read "#WIKILEAKS," a reminder of the email releases late last week that revealed the Democratic National Committee had secretly colluded with the Clinton campaign. Some held signs: "No More Wars" and "Stop Fracking Now," among others.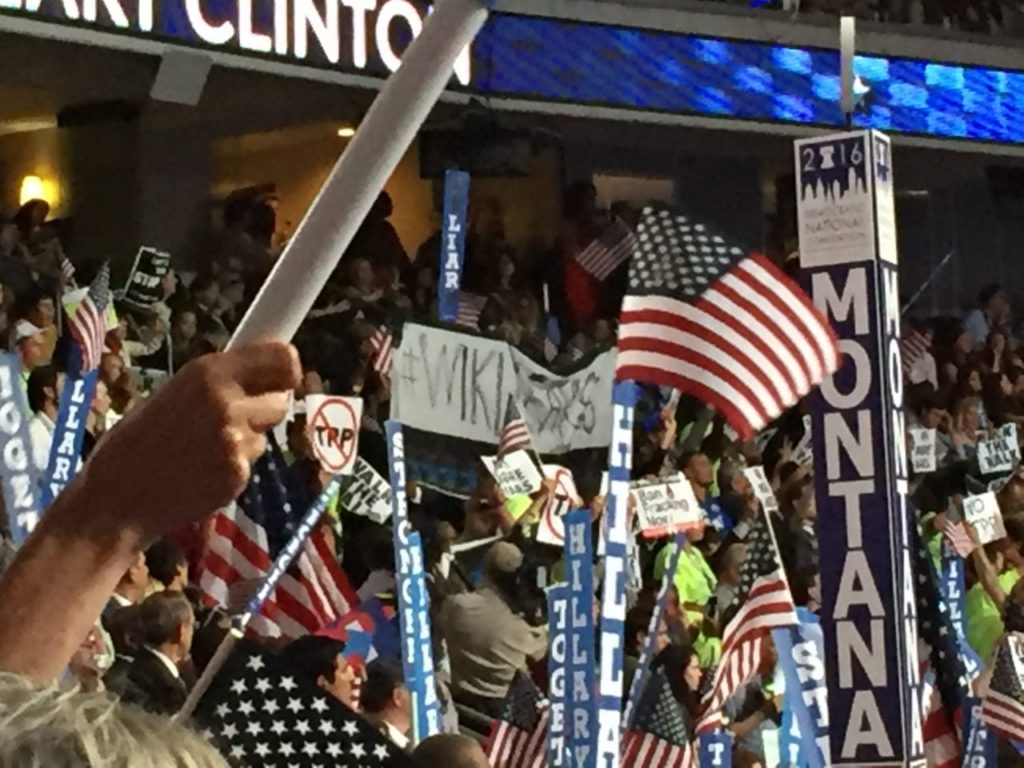 Convention staff did their best to crack down without being overly repressive. They distributed American flags, both large and small, partly in a show of patriotism, but also to hide protest signs. A few Hillary supporters — including supportive Sanders delegates — brought homemade signs of their own.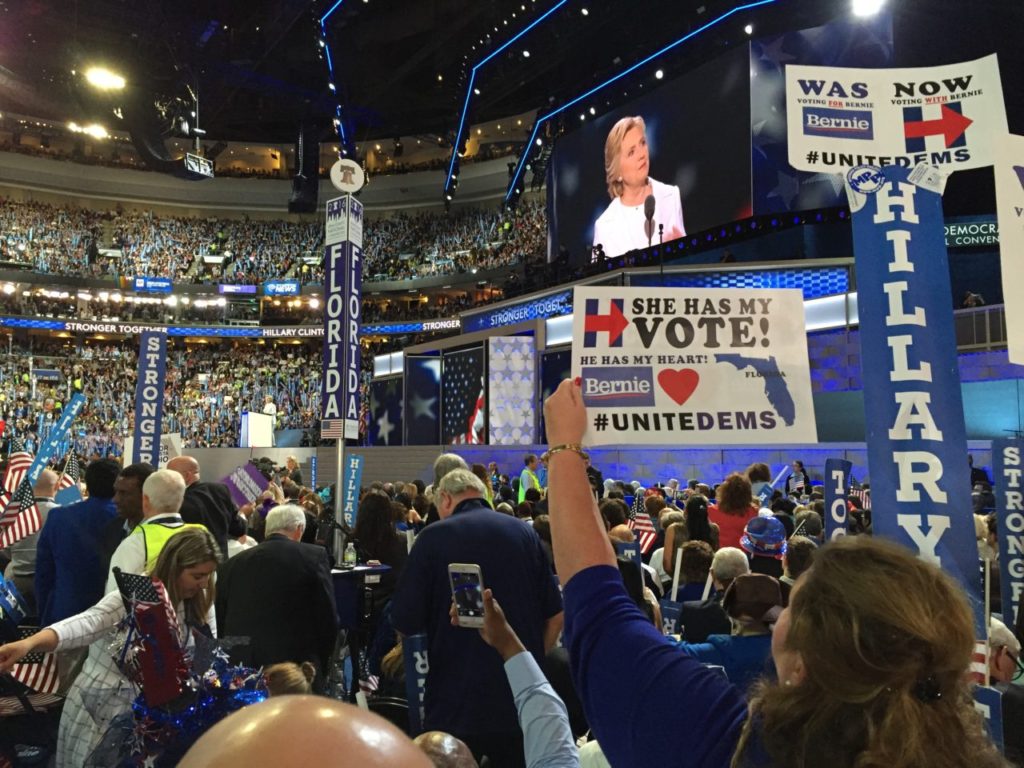 In addition, Hillary delegates shouted "U-S-A!" when protesters began their own chants. The media also avoided the protesters. But they were impossible to ignore completely.
Eventually, toward the end of the speech, a dozen members of the embattled Oregon delegation walked out of the speech in protest.
One carried a sign for Jill Stein, the Green Party candidate for president, who is attracting some interest from Sanders supporters.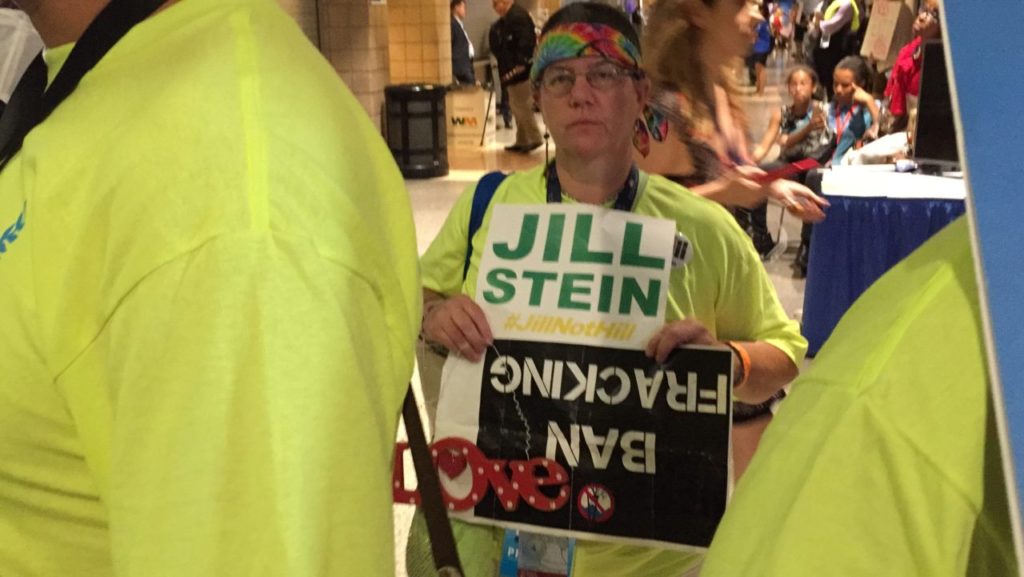 Joel B. Pollak is Senior Editor-at-Large at Breitbart News. His new book, See No Evil: 19 Hard Truths the Left Can't Handle, is available from Regnery through Amazon. Follow him on Twitter at @joelpollak.