If you're not a regular reader of Breitbart News, you may be a little confused by our #DumpKelloggs campaign and the stories about Kellogg's that may have hit your news feed recently.
You may ask yourself, what does a processed foods company have in common with billionaire political operative George Soros, Black Lives Matter, and deceased Cuban dictator Fidel Castro?
According to Kellogg's spokesman Kris Charles, Breitbart News and its tens of millions of readers "aren't aligned with" the cereal maker's "values as a company." That was the reason she gave when Kellogg's removed ads from our website, caving to pressure from our left-wing critics.
The vagueness of the statement made us wonder: what exactly are Kellogg's "values"?
As it turns out, maybe we were never a good fit after all — because a cereal brand, through its nonprofit arm the W.K. Kellogg Foundation, has somehow embraced some of the most extreme elements of left-wing partisan politics.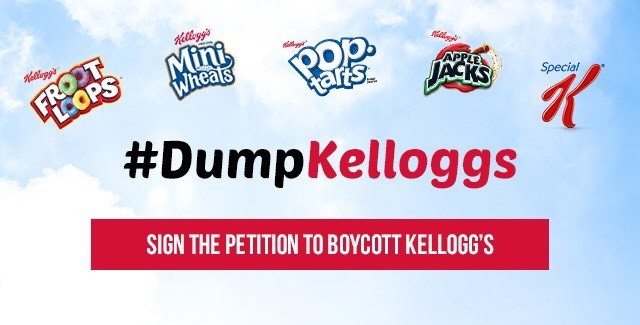 After the death of Cuban dictator Fidel Castro, the W.K. Kellogg Foundation's Director of Racial Equity and community engagement Rev. Alvin Herring wished the Communist despot "Rest in power."
https://twitter.com/Alvin4Community/status/802516832745877504
As Breitbart News's Lee Stranahan reports, "In another tweet, Rev. Herring reposts an article called 'Why black Americans love Fidel Castro' that praised Castro for pardoning convicted cop killer Assata Shakur."
Another example of the W.K. Kellogg Foundation's "values as a company" came on the revelation that it has given at least $930,000 to fund the efforts of Black Lives Matter.
Breitbart Jerusalem Bureau Chief Aaron Klein reports that the six-figure donation from the W.K. Kellogg Foundation to BLM is "listed on the Foundation's website."
"It includes a June 1, 2016 grant to the International Development Exchange, which is in a contractual relationship with Black Lives Matter to process donations for the group," Klein writes.
Patrisse Cullors, a co-founder of Black Lives Matter, openly boasts that the group honors the aforementioned Assata Shakur–a convicted cop killer living in exile in Cuba–at "all its events."
The W.K. Kellogg Foundation also has financial ties to far-left billionaire George Soros, who has earned his fortune in part by short selling currencies and causing economic crises. He was convicted in 2005 for insider trading.
Stranahan reports: "The institutional left's funding behemoth W.K. Kellogg Foundation has partnered with and given major donations to George Soros's Open Society Institute and the Tides Center as part of its massive push to promote a far-left agenda."
Indeed, the W.K. Kellogg Foundation had become the seventh largest philanthropic foundation in the United States. "In recent years," Stranahan reports, "however, the focus of the Foundation has drifted away from just helping children toward promoting left-wing political issues."
One of those high-dollar grants include $200,000 to Soros's Open Society Institute, which, Stranahan writes, went to "eliminate racial inequities in the juvenile justice system and promote racial healing through community-based conferences, policy changes, and communication strategies."
"Another W.K. Kellogg Foundation grant in 2016 gave over $380,000," Stranahan reports, to Soros's Tides Foundation to "provide updated publications/tools describing the state of grantmaking with a racial equity/racial justice lens, including insights to support grantmaking considerations at the program officer and institutional levels, through support of the Philanthropic Initiative for Racial Equity."
And if the connections of Kellogg's namesake nonprofit organization to anti-American movements and praise of a murderous dictator weren't disturbing enough, the embattled cereal giant has been accused of alleged racism toward factory workers and profiting from the use of child labor.
It's no wonder, then, that over 378,000 Americans have signed the petition to #DumpKelloggs.
Follow Jerome Hudson on Twitter @jeromeehudson