A Berkeley, California, hot dog stand fired an employee in response to an online campaign to identify and maliciously publish private information – or "dox" – participants in Saturday's "Unite the Right" rally in Charlottesville, Virginia. The crowdsourcing effort to "name and shame," however, has already misstepped, incorrectly identifying an Arkansas professor 1,100 miles away from the men carrying torches as a racist.
Wrongly named by internet vigilantes, Kyle Quinn was "quickly flooded with vulgar messages on Twitter and Instagram," reported the New York Times. "Countless people he had never met demanded he lose his job, accused him of racism and posted his home address on social networks."
For someone whose only sin was a passing resemblance to someone else — the actual man in the Charlottesville photo has not been conclusively identified — Mr. Quinn bore the direct consequences of the reckless spread of misinformation in breaking news, a common ritual in modern news events.
As for the hot dog stand employee — whom Breitbart News has decided not to name as he too may have been wrongly identified and does not appear to have been involved in any violence — was outed after his picture was circulated on Twitter. He was a cook at Berkeley's Top Dog hot dog restaurant.
A poster taped in a window of the establishment read:
Effective Saturday 12th August, [Employee's Name] no longer works at Top Dog. The actions of those in Charlottesville are not supported by Top Dog. We believe in individual freedom and voluntary association for everyone.
The Twitter account @YesYoureRacist led the charge to dox rally attendees, posting pictures of white nationalist participants online and encouraging others to help identify them.
If you recognize any of the Nazis marching in #Charlottesville, send me their names/profiles and I'll make them famous #GoodNightAltRight pic.twitter.com/2tA9xliFVU

— Yes, You're Racist (@YesYoureRacist) August 12, 2017
The account celebrated the firing of its first Charlottesville doxing victim on Sunday.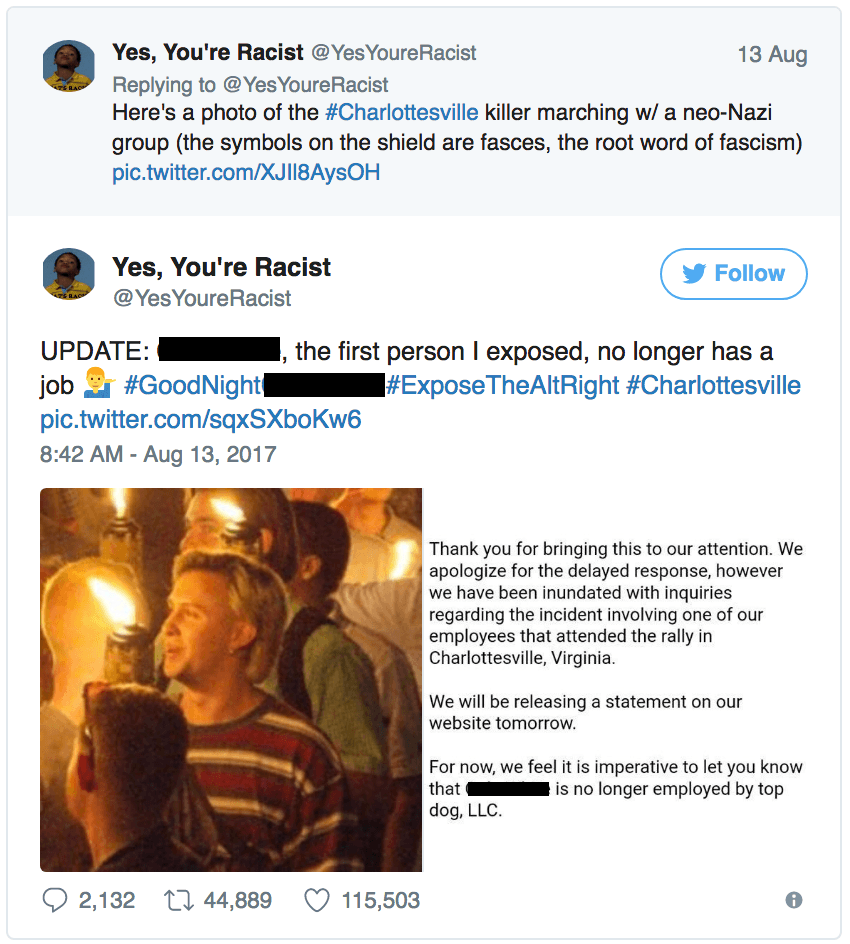 The owner of the Twitter account, which has been active since 2012, was himself doxed, reportedly by users of the website "4chan," Sunday. Identified as Logan Smith, he is an employee at Progress North Carolina Action and a HuffPost contributor.
Smith joined CNN's Brooke Baldwin Monday, confirming his identity and mission behind the @YesYoureRacist account.
When asked why he was so passionate about calling people out, Smith said that, when he saw the images coming out of Charlottesville, the "angry men with torches," he thought "they're not hiding anymore. They're not wearing their hoods anymore. If they are really so proud of their white supremacist belief, then I think their communities should know who these people are."
Smith went on to explain that white people, in particular, must take responsibility for calling out bigotry:
I think that everyone has a responsibility to stand up against bigotry. I'm probably not the person you would expect to be running an anti-racist Twitter account, but white people, in particular, have a responsibility to stand up against white supremacy, because if we don't, if we don't challenge bigotry whenever we see it, then we are being silently complicit in it.
Mr. Smith apparently does not believe a left-wing, nonprofit worker who writes for HuffPost is who people think would be behind an account like this.
Asked whether any of his targets had been outed yet, Smith confirmed that indeed several had, including "one young man from Nevada … pictured with an incredibly angry expression." After tracking him down and finding that he was pictured once with Nevada Senator Dean Heller, Smith countered the argument that the rally's participants are fringe activists, saying, "clearly [they're] not."
Progress NC Action, Smith's employer, is a state affiliate of Progress Now, a 501(c)(4) advocacy group dedicated to "promot[ing] progressive ideas and causes."
Breitbart News asked HuffPost, which has run several pieces condemning the practice of doxing when left-wing "social justice warriors" are the victims, whether it would continue publishing Smith's work. At the time of publication, HuffPost had not responded to our inquiry about Smith's future writing for the website.
While workplace retaliation is not new, the rise of technology and social media has made it riskier for individuals to participate in events not aligned with their employer's political views. While Breitbart News does not condone the motivations behind last weekend's rally, it was scheduled as a lawfully permitted free speech event, protected under the U.S. Constitution's First Amendment.
As seen with the recent Google manifesto and subsequent firing of James Damore, differences in ideology have become increasingly taboo in the workplace.
This intolerance, however, seems to swing predominately one way, with corporations caving more and more to pressure from the Left.
Walmart has gone so far as to sell clothing bearing the slogans of Black Lives Matter, a movement of which supporters shot and killed five police officers in Dallas last year and which is reported to have been involved in the violence that plagued Charlottesville Saturday.
Other than the hot dog stand employee, no other participant in this weekend's protest has yet been reported to have been fired. Baldwin, however, congratulated Smith and wished him more scalps with his "name and shame" effort. "Good on you, Logan Smith. Keep doing it."
Amanda House is Breitbart News' Deputy Political Editor. You can follow her on Twitter at @AmandaLeeHouse.