Young people are deeply distrustful of the media according to the latest Harvard/Institute of Politics poll, signaling more trust in President Donald Trump.
Only 16 percent of young people in the poll said they trusted the media to "do the right thing" while 22 percent said the same about Trump.
Twenty-one percent said the same about the Federal Government and only 17 percent agreed that Congress did the right thing all or most of the time.
Eighty percent of young people said that it was more likely that the media would sometimes or never do the right thing.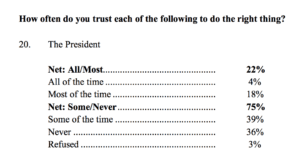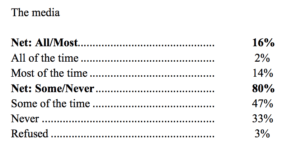 The question was asked about many American institutions including the Supreme Court, national/state/local government, and law enforcement institutions.
Only Wall Street scored lower than the media as only 12 of people believing that the institution could be trusted to do the right thing all or most of the time.
Overall, Trump was given a 25 percent approval rating by young people while 72 percent disapproved. Despite the low approval rating, Trump earned his highest marks on the economy at 34 percent. Thirty-one percent approved his performance on tax reform and handling the war against the Islamic State.