The three Heisman finalists — Texas A&M quarterback Johnny Manziel, Kansas State quarterback Collin Klein, and Notre Dame linebacker Manti Te'o — will be showcased in primetime and marquee bowl games to close out the season. 
Manziel, the scrappy Texas A&M University quarterback who will play Oklahoma in the Cotton Bowl on Friday, won the Heisman on December 8, becoming the first freshman and the 78th player to receive college football's highest honor.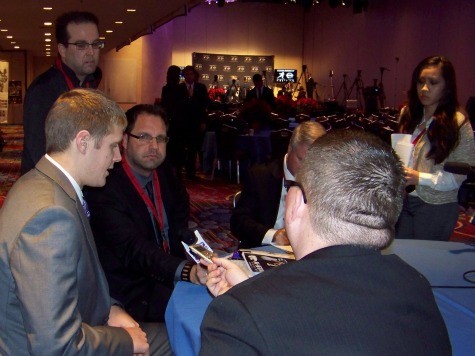 Last month, I, along with bloggers and reporters from around the country, spoke with the three Heisman finalists during Heisman weekend in New York.
My quick impressions: Johnny Football, as Manziel is nicknamed, has an energetic, engaging personality. Klein is a stoic, yet mature leader. Te'o is in a class by himself with the interesting background. He is a Samoan Hawaiian Mormon, who has become the face of the Fighting Irish.
Manziel's signature moment came in Tuscaloosa, where he led his Aggies to a 29-24 victory over Alabama in November, the week after Alabama defeated LSU at Tiger Stadium in Death Valley.
A panel composed of former Heisman Trophy winners, media personnel, and one fan ballot gave Manziel 474 first place votes in naming him college football's most outstanding player. Upon receiving the award, Manziel noted, "I have been dreaming about this since I was a kid, running around the backyard pretending I was Doug Flutie – throwing 'Hail Marys' to my dad. I wish my whole team could be up here with me."
Because I attended the Heisman Trophy press conference, held at the Marriott Marquis in holiday-bustling Times Square, I participated in some of the hype surrounding the awarding of the cast bronze statue of a football player, striking the much-copied pose, to Manziel.
At this presser, reporters from as far away as the Honolulu Star-Advertiser and as close as the New York Times were there, as well as popular bloggers, like Chris Huston, better known as "The Heisman Pundit." All were armed with microphones, laptops, or smart phones, ready to nab a soundbite from or snapshot of the three candidates nominated for the 2012 award. Besides Manziel, Collin Klein, quarterback for Kansas State University, and Manti Te'o, linebacker for the University of Notre Dame, were the other two nominees featured at the Heisman Trophy's presentation on ESPN, televised live, from the Best Buy Theater near Broadway.
After a traditional press conference, during which the three candidates mounted a stage and fielded questions, the media was invited to sit at small tables, while each young man held court. Due to the crush and buzz surrounding Manziel as the likely winner, I elected to sit first with Te'o and then with Klein, as I was interested in peppering them with non-sporty questions.
I asked Te'o, adorned with large leis, about his volunteer work, since he visits homeless shelters and pediatric hospitals. He shared that he participated in the Relay for Life, as he wants to be a warrior against cancer. Te'o lost his girlfriend, Lennay Kekua, to leukemia and his maternal grandmother, Annette Santiago, earlier this year before Notre Dame played Michigan State. 
Te'o bravely elected to not miss a game, despite his personal tragedies. He performed spectacularly in the games after the tragedies. He told reporters at our table that he attributes everything he accomplishes to "his Heavenly Father." Still, the upcoming BCS title game, in which undefeated Notre Dame will play against the Crimson Tide in sunny South Florida on January 7, was at the forefront of his consciousness.
"My mind is all on the national championship," said Te'o.
On that note, I made my way to the quietest table in the room – that of Collin Klein. Having interviewed Tim Tebow at a previous Heisman press conference, I was more eager to chat with the 6'5″ quarterback about his Christian homeschooling background and his commitment to wait until his wedding day to kiss his bride (Klein recently married Shalin Spani, a former K-State basketball player and fellow home schoolerr.), than in hearing how he scored a touchdown in an impressive 21 straight games. 
Klein did not disappoint.
He freely talked about "the Lord," and shared that he is thankful for his upbringing and for his parents. Klein, an accomplished pianist, was asked by another reporter what his favorite music genre to play is. He replied: "Gospel and praise." And, yes, he did wait till he was married.
Such responses are what make the Heisman press conference such a fascinating event, as the conversation  transcends talking about touchdowns and tackles.
Izzy Lyman can be reached at izzylime@aol.com. Photos courtesy of Izzy Lyman.