People scratched their heads when Russian President Vladimir Putin picked Sochi to host the country's first ever Winter Olympics because it is in a subtropic climate and a summer resort. Temperatures have not been below 50F and reached 64F on Thursday.
Athletes who compete in outside events took off the majority of their outerwear. Nicole Fessel of Germany wore a short sleeved shirt for her cross country event while her competitors Sadie Bjornsen and Sophie Caldwell wore a tank top. Moldova's Alexandra Camenscic was one of many who used the snow to cool down after the women's 10K classical-style cross-country race.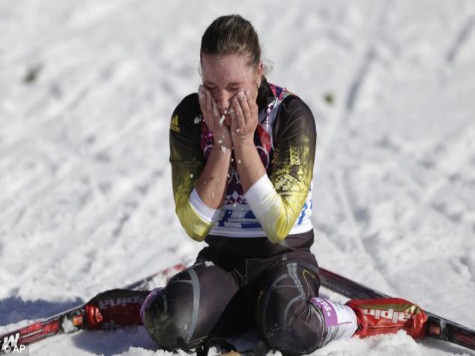 Media outlets showed tourists and residents wearing bathing suits to hit the coast of the Black Sea. But the warm weather has a horrible affect on the slopes and the ice inside the rinks. Here are a few complaints:
U.S. Alpine ski racer Bode Miller went from being a pre-race favourite during training runs down an icy hill to an eighth-place finisher when the downhill course got slushier on Sunday.

He said: 'It would be a tough call to be like, "The weather is changing, we're just going to go completely throw a dart in the dark and hope it hits." We had to stick with what we knew.

'In hindsight, it was a mistake, because on training day, it was boilerplate ice and you needed a lot of edge. And on race day, you needed to be more subtle, more smooth'

Austrian ski jumper Wilhelm Denifl said: 'Holes and ruts form if the snow on the landing zone is not hard enough… The snow becomes unstable, and if we are landing consistently in the same area, and at a high speed, the pressure associated with landing can make it unstable. And dangerous.'
US speed skater Patrick Meek said the humidity caused by the Black Sea does not allow for fast times. The women's downhill practice was canceled because the temperatures caused the snow to be too soft.
Here is the 10-day forecast from The Weather Channel. Once again, temperatures will not be below 50F during the day.