Dallas police have disabled the armored van used in the shooting and pipe bomb incident at the Dallas Police Headquarters early Saturday morning. What is believed to be the vehicle used in this assault was described as a "Zombie Apocalypse Assault Vehicle and Troop Transport." Police disabled the vehicle with a .50 caliber rifle shot to the engine block.
The vehicle was sold by Jenco Sales, Inc. in Newman, Georgia, according to a Dallas Morning News report. The company described the vehicle on their Facebook page as follows:
Zombie Apocalypse Assault Vehicle and Troop Transport. This full armored zombie busting vehicle features convenient gun ports so no zombie juice touches you during a mass zombie take down. It also has benches in the back so you can take turns resting during long Zombie sieges. The tactical step boards are installed for when you only need swords and axes for drive by mow downs. The bumpers are made of reinforced steel tubing, so no dents from smashing zombie heads! It's full armor plated and has bullet proof windows just in case you run into other zombie hunting hordes who might try to take this bad boy from you. Like anything, there is a price attached to this fine piece of zombie fighting machinery.
The Facebook posting has since been deleted from the page.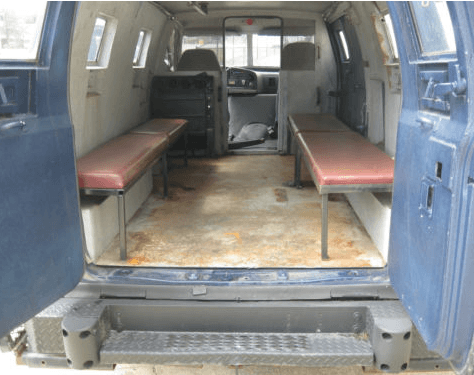 On E-Bay, the vehicle is described as: 1995 Ford E350 Armored Van 7.3L Diesel S.W.A.T. Team Lenco Certified Armor. It sold on June 7 for $8,250.
In videos captured by witnesses, the van is seen ramming police vehicles, and shots are heard coming from inside it.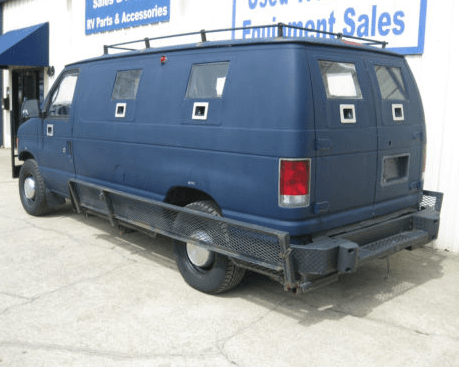 At about 4:30 Saturday morning, police fired a .50 caliber round into the engine block to make certain the pursuit went no further. Negotiation with the alleged suspect, James Lance Boulware, continue at this time.
Bob Price is a senior political news contributor for Breitbart Texas and a member of the original Breitbart Texas team. Follow him on Twitter @BobPriceBBTX.