MATAMOROS, Tamaulipas — The Tamaulipas state government spent millions in providing state police officers as personal bodyguards for two former governors who are wanted by the U.S. Department of Justice for their alleged roles as surrogates to Mexican cartels.
As Breitbart Texas previously reported, former Tamaulipas governors Tomas Yarrington Ruvalcaba and Eugenio Hernandez Flores have outstanding arrest warrants stemming from criminal indictments charging them in U.S. courts with money laundering, bribery and drug trafficking charges. Both officials have had their U.S. properties and bank accounts seized.
Breitbart Texas has obtained a leaked document from the Tamaulipas Government where state officials ordered one agent from that state Ministerial Police to serve as a personal guard for Yarrington. The agent was assigned a 9mm Glock handgun and a Colt M-4 rifle as part of his duty weapons in order to provide security to the fugitive politician.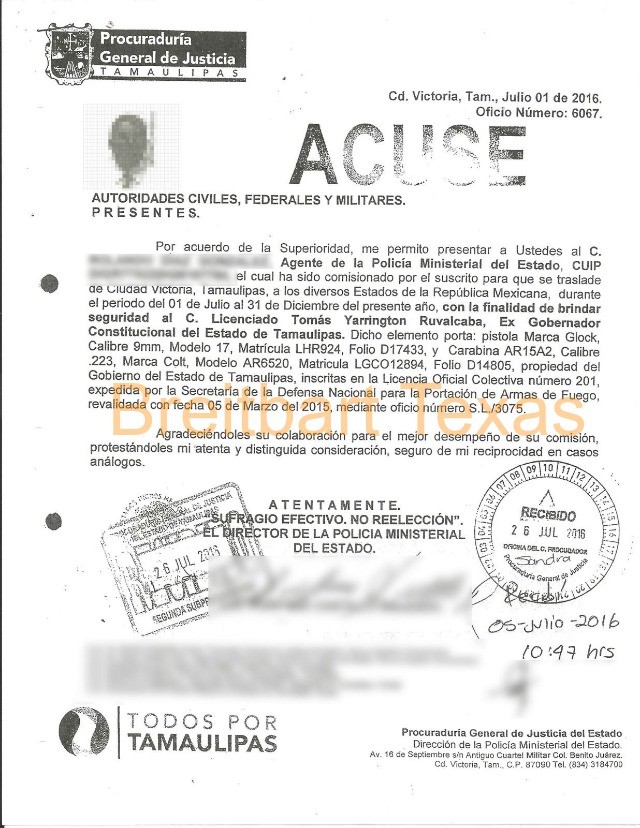 The Tamaulipas government is believed to have paid $30 million pesos or $1.5 million USD in salaries and equipment to provide security for Yarrington and Hernandez. The information about the state paying for armed guards was initially reported by Televisa News Tuesday night.
Both Hernandez and Yarrington have been accused of laundering millions in cartel bribes, the criminal indictment in the U.S. revealed. In addition to laundering funds, Yarrington is also believed to have helped the Los Zetas cartel establish relations with the government of Veracruz in order for the criminal organization to have access to a major port city.
Ildefonso Ortiz is an award winning journalist with Breitbart Texas. He co-founded the Cartel Chronicles project and you can follow him on Twitter and on Facebook.