On Wednesday night's "Late Night with Seth Meyers" on NBC, host Seth Meyers and guest Amy Poehler brought back an old skit from their "Saturday Night Live" days, where they discuss news and say "really?!" after the story.
During their Wednesday skit, they brought up a tweet by Sports Illustrated analyst Andy Benoit calling women's soccer "not worth watching" and the duo then proceeded to rip Benoit for preferring golf over women's soccer, as well as his employer Sports Illustrated for their swimsuit issue, which features women, who have nothing to do with sports, in swimsuits.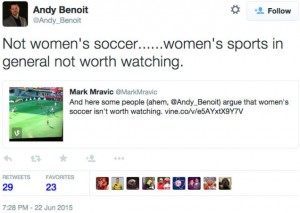 "No more tweeting, Benoit. You're too dumb," Poehler said.