Actor Peter Fonda deleted his sexist a Twitter tirade calling United States Secretary of Homeland Security Kirstjen Nielsen a "gash" who should be "put in a cage" Fonda also deleted his vile attacks on President Donald Trump's son, Barron, calling for him to be raped and taken from his parents.
The profane Easy Rider actor jumped to his Twitter account on June 19 to attack Nielsen in the most personal of terms calling her a "gash," a word that serves as a stand-in for the abusive word c*nt.
"Kristjen Nielsen is a lying gash that should be put in a cage and poked at by passersby," Peter Fonda tweeted. "The gash should be pilloried in Layfayette Square naked and whipped by passersby while being filmed for posterity."

The actor who on June 20 Rush Limbaugh called the epitome of "obscure" actors desperate to be better known, also attacked Donald Trump's youngest son Barron saying that he hoped the boy would be raped by pedophiles.
On June 20, Fonda uncorked the following all-caps Tweet reading:
WE SHOULD RIP BARRON TRUMP FROM HIS MOTHER'S ARMS AND PUT HIM IN A CAGE WITH PEDOPHILES AND SEE IF MOTHER WILL WILL STAND UP AGAINST THE GIANT ASSHOLE SHE IS MARRIED TO. 90 MILLION PEOPLE IN THE STREETS ON THE SAME WEEKEND IN THE COUNTRY. FUCK

Next, the actor, who only quit doing illegal drugs after his daughter staged a personal intervention, posted a third tweet demanding that activists target the children of ICE agents.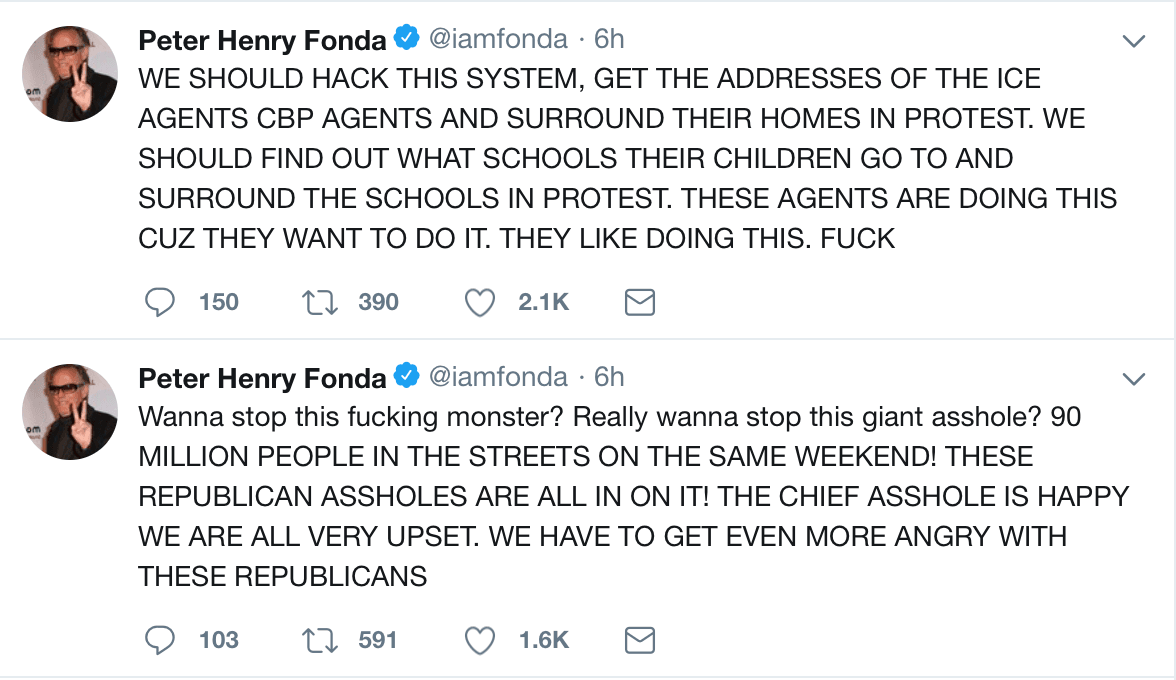 Naturally, Fonda deleted all three of these unhinged tweets — as did documentary filmmaker Josh Fox and singer Nancy Sinatra, both of whom endorsed Fonda's tweets.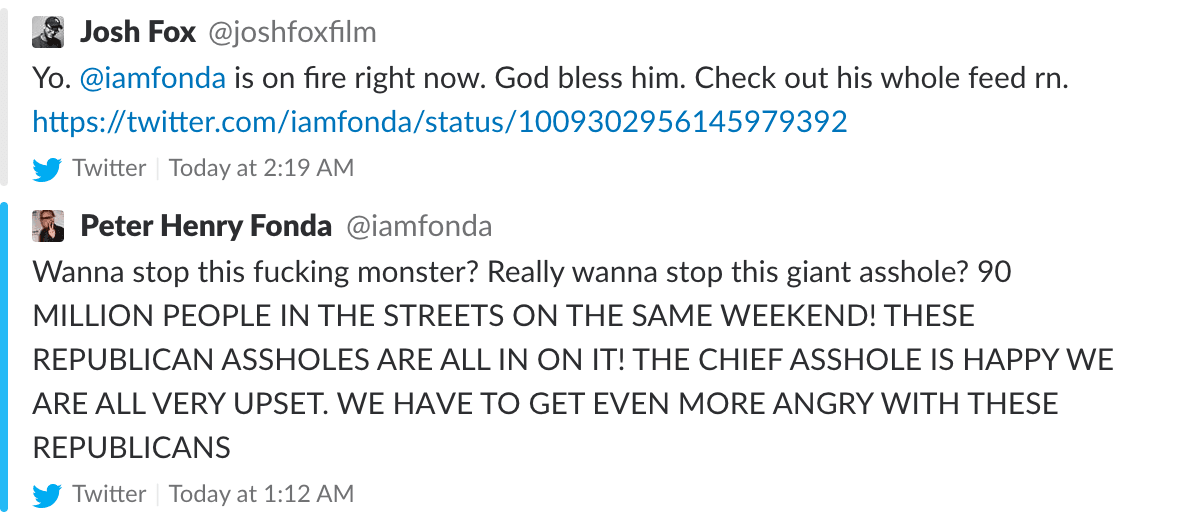 Follow Warner Todd Huston on Twitter @warnerthuston.