MIGRANT CRISIS LIVE WIRE – This page will host all the relevant information from Europe's unfolding migrant crisis. You can follow all the latest updates below.
This page is edited by Breitbart London's Raheem Kassam, Chris Tomlinson, Oliver Lane and Donna Rachel Edmunds. Newest updates will appear at the top of the page.
*      *      *      *     *
---
THIS IS AN ARCHIVE – You can read all the latest updates here
---
19/02/2016

– 

COPENHAGEN, Denmark

 

– Migrant deported for stealing cokes

A 28 year old Romanian man is in the process fo being deported and banned from Denmark for six years after he was caught stealing two Coca-Colas. The man had already been ejected from Denmark once before for a previous offence, and so was in Denmark illegally before he was even caught stealing. The individual will likely serve a ten day prison sentence before being expelled, reports TheLocal.
---
19/02/2016

– 

SAFFLE, Sweden

 

– Asylum seeker murders girlfriend

A 42 year old man was arrested last night on suspicion of murder after his girlfriend was found stabbed in a Saffle industrial road apartment. The woman, who has not been identified, was taken to Karlstad hospital but died of her injuries, reports Dagens Nyheter.
The migrant male, who is presently under "reasonable suspicion" for the crime made an application for residence in September 2015, and he has two children with the woman. Friatider would not report the name of the suspected due to Swedish law, but stated it was "Middle Eastern' sounding".
---
18/02/2016

– 

DONAUESCHINGEN, Germany

 

– Migrant assaulted security guard

A 19 year old private security guard employed to keep order at one of Germany's many immigration centre had a "coffee cup smashed over his head" in a confrontation that led to both men being injured. The 21 year old asylum seeker responsible started the fight after he accused the guard of touching his sister "inappropriately". Police are investigating.
---
18/02/2016

– 

WIESBADEN, Germany

 

– Exhibitionist sought

Police are appealing for witnesses after an "exhibitionist" described as having a "black beard" and "dark skin" after he opened his trousers and ran along a side-walk exposing his "bare member" yesterday.
---
18/02/2016

– 

Mediterranean

 

– Seven-Fold Increase in Migrant Crossings

A record 89,262 migrants have crossed into Europe via the Mediterranean during the first seven weeks of 2016, according to figures collected by the United Nations High Commissioner for Refugees (UNHCR). The vast majority – 93 percent – have landed on Greek soil.

As a mere 12,821 people crossed the sea into Europe during the first two months of 2015 (itself an increase on 2014 figures), the number represents a seven fold increase on last year.
---
18/02/2016

– 

HILDESHEIM, Germany

 

– Pensioner robbed

A 76 year old woman out shopping with her daughter on Wednesday were approached by two "Mediterranean appearance" women who tried to initiate a conversation but were unable to speak German, uttering only "fragments" of words.

After the women went their separate ways, the pensioner realised her purse had been taken. Police are appealing for witnesses.
---
17/02/2016

– 

DRESDEN, Germany

 

– AfD Poll at 17 Per Cent

German UKIP-like anti mass migration, Eurosceptic party Alternative fur Deutschland (AfD) is rising in the polls just four weeks away from state elections. The party was on 15 per cent in January in Saxony, reports Focus.
---
17/02/2016

– 

BRUSSELS, Belgium

 

– ISIS members arrested

Raids in the now infamous Molenbeek suburb and the municipalities of Koekelberg, Schaerbeek and Ettersberg led to ten arrests of Islamic State recruiters. Of those arrested, seven were subsequently released, reports NTV.
---
17/02/2016

– 

BORDEAUX, France

 

– Turks and Kurds Clash in Town Centre

Turks and Kurds have been clashing in Bordeaux, France, over the last few days, after a Kurdish youth managed to climb onto a balcony on the Turkish embassy and replace the Turkish flag with a Kurdish one.
National Front Senator and mayor of Frejus David Racheline posted a video of the unrest to his Facebook page, commenting: "Clashes between Turks and Kurds in the centre of Bordeaux: mass uncontrolled immigration and leads to chaos and clashes between communities on our territory."
---
17/02/2016

–

ZAGREB, Croatia

 

– Croatian police deployed to Serbian border

Police said in a statement: "Croatia has additional border police and special forces deployed to observe Serbia border area", reports Krone. The deployment follows the deportation on Tuesday night of 217 failed migrants who had already been expelled before, but had returned illegally.

Serbian television reported those being sent away staged a "loud protest" but the police action was successful.
---
17/02/2016

–

ARLANDA, Sweden

 

– Police mystified by self defence weapon sales

Swedish border police have confiscated 592 spring, telescopic, and regular batons so far this year, up from 256 over the whole of 2015. The weapons are illegal in Sweden but are suddenly enjoying a surge in popularity, being imported mainly from Germany, Singapore and China, reports FriaTider.

Officers have been unable to explain why exactly why people are ordering these items, despite experience in other European countries showing an explosion in natives ordering self-defence equipment in response to the migrant crisis.
---
17/02/2016

–

BREMEN, Germany

 

– Bremen Police Raid Salafist Group

Bremen Police have raided a Salafist group with links to the Islamic state. 200 police raided the Mosque and headquarters of the organization and collected hard drives, computers and smartphones. The group has officially been banned by the authorities but no word has been released on possible arrests. 21 members of the group are said to have traveled to Syria to fight for the Islamic state since the summer of 2015 reports Zeit.
---
17/02/2016

–

VIENNA, Austria

 

– Migrant Sex Assault on Vienna Underground

A 49 year old woman who was looking to attend a football match in Vienna was sexually assaulted by up to six asylum seekers at the Vienna underground station Simmering. Police say that the migrants were housed at a local asylum centre but were kicked out after repeat offences and are effectively homeless reports Die Presse.
---
15/02/2016 –

London, United Kingdom

 – Media caught lying over Cologne mass rapes
Apologies for the lack of updates today, but Breitbart London has been busy exposing the lies in the mainstream media about the Cologne mass rapes, sexual assaults and thefts. The Huffington Post, the Metro, Russia Today, and the Independent have all claimed that only three recent migrants to Germany were involved in Cologne. German prosecutor Ulrich Bremer has taken the unprecedented step of coming out and calling theses reports "total nonsense" after his words in a German interview were twisted by left-wing outlets in the English-speaking world. READ MORE HERE.
---
14/02/2016

 –

Bavaria, Germany

 – Interior Minister warns of 'attackers of tomorrow'

The Federal Criminal Police Office of Germany (BKA) says about 4,800 unaccompanied child migrants went missing last year, including 431 under the age of 14, with the Bavarian Interior Minister warning they may eventually turn to crime.

Bavarian Interior Minister Joachim Herrmann told German newspaper Welt am Sonntag: "If we are not careful and do not rapidly integrate these young people into our society, the new attackers of tomorrow could soon come from the group of young refugees."
---
13/02/2016

 –

Paderborn, Germany

 – British military families attacked by migrants

Military police have confirmed that a number of attacks by migrants have been reported by military personnel and their families stationed at Paderborn in Germany, the Express has reported. One woman living at the barracks has told Forces TV: "If we are going out on a night out we need to plan ahead and not consume as much alcohol."
---
13/02/2016

 –

Hannover, Germany

 – Rapist shouted 'Inshallah!'

A 25 year old student has been brutally raped and beaten in a dark alley after leaving a nightclub in Hannover. According to the victim, her attacker spoke broken German and repeatedly shouted "Inshallah" – God willing – as he carried out his attack, oe24 has reported. A 39 year old Algerian migrant has appeared in court after DNA testing identified him as the rapist.
---
13/02/2016

 –

Helsinki, Finland

– Migrants returning home citing bad weather, unfriendly locals

More than 4,100 asylum seekers in Finland have cancelled their applications and are opting to return home. 80 percent of those leaving are Iraqi, prompting Finnish officials to charter return flights to Baghdad.

Travel agent Muhiadin Hassan told Reuters: "Some say they don't like the food here, it's too cold or they don't feel welcome in Finland. There are many reasons." He said he is now selling 15 to 20 tickets to Baghdad each day.
---
13/02/2016

–

Islington, London

– Illegal immigrant accused of attempted kidnap

Illegal immigrant Abdi Waise appeared at court yesterday accused of impersonating a police officer and attempting to kidnap school children in North London. He has been  charged with six counts of attempted kidnap, five counts of impersonating a police officer, false imprisonment, stalking and one count of inciting a 15-year-old boy to engage in sexual activity, the Evening Standard has reported.

Mr Waise already has a criminal record: he was jailed in 2009 for the brutal strangulation and rape of a woman in North London.
---
13/02/2016

–

BONN, Germany

 

– Newly arrived migrant is already repeat offender

An Algerian migrant who has been in Germany just two months has already been caught stealing three times, and has been now sentenced to six months in jail.

Sentencing, the judge called the man a "basket case", wondered why he couldn't get along on his €320 montly allowance like the other migrants and told the man "you have greatly abused our hospitality".
---
13/02/2016

–

STEINFURT, Germany

 

– 13 year year old girls abused

Three 13 year old girls were touched "immorally" repeatedly in a public swimming pool on Tuesday evening after they were approached by a gang of four or five "probably African" men.

Aged between 18 and 25, the men approached the girls while they were using the water slide. Police are appealing for witnesses.
---
12/02/2016

–

SÖDERTÖRN, Sweden

 

– 18 years for honour killing

Zirdest Edil, 53, beat his wife for wearing a sleeveless dress then later murdered her, mutilating and stabbing her with a knife in what has been called an "honour killing" by the prosecutor.

The court heard the wife had wanted a divorce from her abusive husband. The sleeveless dress was found cut up at the scene of the murder, and an academic testified the mutilation of the body bore hallmarks of having been a ritualised honour killing. Mr. Edil will serve 18 years, reports Aftonbladet.
---
12/02/2016

–

PREISTWITZ, Germany

 

– PEGIDA supporter hospitalised

A supporter of the Patriotic Europeans Against the Islamisation of the Occident (PEGIDA) supporter was beaten with a telescopic baton and chains while on his way to a rally. A man in a car asked the victim where he was going, and when he mentioned PEGIDA suddenly a gang between five and eight people jumped him.

The injured man's car was also "demolished", reports MOPO24. Police are investigating politically motivated violence and grievous bodily harm, and are appealing for witnesses.
---
12/02/2016

–

HAMBURG, Germany

 

– Englishman raped with courgette

An Englishman out cycling in a German park was hospitalised on Monday evening after he was jumped by a gang of three "southerners" and anally raped. MOPO reports the man was dragged to the ground, pinned down, and had his trousers pulled down by two of the men while the third went through his shopping bags and pulled out a courgette.

The vegetable was then "brutally pushed into the anus". Police are appealing for witnesses.
---
11/02/2016

–

VILLINGEN-SCHWENNINGEN, Germany

 

– Girl shot in the head for resisting

A masked man speaking bad German with a "foreign" accent demanded sex from a 19 year old woman as she walked home last week, squeezing her chest and buttocks while threatening her with a gun.

The woman assumed it was a toy and so turned to flee, but the man shot at her as she went away with the so-called airsoft gun, leaving her with an injured earlobe and a ball-bearing stuck in her skull bone, reports NQOnline. The perpetrator was seen again later threatening patrons in a restaurant hotel and despite being captured on CCTV was not caught by police.
---
11/02/2016

–

OFFENBURG, Germany

 

– Passer-by beaten after he comes to aid of sex victim

A young woman was attacked by a gang of three "Mediterranean appearance" men on Sunday morning, and cried out for help. Luckily for her a passer-by came to her aid, but the gang then vented their frustration at being interrupted on him instead while the girl fled.

The man then became a victim, being beaten before the gang fled. He later bumped into the same gang and was again beaten. Police are appealing for witnesses.
---
11/02/2016

–

OCHTRUP, Germany

 

– 16 year old girl molested

A group of "tall" men of "dark complexion" who spoke a "foreign" language grabbed a teenage girl as she was cycling on Sunday. While one held her by the wrists, another touched her.

After she was molested, the girl was able to escape on her bike and reach police, who are appealing for witnesses.
---
10/02/2016

–

VIENNA, Austria

 

– Extra measures to secure southern border

Austria's government is set to announce ten new 'border management systems' to secure its southern border crossings in Tyrol and Carinthia, a place where migrants faced with stricter controls at the border with Slovenia are likely to cross.

The measures will include fences, barriers and increased patrols by police and soldiers. There will also be army patrols on Austria's border with Hungary, the main crossing point for migrants last summer.
---
10/02/2016

–

Austria

 

– Asylum seekers jump the hospital queue

Last week large numbers of people turned up at Austrian hospitals because of a flu epidemic, but had to wait to see doctors whilst asylum seekers were seen to get priority treatment. Now health officials have admitted they were ordered not to make asylum seekers wait but to give them fast track treatment.

The reason given is that part of the asylum process sees migrants receiving a health check for which expensive translators are needed to aid communication with doctors, and Austrian officials do not want to pay translators to sit in waiting rooms.
---
10/02/2016

–

ERFURT, Germany

 

– Two 14 year old girls harassed

Four Afghan men, aged 16, 17, 21, and 29 were taken into police custody after they made sexual advances toward two 14 year old girls on Sunday. The men tried to hold and kiss the girls and followed the girls when they tried to escape, reports Thuringische Landeszeitung.
---
10/02/2016

–

HEPPENHEIM, Germany

 

– 17 year old molested

Four Afghan men are in police custody after they sexually harassed a 17 year old girl on Sunday. Aged between 16 and 17, the attackers who enjoy refugee status in Germany are being treated as minors by police, reports Morgenweb.
---
10/02/2016

–

GÜTERSLOH, Germany

 

– Carnival chaos, rape, sex assault

A town's annual carnival has been overshadowed by sex assault and theft, reports Neue Westfalische. A 24 year old presented herself to police after she was raped, leading to the arrest of a 29 year old Nigerian asylum seeker. The man told police the sex was consensual, investigations are ongoing.

Another arrest was of a 24 year old Algerian who molested two 16 and 17 year old girls. Police are seeking "three black Africans" and two other men in costume after they groped and robbed a 21 year old woman. A 25 year old Syrian was arrested after squeezing the buttocks of two women. Another woman was molested by two masked men.

Two Russian citizens are under investigation by police after they shouted "Heil Hitler" during the carnival.
---
10/02/2016

– 

BONN, Germany

 

– 15 year old girl molested

Police have arrested a 35 year old "immigrant" for molesting a 15 year old girl during a carnival on Monday in a suburb of Bonn, reports Express.
---
10/02/2016

– 

LAUFENBURG, Germany

 

– Drunk, molesting Afghans arrested

Police arrested three Afghan males aged 18, 19, and 26 after they molested multiple women at a carnival at the weekend. There are 'indications' they were drunk, reports Pforzheimer Zeitung.
---
10/02/2016

– 

MAINZ, Germany

 

– Woman molested in Shrovetide attack

A 27 year old woman was molested by a gang of "Arab" looking men while she was dancing at a Shrovetide celebration on Sunday. After one attacked her and turned to leave, she was held back by a second while being mocked by the men. On the same day a number of other women between 18 and 21 years old were also molested, being touched on the bottom, breasts, and genitals by three Arab men.

Investigators are trying to determine whether it was the same gang in all cases, reports Allegmeine Zeitung.
---
10/02/2016

– 

DORTMUND, Germany

 

– Migrant on migrant violence

A 38 year old Moroccan 'refugee' was rushed to intensive care from his asylum shelter on Monday after he was stabbed by a fellow asylum seeker. The 20 year old responsible has been has been arrested for grievous bodily harm, report police.
---
09/02/2016

– 

LEVERKUSEN, Germany

 

– Mass brawl after migrant teenage sex assault

Dozens of locals moved to defend a 19 year old girl after she was groped on bottom by a "North African" male which led to a mass brawl. Police were deployed to the suburb and ordered all bars in the area to close early to head off the possibility of further violence. The violence, in which migrants pulled knives after being told to leave the local women alone, took three hours to be settled by officers.

Local bar owners expressed frustration over being forced to close early on one of their busiest trading days of the year, with one landlord expressing to the Kölner Stadt-Anzeiger that the crowd in her establishment were good natured and they had nothing to do with the fighting.
---
09/02/2016

– 

ROME, Italy

 

– Merkel made angry phone call to Pope

Pope Francis has revealed he was rebuffed by the German Chancellor after he made remarks in 2014 comparing Europe to a "barren woman", making a clear attack on the failure of native Europeans to sustain their own populations. The low birthrate of most European nations has been a major contributing factor to the justification of mass migration.

Speaking in an interview the Pontiff remarked: "She was a bit angry because I had compared Europe to a barren woman, incapable of producing children", reports euobserver. Read more about Europe's falling birthrate at Breitbart London.
---
09/02/2016

– 

GRODITZ, Germany

 

– Footballers beaten with iron bars

A group of 20 "North Africans armed with iron bars" chased and beat up a group of amateur footballers at the weekend reports the Sächsische Zeitung. The players were leaving a sports hall, having taken part in an indoor football tournament on Saturday night when the men struck, with two players seriously injured. The attack reportedly took place nearby a migrant hostel.
---
09/02/2016

– 

Amsterdam, Netherlands

 

– People smugglers on trial

Two Dutchmen have appeared in court in Amsterdam charged with attempting to smuggle 13 Vietnamese and 11 Albanian nationals to England in a poorly-maintained eight-man yacht.

The migrants paid between $500 and $3,000 for the crossing but the smugglers could barely sail. The attempt was thwarted by military police carrying out a spot check.
---
09/02/2016

– 

Norway

 

– Children raped in migrant centres

Under-18 migrants living in Norwegian asylum centres are being sexually abused, with the criminal investigation police admitting they have no idea how deep the problem runs, reports Klassekampen. The children are not just being raped and assaulted by their fellow asylum inhabitants, but the centres are being visited by known sex offenders.
---
09/02/2016

– 

BRUSSELS, Belgium

 

– EU thinks twice about migrant plan

European Commission chief Jean-Claude Juncker's flagship plan to stem Europe's migration crisis by redistributing refugees around the bloc risks crumbling as EU states balk at sharing the burden, diplomats, officials and experts have told AFP.
---
09/02/2016

– 

AMSTERDAM, Netherlands

 

– Dutch set up border controls

The Netherlands has stepped up the monitoring of traffic crossing its frontiers, a government minister said on Monday. The move follows a decision last September to deploy mobile border guard units along roads and railways lines to intercept migrants and separate them from asylum seekers, Reuters has reported.

"Those measures helped, but we were still seeing a rising number of smugglers being arrested, and you are seeing more people coming from safe countries, who aren't eligible for asylum," state secretary Klaas Dijkhoff told reporters.
---
09/02/2016

– 

ESSEX, England

 

– Seven arrested at Indian restaurant

Seven have been arrested after an immigration raid at an Indian Tandoori in Stanway, Essex. Two of the illegal workers attempted to flee officers as they stormed the building but were detained, report the Gazette News. Four men will be deported.
---
09/02/2016

– 

CALAIS, France

 

– Railway station smashed

A migrant was seen smashing every screen on a platform at Calais rail station this week before boarding a train. He was reported to the police by others at the station, and was arrested upon arrival at Lille, according to a report by local group Les Calaisiens en Colère on Facebook.
---
08/02/2016

– 

MAINZ, Germany

 

– Suspected ISIS commander raided

German police have raided a "picturesque" village near Mainz, acting on intelligence that one of the 'refugees' who had been housed there was a senior and experienced Islamic State officer. Spiegel reports the man in question is a "notorious" commander responsible for the death of "dozens" of people who escaped to Europe with tens of thousands of dollars in cash.
---
08/02/2016

– 

KOS, Greece

 

– Mayor warns migrant crisis fermenting civil unrest

The mayor of the Greek island of Kos on Sunday called on the government to abandon its plans to build a migrant registration centre as demanded by the EU, warning that local opposition could lead to "uncontrollable" protests. "There is a present danger that we will mourn victims and be led to uncontrollable situations," Kos mayor Yiorgos Kyritsis said in a letter to Prime Minister Alexis Tsipras, made public by the state agency ANA.

Three locals were hurt this week in a scuffle with riot police near the area chosen to build the migrant centre, or hotspot, including a journalist covering the protest, who was later detained. AFP
---
08/02/2016

– 

BUDAPEST, Hungary

 

– Hungary applauds border controls

Hungary, the south-eastern European nation which reduced daily illegal migrant border crossings from 10,000 a day to just a couple of dozen by building a patrolled razorwire fence has congratulated Austria on making the first steps of securing their own border, reports Frankfurter Allgemeine.

Austria had been last year the strongest critic of Hungary's border plan, with some government figures even comparing the Hungarian government to Nazis for taking efforts to protect their borders. Hungarian leader Viktor Orban was last week presented with a gift painting by the people of Bulgaria to congratulate him on his efforts to protect Europe from Muslim mass migration.
---
08/02/2016

– 

MEININGEN, Germany

 

– Police investigating migrant themed carnival float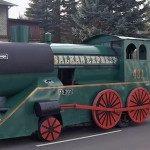 Details of a mocked up wooden train carnival float which is thought to be making reference to the efficiency with which European railways have brought hundreds of thousands of migrants into the heart of the continent has been passed to the prosecutor for investigation.
The locomotive, which was aptly named the 'Balkan Express' and had written across the buffer bar "The Plague is Coming" was accompanied by dozens of carnival committee members dressed as grasshoppers. The prosecutor will decide whether the display was a hate speech, or if it comes under the category of carnival satire.
---
08/02/2016

– 

CALAIS, France

 

– Migrants Barricade Eurostar Terminal

Migrants completely blockaded the Eurotunnel access road last night with wooden pallets and debris in a bid to stop traffic moving and climb aboard UK-bound lorries. One driver snapped a picture of the blockade which was shared to Facebook by the group Calais Routiers Sécurité.
---
08/02/2016

– 

Southern Spain

 

– ISIS Militants Arrested

Seven people have been arrested in Spain suspected of supplying arms and bomb making equipment to Islamic State and the al-Qaeda affiliated Jabhat al-Nusra organisations in Iraq and Syria. Four are Spanish nationals of Syrian, Jordanian and Moroccan origin; two others are Spanish residents from Syria and Morocco. Along with the men, police seized cash, electronics equipment and bomb-making materials disguised as humanitarian aid, the Daily Mail has reported.

The arrests bring the total number of alleged jihadists arrested in Spain since the beginning of 2015 to 82.
---
08/02/2016

– 

LINZ, Austria

 

– Governor sends undercover police to deal with migrants

The governor of Upper Austria is deploying the state undercover police force to deal with what he described as a "small group of Moroccans" who he says are "fueling the rejection of all refugees" with their criminality.

The move is in response to the city train station having become a "danger zone" with fights every day and passengers going to and from trains routinely "molested", reports Kronen Zeitung.
---
08/02/2016

– 

ALTENBERG, Germany

 

– Carnival float warns of dark future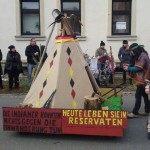 A carnival float in the Saxony town of Altenberg has grabbed the attention of many German newspapers after it depicted a native American tipi. Written on a board below the wigwam and followed by the carnival crew dressed as native Americans, was the legend: "The Indians did nothing to prevent immigration and today they live in reservations".
A second picture from the same parade showed a man dressed in the rags of a homeless man carrying a sign reading "if only I was a migrant", reports N-TV
---
08/02/2016

– 

MOSCOW, Russia

 

– ISIS Militants Arrested

Russia's Federal Security Service (FSB) announced Monday that it had arrested seven members of an Islamic State terror cell who were allegedly planning major jihadist attacks on Moscow and St. Petersburg. Read more at Breitbart London.
---
08/02/2016

– 

BERLIN, Germany

 

– Controversial asylum package may be impotent

The German government's much-debated Asylum Package II, a raft of measures to give Berlin more control over the migrant crisis may fail to deliver because it has been poorly worded. One of the main measures set out is a temporary halt on the right to family reunion, in which asylum-seeker unaccompanied children can apply to have the German government fly their families over because of the human right to family life.

The enormous number of unaccompanied youths — which includes anyone under age of 18 — has led to an even greater number as relatives to the youths are shipped to Germany, prompting the change to get migrant numbers down for 2016. Yet the fact the majority of unaccompanied minors don't register as asylum seekers and instead are given tolerated foreigner status means only 105 minors properly registered in 2015 would actually be affected by the change, reports Die Welt.
---
08/02/2016

– 

BAVARIA, Germany

 

– Police investigating 'refugee themed' carnival float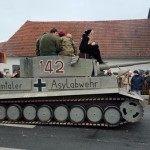 Pictures of a a wood and cardboard mock-up of a Second World War vintage Tiger tank adorned with signs reading 'Asylum defence' and 'Asylum Package III' taken by police have been passed onto the office of the prosecutor after the float was featured in carnival parades this weekend.
Officers at the scene didn't prevent the parade from going ahead because although they suspected the satirical float was possibly guilty of acting seditiously, they decided to respect the right of artistic freedom. One of the signs on the tank was a reference to the controversial 'Asylum Package II', a new package of government measures designed to give Germany greater control over their borders, but significantly delayed from its planned January implementation date.
---
08/02/2016

– 

COPENHAGEN, Denmark

 

– Islamist gunman killer was carrying Qur'an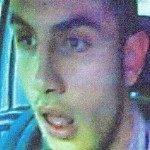 Pakistanian origin Omar El-Hussein who pumped thirty rounds in a Danish freedom of speech convention, and a Synagogue in February last year was carrying a gold illuminated Qur'an at the time of his death. Police examination of his corpse after he was shot and killed by police officers found the bookmark to be placed at a passage dealing with the treatment of disbelievers and worshippers of idols, a fact that has been kept secret by police until now, reports Berlingske.
Danish lawmakers have expressed surprise that the police had chosen to withhold this information for so long.
---
07/02/2016

– 

DONAUESCHINGEN, Germany

 

– Police called to migrant centre brawl

Several patrol cars and attendant officers were called to a migrant centre after an Iraqi elder brother objected to his 15 year old sister being in "contact" with a 22 year old Syrian male at the same facility. Using typically euphemistic language the police report on the situation stated the officers arrived to find between 50 and 60 migrants engaged in "tumultuous debate" over the matter.

Through "courageous action" the officers calmed the "threatening" situation and took five into police custody.
---
07/02/2016

– 

BAD SCHWALBACK, Germany

 

– Police investigate political vandalism

German police are investigating a case of criminal damage after a person unknown sprayed over posters for pro-mass migration centre-right CDI, pro mass migration left wing party SPD, and pro migration FDP. The messages painted in red and black paint over the posters read "stop asylum" and is thought to have taken place on Friday night according to the police report.
---
07/02/2016

– 

COLOGNE, Germany

 

– Woman jumped by gang

The daughter of a prominent Cologne musician was jumped by a gang who beat her in the face and tore off her clothes. Although there was a number of other people in close proximity to the attack, none responded to the 26 year old woman's cries for help. Worse, when she managed to escape to a nearby bar for aid she was thrown out by the landlord who said he didn't want any trouble at the establishment.

Police managed to apprehend one suspect, who has been named only as 'Yussuf B'. Police will also be visiting the bar to investigate their failure to render assistance to the woman, reports Express.
---
07/02/2016

– 

HEPPENHEIM, Germany

 

– 17 Year Old Girl Groped

Four recent migrants from Afghanistan aged between 16 and 17 are being investigated by police after they surrounded and groped a 17 year old girl during Sunday's carnival proceedings. The victim is pressing charges but the real identity of the men is presently in doubt, according to the police report.
---
07/02/2016

– 

ORTENBURG, Germany

 

– Iraqi migrant injured

A group of 'unknown youths' attacked an Iraqi man outside his asylum accommodation after he went outside to see a number of fireworks that had been let off. Police are appealing for witnesses.
---
07/02/2016

– 

OFFENBURG, Germany

 

– Algerian Arrested After Sex Attack

A 27 year old woman was attacked on the edge of Offenburg town carnival on Saturday night and police were called to the scene. A "native of Algeria" was arrested in relation to the attack, and has been charged with sexual coercion.
---
07/02/2016

– 

LEIPZIG, Germany

 

– Libyan Arrested After Sex Attack

Libyan 'refugee' Hamid. S has been arrested after he stalked and attempted to rape a 25 year old teacher in Leipzig, Germany. The woman was followed by the migrant after she got off her morning bus before he grabbed her from behind, choked, and pushed her against a wall. The woman bit the attacker and was able to escape and alert the police, reports MOPO24.

Having failed to perform his assault, the Libyan man then went to a shop, stole several bottles of alcohol and retried to his asylum accommodation, where he was arrested.
---
06/02/2016

– 

VIENNA, Austria

 

– Gambian migrant arrested for murder of U.S. nanny

A 24-year-old Gambian 'asylum seeker' has been arrested for the murder of an American Au Pair in Austria. Read more at Breitbart London.
---
06/02/2016

– 

BERLIN, Germany

 

– 1 in 4 Germans supports using firearms against migrants

More than one in four Germans think border guards should be able to use firearms to stop migrants entering the country illegally, a poll has found. Read more at Breitbart London.
---
05/02/2016

– 

OSTEND, Belgium 

– Belgian teenager gang raped

Police have launched an investigation into the rape of a 17 year old girl after footage of the attack was discovered on the mobile phone of a 14 year old suspect. Seven men and boys were depicted dancing, laughing and singing in Arabic around the passed out girl before they gang raped her. Read more at Breitbart London.
---
05/02/2016

– 

MARBELLA, Spain 

– British teenager gang raped

An 18 year old Brit was dragged into a car by a gang of Moroccan men while walking home from work, and gang raped reports the Daily Mail. Police are investigating Moroccan males in the area but there have so far been no arrests.
---
05/02/2016

– 

SCHARDING, Austria 

– Girl jumped at tram stop

Three men of "Arab appearance" jumped a 16 year old at a tram stop on Wednesday, one of the group holding her while the other two attacked her chest and genitals. When the girl resisted and called out, she was violently assaulted and told in broken German to be quiet. The assault ended and the sex offenders fled as a a tram approached. There have been no arrests.
---
05/02/2016

–

KARLSRUHE, Germany

 

– Migrants caught with drugs

As police carried out random searches in the city centre of Karlsruhe a 17 year old Algerian migrant confessed to owning a package of illegal amphetamines found nearby. A 26 year-old Libyan is also implicated but did not admit any wrongdoing to police.

A 25 year-old Gambian was also detained with five grams of marijuana. All three suspects were arrested, drugs confiscated and released pending formal charges according to a press report from Police in Karlsruhe.
---
04/02/2016

–

STUTTGART, Germany –

Migrant Robs Department Store

A 23 year-old Algerian man has been remanded into custody by police in Stuttgart after a series of robberies. The suspect was arrested at a department store by police after he had previously stolen a pair of jeans at the same location. An 18 year old security guard at the store observed the man and after a security alarm went off. The suspect punched the security guard in the face when confronted.

Police arrived shortly after the assault and found the 23 year-old Algerian in possession of stolen goods and armed with a razor blade according to a press report from Baden-Wurttemberg Police.
---
04/02/2016

–

NEUMUNSTER, Germany

– Migrant Train Sex Assault

Two asylum seekers from Macedonia are accused of sexually assaulting two sets of two women on a train by exposing themselves to the girls and harassing them. The two 23 year old men first started exposing themselves to two women on the train from Elmshorn to Neumünster in a private compartment and then moving to another compartment and doing to the same thing to another pair.

Both pairs of women described similar actions taken by the migrants. They blocked the paths of escape and groped the women while attempting to expose themselves to them. After escaping the men all four women reported them to police who arrested them and found that they were asylum seekers living in an asylum centre in Boostedt according to a press report from the German Federal Police.
---
04/02/2016

– 

HAMM, Germany 

– Police search for thief
Police have released the identikit of a suspected thief who attacked a 37 year old woman last month. Pushing the woman against a wall and demanding women, he "felt her entire body" and then hit her in the face when he found she had nothing worth taking.
The suspect is described as being of a "wiry and slender figure", having "curly short hair, similar to a small Afro", and "thick lips, and a thicker nose".
---
04/02/2016

– 

FREIBURG, Germany 

– Supermarket robbery

Two men of "dark complexion" robbed a supermarket with a  gun on Wednesday, threatening a saleswoman and raiding the till for cash. Hundreds of Euros were taken by the two men, who were joined by a third accomplice who had waited outside as they fled. The men have not been identified.
---
04/02/2016

– 

LUDWIGHAFEN, Germany 

– Police enquiries after girl approached

Police are seeking a Turkish speaker described as having "short curly dark hair" and a "brown complexion" after he approached a 13 year old girl at a railway station and asked her to follow him, which prompted her to run away. He followed her into a shopping centre, repeating his demand, and then gave up following her, according to the police report.
---
04/02/2016

– 

STUTTGART, Germany 

– Police called to camp brawl

A major police operation was but into place when migrants at a government cap started to brawl on Monday. When officers arrived, they discovered there had been an internal dispute among the predominantly Iraqi inhabitants of the camp had violently disagreed over how to "deal" with a group of Syrian "newcomers" to the camp.
---
04/02/2016

– 

PARIS, France 

– Number of Islamists doubles

An official report leaked to the French media shows 8,250 people, including women and teenagers, were identified as suspected radical Islamists in France over the last year, more than doubling the previous figure from March 2015. Read more at Breitbart London.
---
04/02/2016

– 

MANNHEIM, Germany 

– Woman groped

Police are seeking a "North African appearance" man speaking "broken German" after he grabbed a woman in the early hours of Sunday. The 26 year old was touched on the "breasts, buttocks, and private parts", and he later opened his trousers and "fumbled his member" in front of her, according to the police report.
---
04/02/2016

– 

BERLIN, Germany 

– Shouted 'Allahu Akbar' while firing in the air

Police are seeking an unidentified man who shouted a blank-firing pistol in the air and fired it at least four times while shouting the Islamic war-cry "Allahu Akhbar" at the weekend before driving off. Shell casings have been recovered, but there has been no developments in tracking the man or his car.
---
04/02/2016

– 

STYRIA, Austria 

– Free pass for migrants, €25 for Austrians

Now the Schengen agreement has been suspended in most of Europe, appropriate travel papers are once again required to cross many borders. This is the case, at least for EU citizens, who are to be fined €25 on the border if they accidentally leave their I.D. cards at home. Migrants on the other hand are not expected to meet any such requirements and are waved through after having their finger prints taken, if they are intercepted by police at all, reports Der Kronen Zeitung.
---
04/02/2016

– 

STOCKHOLM, Sweden 

– Emergency services describe working in no-go zone

Several interviews with emergency service crews accompany a report on the most dangerous areas of Stockholm in today's Aftonbladet. A fire officer states "They set cars on fire and when our crew arrives, people are subject to regular ambushes". He said stones are regularly thrown, and fire hoses stolen.

A spokesman for the ambulance service in Sweden says he has very high staff turnover in areas where crews are threatened with violence or attacked, and some suffer from post traumatic stress disorder. "I've had paramedics who have been shot at, chased with knives or axes. We see a disturbing trend where colleagues who are subjected to violence don't want to testify in court".

"Now we go to gunshot wounds almost daily".
---
04/02/2016

– 

HOVMANTORP, Sweden 

– 'Pray To Allah Or Die'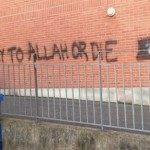 What appears to be an Islamic State battle flag has been painted on the wall of a school along with the words' Pray to Allah or Die', reports Sweden's state radio.
Police were called when the graffiti was discovered, but at present they have no suspects for the crime, admits a spokesman. The headmistress of the school told media the sign made her feel "uncomfortable".
---
04/02/2016

– 

STEYR, Austria 

– Swingers club 'evicted for migrants'

An Austrian sex club has been evicted from their Steyr premises, they claim, because the landlord wants to collect the generous government rent payouts for a refugee centre instead. The manager of the Aphrodite swingers' club claims the property owner is hoping to collect upwards of €12,000 a month in migrant money and so turfed them out without notice, but the landlord told press the eviction was merely over unpaid rent, reports Der Kronen Zeitung.

This is not the first time the habit of swinging, or partner swapping has been under threat from the migrant crisis this week. Six Islamists were arrested in France after police unearthed plans to attack a number of such venues, and then flee to Syria. Read more.
---
04/02/2016

– 

VIENNA, Austria 

– 'Goldrush' of ISIS fighters coming to Europe

Two Islamist fighters who entered Europe on fake passports are being held in Austria as German constitutional chief Hans-Georg Maaßen said it is clear "that the Islamic State uses the flow of refugees to infiltrate [into Europe] fighters with a combat mission". Mr. Maaßen said the Islamic State was sending fighters into Europe as a "show of force", and the sheer number getting through resembled a "gold rush".
---
04/02/2016

– 

ABBEVILLE, France 

– Arrest of migrants ends in shootout

A vehicle carrying ten Iranian and Iraqi migrants crashed on the A28 on Wednesday morning as the migrants fled from a border control barrage set up across the road, French news has reported.  One officer was struck by the car, and was taken to hospital with a leg injury. His fellow officers gave chase and were forced to use their firearms when the migrants resisted arrest. All eleven occupants of the car, including the driver, were arrested. The car was registered in England.
---
03/02/2016

–

NIEDERBAYERN, Germany

 – Afghan Migrant Sentenced to Three Years in Prison after Attacking Man with Knife

A 23-year-old man of Afghan origin has been sentenced to three years in prison after assaulting a 27-year-old Ugandan man and threatening him with a knife in a hotel used as an asylum centre in Bavaria.

According to BR24, the men were involved in a fight when the Ugandan migrant fled the scene and locked his door. The Afghan man pursued him, however, and broke his door down while wielding a knife. Another resident at the centre had to help subdue him before taking the knife.

The defendant was cleared of attempted murder, although the state prosecutor may appeal the decision.
---
03/02/2016

– 

DARMSTADT, Germany

 – Islamic State supporter arrested

A Syrian postgraduate student has been arrested after he expressed his support for Islamic State in an hour long YouTube video. The video was uploaded in January in Arabic with English subtitles, but was only brought to the attention of the German authorities when fellow students recognised the man from a shortened version made by the Middle East Media Research Institute.

Tobias Huch, a politician with the Free Democratic Party of Germany told n-tv: "This case not only shows that ISIS is already among us, but also that it's Salafist supporters will continue to be active in our inner cities for as long as their ideology remains unopposed. The public authorities must act quickly and consistently deport ISIS supporters."
---
03/02/2016

– 

GELSENKIRCHEN, Germany

 – Migrants brawl at asylum centre

Police were called to an asylum centre just after 6pm on Tuesday evening to break up a brawl between the Syrian residents. One man was injured in the fight and had to be taken to hospital. Three arrests were made.
---
03/02/2016

– 

LUDWIGSHAFEN, Germany

 – Graffiti sprayed on school

Graffiti including the tags 'PKK' (the Kurdistan Workers' Party); 'Polska' and 'Kurdistan' was found daubed on a school, a nursery, and a Protestant parish office. It is believed to have been sprayed there at between 7.30pm and 8pm on Monday night.
---
03/02/2016

– 

MANNHEIM, Germany

 – Armed raid on hotel and bakery

A hotel was raided at just after 9am on Wednesday morning by a man who demanded money in broken German. The raid was thwarted when one of the staff knocked the firearm out of the hands of the would-be burglar, who is described as of North African appearance, wearing a dark hooded sweatshirt and red ski mask. He is suspected of carrying out a similar raid which took place at a nearby bakery two hours earlier.
---
03/02/2016

– 

LANGENFELD, Germany

 – Attempted abduction of 18 year old girl

Two men, described as "strikingly dark skinned," are wanted by Langenfeld Police after they attempted to grab an 18 year old girl as she made her way home, at about 10.30 on Tuesday night. The men were spotted on the same bus as the girl and appear to have followed her as she got off, making a grab for her near a school. She was able to shake them free, injuring her arm and ripping her jacket in the process. They did not pursue her as she ran away.
---
03/02/2016

– 

SANDHAUSEN, Germany

 – Woman Mugged at Knife-point

A 23 year old woman was mugged at knife-point as she made her way home from work on Tuesday night. Her assailant grabbed her from behind and held a blade to her throat hard enough to draw blood. He fled after searching her bag for money. He is described as between 20 and 30 years old, dressed in a hoodie with a scarf wrapped around his face, leaving only his eyes visible. He spoke with a foreign accent.
---
03/02/2016

– 

CALAIS, France

 – Church and Mosque Demolished at The Jungle

The French Authorities have bulldozed a church and a mosque as part of recent efforts to clear a 100m strip of land between migrant camp The Jungle and the nearby port bypass road, local news has reported. The 'No Man's Land' has been created in a bid to prevent the migrants from attacking road users. Charities in the area have said the destruction of the two buildings is "at odds with the fundamental human right to worship freely," but the Prefecture of Calais has countered that the mosque had already been abandoned. A further five mosques and one church within the new boundaries of The Jungle have not been touched.
---
03/02/2016

–

VEITSHÖCHHEIM, Germany

– Five Police Cars Called to Fight Between Children

Local police sent five police cars to break up a fight between two children in the a migrant centre in the town of Veitshöchheim in Bavaria. Main Post says police were forced to intervene after parents became involved in the squabble, however no one was arrested.
---
02/02/2016

–

CHARLOTTENBURG, Germany

– Migrant mass brawl

A brawl happened on Monday evening in which young men of various national backgrounds went at each other with iron bars, stones, fists and even a broom. The altercation started after a dispute in the dining room according to security sources.

60 police rushed to the scene and ended the fight. A 15 year old was charged for throwing stones and breaching the peace. No one was seriously injured reports Tagesspiegel.
---
02/02/2016

–

BONN, Germany

 – Migrant threw children from window

Children aged one, five and eight were injured after their father threw them from the upper window of their home yesterday. Their Syrian father has confessed to the crime and has been arrested by homicide police. The man had previously attacked his wife in January, reports Der Express
---
02/02/2016

–

GELDERMALSEN, Netherlands

 – Arrests after anti-migrant riot

Dutch police have arrested two men and are seeking another six after analysing television footage of an anti-migrant camp riot in the country in December, reports De Telegraaf. Footage of the remarkable protest, which overran a council meeting deciding on the project was beamed worldwide as 2,000 marched on the town hall.

The local council had decided to build a refugee camp for 1,500 in a town of just 27,000.
---
02/02/2016

–

FLANDERS, Belgium

 – Swimming pool suspect to be released

An Iraqi migrant who was arrested last week on suspicion of molesting a 12 year old girl is to be released from a secure asylum centre. Although the police investigation is still ongoing, the migrant's solicitor made the request he be released, which was granted this morning, reports FlandersNews.

The man denies sexually assaulting the child, and claims to have gone to her aid when she appeared to be drowning on a water-slide. Read more on the trend of sex assaults in public baths on Breitbart London.
---
02/02/2016

–

BERLIN, Germany

 – Employment minister threatens refugee welfare cuts

The German minister for labour and social affairs has mooted cutting the state benefits of migrants who refuse, or fail to integrate into German society. Writing a guest editorial for a popular German newspaper, minister Nahles said: "Whoever comes here to seek refuge and begin a new life must adhere to our rules and values". She also said in time migrants should learn to pay their own way, rather than live off welfare indefinitely.

There is presently no indication the suggestion will become government policy.
---
02/02/2016

–

AMSTERDAM, Netherlands

 – Government makes space for more migrants

Half of all the provinces in the Netherlands have prepared an additional 2,500 places for migrants each, at the command of the Dutch government. The plans were agreed on in November, reports Noordhollands Dagblad, to be made ready for use by this week. Many of the areas which failed to hit the target have already taken so many migrants they are unable to build a surplus of beds. Others have failed to meet the target and gave no explanation.
---
02/02/2016

–

DUISBERG, Germany

 – Knife attack

A man exercisign a team of horses on a rural path near the town of Kamp-Lintfort was approached by two masked men with knives on bicycles on Sunday, reports Rheinische Post. Although they men didn't speak German and communicated with each other in an unknown foreign language, they were able to shout "Money! Money!" at their 50 year old victim, who handed over his cash out of concern for his horses. Police are appealing for witnesses.
---
02/02/2016

–

CHEMNITZ, Germany

 – Arrest for assault

A woman on the till at a convenience store in Chemnitz railway station was insulted and spat upon by a "foreign national" customer yesterday as the man bought a tin of shoe polish. The "aggressive" Libyan suspect was taken to the police station for questioning and was charged with assault, and was then released.
---
02/02/2016

–

HAMBURG, Germany

 – 'Massive' police presence at school after attacks

A nursing school has been put under police protection, with a "large contingent" of officers stationed there after "many young women" complained about being molested on their way to school by migrants. Around 15 officers are stationed to protect the students as they walk to classes from a nearby railway station in the morning.

The students of the National Health Care School were subjected to suggestive gestures and remarks, and at least one student has been assaulted by "Mediterranean looking" men while she was walking from the train station. One remarked the men said women who don't wear the burqa are "sluts", reports a German educational news site. A 1,400-man migrant camp is nearby, which police are now investigating.
---
02/02/2016

–

NADLAC, Romania

 – Migrant incursions grow

The number of migrants entering Romania both legally and illegally is on the rise, reports Digi24 television. The Hungarian border fence, which has been so successful in keeping out migrants from their own country has forced the migrant path to re-route around, taking some through Romania. The number of illegals detected in January was 71, up from 7 in the same period in 2015.

A large number of 'legal' migrants are also to arrive through the European Union's forced resettlement programme, which sees arrivals in oversubscribed countries like Germany and Italy sent to the fringes of Europe. At least 6,300 have been assigned to the country so far.
---
01/02/2016

–

PRIGNITZ, Germany

 – Demand for gun licenses up

Local police sources in the Ruppiner Land have confirmed the rapidly increasing number of gun licence applications follows the national trend. The Markische Allgemeine reports there were as many applications in November and December 2014 as the rest of the year combined, and in many German areas there have been as many applications in January as the whole of 2015.
---
01/02/2016

–

LINZ, Austria

 – Migrants suspected of pharmacy raids

Police have arrested members of a Serbian and Croatian gang they suspect of having shoplifted a number of pharmacies and drugstores in the city of Linz. Another suspect is on the run, having escaped arrest, states the police report.
---
01/02/2016

–

POTSDAM, Germany

 – Migrant-on-migrant stabbing

Shoppers in a supermarket in Potsdam's central railway station were witness to a "brutal" stabbing on Thursday as two Syrian migrants tried to kill each other.

Markische Allgemeine reports as two groups of migrants met in the supermarket one grabbed a kitchen knife and stabbed another with such force the blade snapped off. The reason for the assault is presently unclear.
---
01/02/2016

–

FLENSBURG, Germany

 – Demand for gun licenses up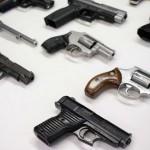 Citizens in a small German-Denmark border town are requesting more small arms licenses, with more applications in January 2016 than the whole of 2015. A local gun shop reports demand is up for all weapons, and they are completely sold out of pepper spray. While a city spokesman would not comment on why demand was rising, the gun shop owner interviewed by Flensburger Tageblatt confirmed from speaking to his customers they were afraid of being robbed, of their children "being the victims of abuse".
"After the recent incidents, many concerned parents come to us to equip their daughters", he said. Even a police officer had come to buy pepper spray for his wife and daughter. Officially local police condemned the trade, remarking that people preparing to defend themselves would cause others to be provoked.
In a separate Live Wire update, Breitbart London reported gun-demand town Flensburg is also the scene of a new 'city watch' vigilante group who have vowed to patrol the streets giving reassurance to ordinary citizens who happen to find themselves living on a major migratory route. Read more below.
---
01/02/2016

–

KÖNIGS WUSTERHAUSEN, Germany

 – Locals feel like second class citizens

The rapidly increasing number of migrants in one historic small German town has left the inhabitants feeling like second class citizens, reports MAZ Online. "As residents we feel totally overwhelmed" said one. There are presently some 2,007 migrants in the Dahme-Spreewald community, and the local government is struggling to provide school places and extra language classes for the newcomers.
---
01/02/2016

–

DUISBERG, Germany

 – Leftists attack PEGIDA stand

An information booth set up by the Patriotic Europeans Against the Islamisation of Europe (PEGIDA) group was attacked by a so-called pro-tolerance group on Saturday. The PEGIDA activists claimed their leafleting stand in the city had come under attack, although city police would not confirm who had initiated the violence.

After the PEGIDA group were attacked passers-by stepped in to intervene and calm the situation, reports Der Western. Both groups are rallying in the city again tonight.
---
01/02/2016

–

STUTTGART, Germany

 – 20 Kurd activists break into parliament

A group of 20 political activists broke into the Baden-Württemberg parliament through a back door on Friday afternoon and staged a protest complete with banners and placards. An unspecified number of the Kurdish activists even managed to break into the chamber of the house, reports Stuttgarter Nachrichten. The men withdrew voluntarily once police arrived on the scene.
---
01/02/2016

–

STOCKHOLM, Sweden

 – Junior rapist escaped detention

A 16 year old boy who was placed unto juvenile detention after taking part in the brutal gang rape of a young Swedish women, which left her with life changing injuries  has escaped and is now on the run. He and another North African migrant, who were living on the streets of Stockholm at the time met the girl in a public park and attacked her.

Once they had beaten her into submission, they phoned their friends who came and joined in. Eventually she was raped anally and vaginally six times. The boy was sentenced to just nine months in juvenile but still this was too much for him, and he has now "vanished without a trace", reports Aftonbladet. Read about the original case at Breitbart London.
---
01/02/2016

–

FLENSBURG, Germany

 – City vigilante group on patrol

Armed with pepper spray and a torch, and wearing leather gloves and a 'city watch' badge the German-Denmark border town Flensburg City Watch has been established to "increase the feeling of safety of the population". While the official police spokesman are concerned with the idea of ordinary citizens patrolling the streets, the group claims they have been given encouragement by individual officers in private, including a police sergeant.

The group explains "all forms of violence are rejected" and pepper spray is only to be used in self defence. The only action the group will take is to hold criminal suspects until police can arrive and make official arrests, reports the Flensburger Tageblatt. Read more about the growing European vigilante movement on Breitbart London.
---
01/02/2016

–

CALAIS, France

 – Riot Officer Injured By Migrant Offensive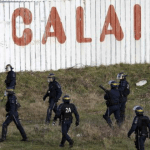 A French CRS officer (French Riot Police) was yesterday wounded in the arm during a clash with migrants in the 'No Man's Land' between the Jungle camp in Calais and the port's ring road, reports local news. According to a CRS spokesman, the officer was hit by a projectile in the elbow when several hundred migrants stormed the strip.
Approximately 150 were particularly violent and aggressive, throwing whatever came to hand. The migrants were held back by officers using tear gas.
---
01/02/2016

–

GÖTZIS, Austria

 – Police threatened with paving slab

A 22-year-old migrant threatened police with a paving slab after allegedly beating his wife on Saturday in the Austrian town of Götzis. OE24 reports that the man resisted arrest, and screamed and waved a paving slab in the air, hitting his own head on it. After being dragged outside he continued to shout before struggling free and running away. Police later caught and arrested him with the help of a police dog.
---
01/02/2016

–

NEUMÜNSTER, Germany

 – Kurd-Turk Riots

Fighting broke out when the procession of a 150-strong demonstration of Kurds had their way blocked by a 80-strong group of Turks, with participants using pepper stray on each other and throwing bottles. Two lawsuits have been filed by Kurds complaining they were assaulted by Turks, and one police officer was injured, reports Lübecker Nachrichten.
---
01/02/2016

–

SCHLESWIG-FLENSBURG, Germany

 – Migrant-on-migrant violence

Police were called to Süderstapel, near the German-Denmark border on Wednesday to deal with a dispute between two asylum seekers in a migrant facility. Two Syrian men, aged 32 and 50 years old had stabbed each other over an unknown dispute. Officers found upon their arrival the men "had already calmed down", according to the police report.
---
01/02/2016

–

STOCKHOM, Sweden

 – MP5 Armed Police Protect Subway After Attacks

Heavily armed police were deployed to a central Stockholm subway station on Sunday night after a gang of some 20 armed immigrant youth went on a rampage, attacking staff and customers. Despite attacking customers with sticks and causing damage to the station the men were not arrested, as "external command decided that no offence has been committed".

Officers then drove the perpetrators to various parts of cities in police cars to "separate the group", reports Swedish daily Dagens Nyheter.
---
31/01/2016

–

OLDENBURG, Germany

 – Police bust migrant arms smugglers

Bremen special forces swooped on an arms deal in process in Oldenburg on Thursday, catching two men from "war zones in the Middle East" red handed, reports Nordwest-Zeitung. Should the deal have gone ahead the transfer of arms would have been "on a grand scale", said a police spokesman. Who was behind the deal, and for what purpose the weapons were intended has not yet been established.
---
31/01/2016

–

BERLIN, Germany

 – Anti-migrant party to be monitored by government

A political party which has argued for strict adherence to the German constitution and is enjoying record polling may be put under surveillance by the security services at the behest of top Merkel Ally Sigmar Gabriel. The Alternative for Germany (AfD) party are in favour of ending the Europe migrant crisis but they stand accused of opposing "the free democratic order of the republic". READ MORE HERE
---
31/01/2016

–

DUSSELDORF, Germany

 – North African thief arrested

Police began following a known North African pick pocket in the Dusseldorf old town on Saturday. Observed to check the jackets of customers of a restaurant, police stopped him as he jumped into a taxi to make good his getaway. A woman sitting in the restaurant was "overjoyed" to get her purse back from officers. A stolen mobile phone was also recovered.

The man is being held in police custody while the prosecutor considers options.
---
31/01/2016

–

MARBURG, Germany

 – Exhibitionist, groping migrant on bus

A "North African" man boarded a Marburg bus this week and stood behind a 19 year old woman, touching her inappropriately. He later sat down on the bus and pulled his trousers down, and performed "sex acts" upon himself. Police are appealing for witnesses.
---
31/01/2016

–

VIENNA, Austria

 – SWAT Storms Immigration Office

Austrian counter-terror WEGA officers (the national equivalent of a SWAT team) stormed the Vienna immigration office this week, reports Krone Zeitung after an abusive asylum seeker was found to be a violent illegal immigrant.

Already banned from Austria, the man had lived under a false identity and had entered into a 'Green Card Marriage' with an Austrian citizen, despite already being married to a Serbian woman. He is now in police custody.
---
31/01/2016

–

BERLIN, Germany

 – Call to upgrade migrant benefits office

Berlin's erstwhile 'Commissioner for Foreigners' Barbara John has called for the city benefits office to be relocated, calling the present building a "damned place", reports Welt.

The building came to prominence this week after it was used as the setting of a young migrant who queued for state aid so long he died. Instantly causing a wave of indignation through Europe's pro-migrant campaigners, the story was quickly shown to be a falsehood, propaganda agitating for the government to allocate more resources to migrants.
---
31/01/2016

–

COLOGNE, Germany

 – Cologne is happening 'every day'

A famous German social worker has broken his silence on sexual abuse and theft committed by migrants in Germany, going so far as to say that what happened in Cologne on New Year's Eve is happening in German towns every day.

"Once it gets dark," he says, "drugs are sold and passers by are robbed. They act in groups, stalking their victims, for example, at an ATM [cash machine]. A popular distraction trick is where they hug someone, and after, you are missing your wallet… Meanwhile, there are also these sexual assaults. Girls who are surrounded and groped". READ MORE HERE
---
31/01/2016

–

TJÖRN, Sweden

 – Fire at migrant reception camp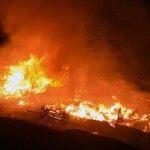 Two static caravans were burnt to shells in a blaze at a Swedish migrant reception centre and camp in Tjörn last night. Police say it was unclear if anyone was present in the structures when the fires started, but no one had yet come forward with injuries related to the blaze.
The authorities consider the fire suspicious, reports the Gotteborg Posten, as there was no natural source of ignition in the caravans at the time of the fire, they having been disconnected from utilities. This is not the first fire at the site in past months.
---
31/01/2016

–

EMMABODA, Sweden

 – Asylum centre worker loses temper at rioting

An asylum centre worker in Sweden has been recording screaming "you're fucking pigs" at migrants who continue to riot inside their state-funded accommodation. Swedish press reports that young migrants smash up furniture and receive repeated death threats.

One anonymous asylum centre worker told Swedish Radio: "I do not feel safe at my job – it feels like a risk to my life". Another claims: "They have tried to beat me up. At one point in the night I was alone and one of the young people who were very angry came and threatened me."
---
31/01/2016

–

ZAANDAM, Netherlands

 – 'Refugees' attack paramedics

Dozens of migrant centre residents attacked paramedics and police last night after emergency services responded to a report of an attempted suicide at the centre.

The opposition to medics treating the man was so great, medics were forced to retreat and wait for police backup. Around 15 officers then stormed the building and retrieved the dying man. The Dutch Telegraaf reports he man attempted suicide as a protest against the housing and food he received, which he considered insufficient.
---
31/01/2016

–

HEIDELBERG, Germany

– Police hunt thief

An "Arabian appearance" man is sought by police after he entered a shop on Thursday afternoon and attempted to steal "several bags and suitcases". The suspect was disturbed in his work by a shop worker as he was cutting the handle of one bag and fled. 

Although the police announcement stated the suspect was unknown to them, the store said he had been spotted in there before with a gang trying to steal bags and business cases. In one case he managed to get away with bags worth more than €1,000.
---
31/01/2016

–

MANNHEIM, Germany

– Police break up migrant "riot"

Four young men were expelled from a shopping centre on Friday for riotous behaviour but continued in the car park, assaulting a passer-by, "slapping him in the face". Police officers arriving on the scene were able to detain one man while the other three fled, according to the police report.

Taken to Mannheim police station, the abusive 20 year old Afghan who put up "massive" resistance to officers hung himself in his cell using his trousers as an improvised noose. He was cut down and revived at hospital where he was found to have high blood alcohol levels, and had his fingerprints taken by officers.
---
30/01/2016

–

HAMBURG, Germany

– Thieves rob phone shop
Three people have robbed a mobile phone shop, having taken the day's takings from the till. The fugitives are described as "Southerners" – a word commonly used to describe North African migrants in Germany. They reportedly spoke "broken German".
---
30/01/2016

–

MANNHEIM, Germany

– Masked PKK Supporters protest
Around 80 masked men showing sympathy towards the terrorist organisation the PKK gathered in Mannheim on Saturday evening. The group were drawing attention to the ongoing Turkish-Kurdish sectarian warfare. Police report they fired firecrackers in the city centre. One police vehicle was damaged and two men were "briefly" taken into custody.
---
30/01/2016
–
IPSWICH, England
– Romanian career criminal jailed
A Romanian career criminal has been handed a two year jail sentance for two burglaries he committed just weeks after arriving in the UK, the Express has reported. Despite having a criminal record in his native country for a series of similar crimes, the British authorities were completely unaware of his criminal past until his arrest in Suffolk, thanks to EU laws on free movement.
---
30/01/2016
–
MANCHESTER, England
– Somalis jailed for gang rape
Three Somali men who gang raped a 16 year old British girl while celebrating Eid have been handed jail terms of between nine and twelve years by a judge at Manchester Crown Court. The court played host to extraordinary scenes as around 60 Mancunian Somalis turned out in support of the gang, insisting they had been victimised because of their race. READ MORE HERE.
---
30/01/2016
–
SWEDEN
– Police Cover Up Migrant Crime with Secret Code
The Swedish police have concealed more than 5000 crimes in asylum centres in just four months by classifying them all as "Code 291". The crimes included 559 registered assaults, 450 fights, 194 cases of violent threats, 58 fires, two bomb threats, nine robberies, four rapes, and 42 cases of mental illness, among others. They occurred in all parts of the country, and at all times of day. When asked why the Police had concealed the list from the public, a spokesman responded "there was nothing to disclose".
---
30/01/2016

 – 

STOCKHOLM, Sweden

 – Masked Men Attacking Migrants Arrested

Riot police were called to central Stockholm on Friday night following a tip off that vigilante groups were heading there to "clean up", according to Swedish news. Earlier in the day, leaflets were handed out by men wearing black clothing, masks and an armband, calling on people to gather in the centre to launch a violent attack on the "North African street children ranging around". The leaflets were headed "Enough Now!" Five men have been taken into custody following brawls with migrants in various locations in central Stockholm; one man has been charged with assaulting a police officer after he punched one in the face.
---
30/01/2016

 – 

CSONGRAD COUNTY, Hungary

 – Suspected Smuggler Crashes on M5

An alleged human trafficker has crashed on the M5 Motorway heading towards Budapest. According to local reports, the man was transporting four Algerians, a Somali and an Iraqi to Vienna when he his car hit another and both slid into the ditch. Eight people were injured in the crash, including the driver who attempted to flee the scene but was apprehended by police. He has now been taken into custody and will face charges.
---
30/01/2016

 – 

MANNHEIM, Germany

 – AfD Leader Calls for Armed Defence of Borders

Frauke Petry, the leader of Germany's Alternative for Germany party (AfD) has called on the government to defend the country's borders with lethal force, if necessary. In an interview with local news she said that border patrols "must prevent illegal crossings of the border, if necessary, with the use of firearms," adding "It says so in the law."

She clarified "No policeman wants to shoot at a migrant. I do not want that either. But 'the last resort' includes the use of armed force."
---
29/01/2016

 –

UK

/SWEDEN

 – Daily Mail Blocks News In Sweden

An article on website of the Daily Mail newspaper (Mail Online) is being blocked in Sweden after the news outlet cast doubts on the age of the alleged migrant attacker currently on trial in the country following the stabbing of a 22-year-old asylum centre worker. READ MORE HERE.
---
29/01/2016

 –

LEHRTE, Germany

 – Police hunt for sex attacker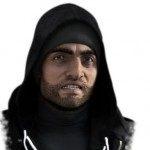 A young woman was attacked by two men at the weekend who held her at knife-point and ordered her to "spread your legs", but fled when a light came on in a nearby house.
The description given by police of one of the attackers identifies him as "speaking German with an accent", one of many euphemisms used by the German media to describe foreigners. The second attacker was described merely as "pudgy", reports Hannoveriche Allgemeine.
---
29/01/2016

 –

DORTMUND, Germany

 – Police raid migrant centre

German police raided a migrant reception centre this month and catalogued the identities of 46 male migrants who were otherwise off the books, taking fingerprints and data. The information collected will be shared with other European police forces to see if they are wanted for crimes elsewhere.

The Dortmund force said in a statement they also hoped the migrants knowing their fingerprints were on record would also deter future crimes.
---
29/01/2016

 –

DORTMUND, Germany

 – Six months for repeat offender

A committed migrant thief has been jailed for six months without probation. His last theft was a pair of socks worth just €2.99 and he had no former criminal record, but the man was routinely being picked up by the police. He is on his third asylum application, having been rejected twice since he arrived in Germany in 2012 reports Bild.

The judge said: "You came as a refugee, but it is not certain whether you are really… you have taken advantage of our system and our humanitarian responsibility to a staggering extent. You are dragging down the Republic, and committing crimes".
---
29/01/2016

 –

MUNICH, Germany

 – Fake refugee caught

A Pakistani man who had already lived for ten years in Spain applied for asylum in Germany under a fake name. He was caught by police after his documents and bank cards were found not to match and the ruse was unveiled. He was required to leave a cash deposit of €200 with police before being released from custody, reports Wochenblatt.
---
29/01/2016 –
DORTMUND, Germany

 – Migrant thieves warning

Local police have warned travellers on the Hamm-Dortmund-Dusseldorf railway to watch out for a gang of three pick-pockets who run scams to steal purses and wallets.

The Moroccan and Algerian men, aged 19-27 years old had already been arrested but were released. A police spokesman said: "One can assume that they are going back on tour to prey on the trains", reports Rheinische Post.
---
29/01/2016

 –

HEIDELBERG, Germany

 – Police hunt for sex attacker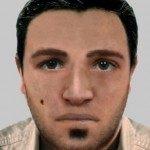 A "possibly North African origin" man is being sought by Heidelberg police as he is "strongly suspected" for sex offences.
The alleged attack took place in the early hours of Sunday morning when the man "loudly made himself felt", repeatedly pinching and grabbing the bottoms of 18 and 19 year old women. Security threw the man from the premises but police were unable to immediately find him in the area after a manhunt.
---
29/01/2016

 –

SITTENSEN, Germany

 – Refugee 'riot' at benefit office

Police were called to a civil office after a 22 year old Sudanese asylum seeker expressed his dissatisfaction with his weekly benefits cheque given to him by the state. The violent man was taken into police custody to sober up but attacked two officers, and abused and insulted them in English while they performed their duties.
---
29/01/2016 –
ESSEN, Germany

 – Police hunt bag thieves

A German woman awoke after sleeping on a long distance train to find her bag, and with it her purse had been stolen. Police released several mugshots of the Middle Eastern-appearance men after they used the victim's credit card and racked up €800 worth of bills.
---
29/01/2016

 –

UDDEVALLA, Sweden

 – Jailed for life for executing migrant thieves

Two Lebanese-Swedish brothers have been sentenced to life imprisonment today for hunting down and killing a gang of men they claim robbed their father. Mark and Martin Saliba, Syrian Christians of Lebanese heritage were convicted of acquiring a gun and killing 21 year old Jordanian Alaa Farraj, and 22 year old Iraqi Rawand Aziz, execution-style.

An 18 year old Swedish native girlfriend of the pair was also executed with a single bullet to the head by the brothers, one of whom is now on the run and has been sentenced in his absence, reports Aftonbladet.
---
29/01/2016

 –

WIESBADEN, Germany

 – Young woman sexually assaulted

Police have reported arresting a 28-year-old Moroccan migrant early Thursday morning. The asylum seeker is strongly suspected to have sexually assaulted a 20 year old woman. The victim had been waiting at the main train station at around 11:45pm, along with a 19-year-old girl friend when the migrant pursued her and sexually assaulted her.
---
29/01/2016

 –

MOLNDAL, Sweden

 – Doubt over identity of migrant 'youth' killer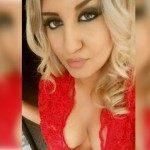 The true identity and real age of the Somali "unaccompanied youth" who stabbed an asylum centre worker to death in Sweden last week is in doubt after it was revealed authorities were merely going on his word.
In a statement given outside the court, Prosecutor Linda Viking said: "The suspect has said he is 15 so that is what is charged as. But we are checking his date or birth and name to make sure they are accurate". Read more at Breitbart London.
---
29/01/2016

 –

BAD SEGEBERG, Germany

 – Police search for migrant molesters

Police are looking for two men of "Arab origin" between the age of 20-25 after a 75 year old woman was sexually molested in a local park. The woman was walking by herself at around 10:45pm when two men approached her from behind. One of the men struck a blow which knocked the victim down and the other sexually assaulted her. The victim was able to defend herself and one of the men was wounded in the face before they fled, said the force.
---
29/01/2016

 –

VIENNA, Austria

 – Teen migrant sentenced for granny anal rape

An 18 year old Afghan migrant has been jailed for 20 months for "massive violence" toward a 72 year old woman he raped anally after meeting her by a river side last year reports Kronen Zeitung. Although his behaviour was initially described as "quite nice" toward the woman, he later took advantage of her from behind. The man was convicted using DNA evidence.
---
29/01/2016

 –

MUNICH, Germany

 – €575,000 to 'disinfect' gym used by migrants

A Munich gymnasium was used for just two months to temporarily house migrants but now requires significant work to repair damage before it can be used as a gym again. At least €400,000 will need to be spent on totally replacing the floor, while the rest will go to repairing the damaged bathrooms, the drains that were used as open sewers, and germicidal gassing the property to kill bacteria, reports Süddeutsche Zeitung.
---
29/01/2016

 –

RUDOLSTADT, Germany

 – Police called to 'calm' situation at benefits office

Ten police vehicles and attendant officers were deployed to a Federal migrant support office yesterday after individuals waiting to collect their cash benefits started fighting, reports Ostthüringer Zeitung. Around 150 refugees from nearby camps were in the building when police arrived. One Syrian and five Afghans were arrested for assault.
---
29/01/2016

 –

VILLINGEN-SCHWENNINGEN, Germany

 – 'Grenade' found at migrant centre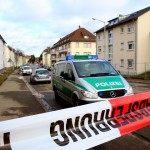 Specialist police have detonated an "explosive device" discovered at a migrant receiving centre in southern Germany this morning. Details over the alleged attack are unclear, with police refusing to confirm whether the device was a viable grenade, and there being no witnesses of it having been thrown over the fence.
Police say there is no clear motive for the attack, but German mainstream media have bundled the alleged attack in with coverage of right-wing groups attacking migrant centres in 2015. Read more at Breitbart London.
---
26/01/2016

 –

WILHELMSHAVEN, Germany

 – Girls Molested

Two eleven year old girls were sexually molested in Wilhelmshaven, Germany on Saturday. The girls were groped by "several men" in "intimate places" while in the swimming pool, according to local reports. The girls later reported the abuse to their mother, who contacted the police. Social media sources have suggested that the men were migrants, but local police have refused to confirm. They are studying CCTV footage as part of their inquiries.
---
28/01/2016

–

NEUMUNSTER, Germany

– Pensioner Beaten
Police announced a robbery from January 19th, where a woman was grabbed by the hair by one assailant, while a second held her by the neck. There was one more attacker, according to the alleged victim. The pair demanded her money and her mobile phone and snatched her handbag. Two teenagers intervened to help the woman, and the attackers fled.
The perpetrators, according to the police report, were around 20 years old, around 1.65-1.7m tall, all of them described as "southerners/North Africans".
---
27/01/2016

–

MUNICH, Germany

– Pensioner Beaten
A 58-year-old man was beaten by four Pakistani men, according to local reports. Three of the men are now in police custody. The victim, known as Zivan O, said he was walking down the street on Saturday when he was set up and beaten.
"They surrounded him, held him, and pushed him so he fell to the ground," said his daughter Sanja. Zivan said that the men were intoxicated with alcohol. The man has a wound behind his ear, and his daughter reports: "My father liked to talk and joke a lot. But now he is introverted".
---
28/01/2016

–

DUSSELDORF, Germany

– Sexual assault
Two "refugees" in an asylum centre have been taken into police custody after the reported sexual assault of a 12-year-old girl. The two "unaccompanied young refugees" are believed to be ages 15 and 17. The two suspects are suspected to have forced themselves upon the victim on 24 January 2016.
A six year old boy is believed to have been threatened after witnessing the incident, with one of the alleged attackers threatening to "cut his throat" if he reported the incident.
---
26/01/2016

–

HAMBURG, Germany

– Attempted robbery, stabbing
Police report a 24-year-old man out walking with his 3-month-old baby was attacked by two unknown assailants who reportedly "spoke a language unknown" to the victim. The baby, who was being carried in a sling across the man's chest, had to be resuscitated on the spot before being admitted to intensive care in hospital.
The attackers apparently demanded  money and the victim's phone. One of the attackers reportedly understood no German at all, and it is believed that one of the pair carried a knife. The man is said to have no life threatening injuries, but does have stab wounds.