Young men in Britain are reluctant to identify as "masculine" and think the term has "negative connotations", a YouGov poll has revealed.
According to the survey, only two per cent of male respondents aged between 18 to 24 described themselves as "completely masculine", compared to 56 per cent of over 65s.
The results come at a time when, despite the fact women vastly outnumber men at universities, feminists are demanding male students sign pledges to tackle "laddish" behaviour.
Wales Online last year reported on a campaign by police, councils and universities to "crack down" on behaviour deemed "laddish."  Feminist Vicky Chandler called for "lad culture" to be tackled in children as young as those in primary school.
Describing the results as following a "generational decline," YouGov found that younger respondents are increasingly reluctant to identify themselves as masculine.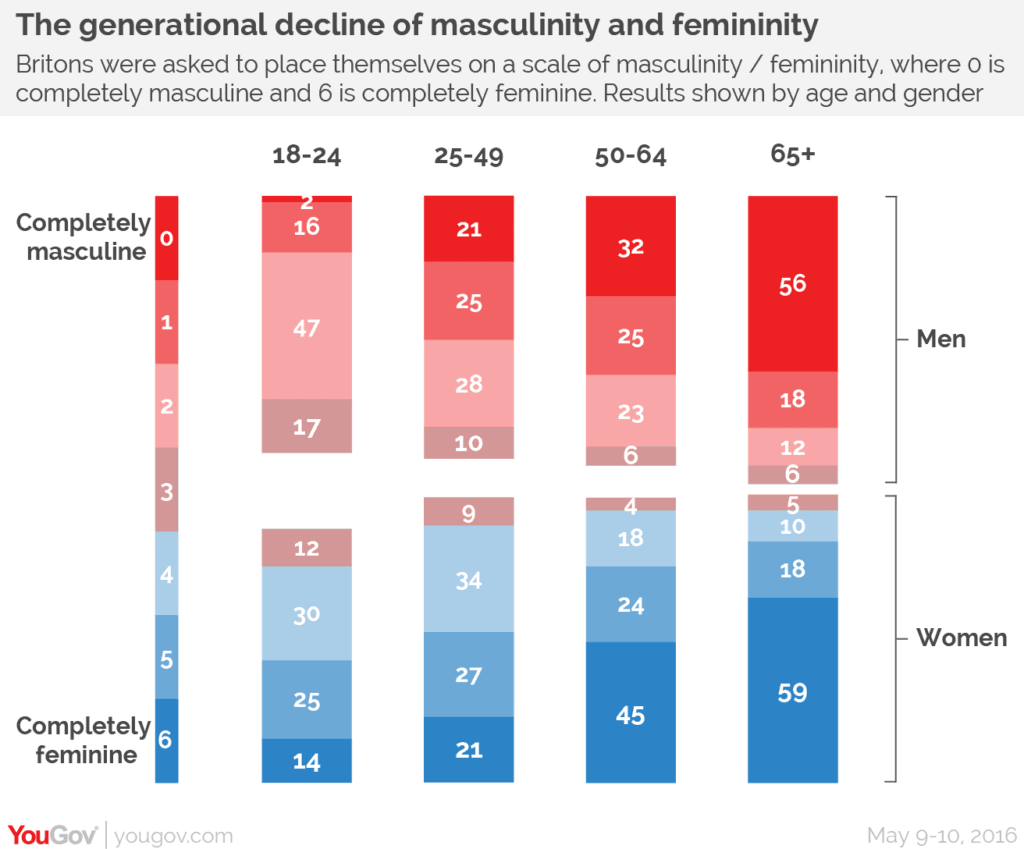 Most shocking was the drastic generation gap in how the concept of masculinity is perceived.
Both men and women over 25 have a positive impression of masculinity, with very few people expressing negative views.
Among 18 to 25 year olds, however, the percentage of women with unfavourable impressions of the concept of masculinity jumps from 15 per cent to 27 per cent. Strikingly, more men in this age range felt the word had bad connotations (42 per cent) rather than good (39 per cent).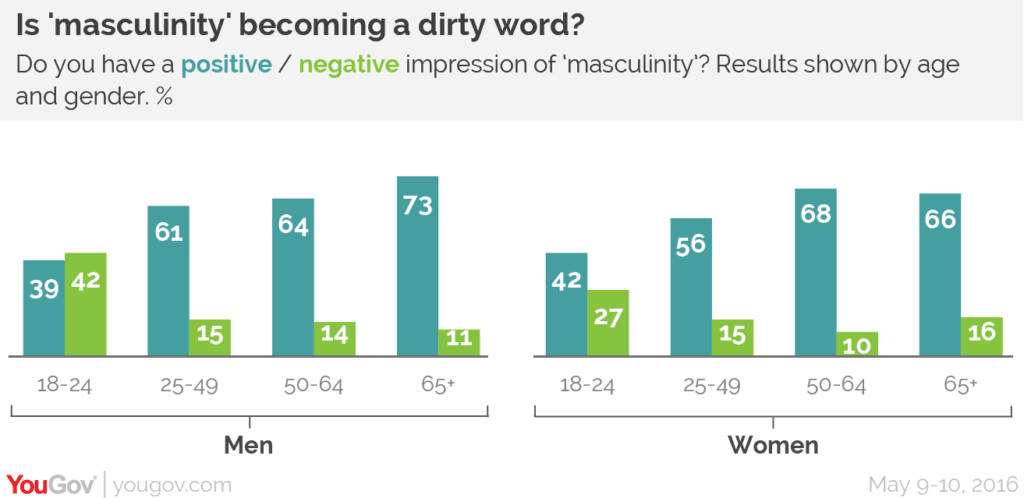 Responses also varied by political party.  Out of those who voted in the 2015 UK General Election, 72 per cent of respondents who voted Conservative expressed a positive opinion of masculinity, compared to 60 per cent of United Kingdom Independence Party (UKIP) voters, and only 53 per cent of Labour voters.
Surprisingly, 65 per cent of people who voted for the Liberal Democrats said they felt positively about masculinity.
Unlike with masculinity, there has not been a concerted campaign over the years to stigmatise femininity; it is unsurprising that responses to the concept were more positive.
Seventy-four per cent of Conservative voters said they felt positively about the concept of femininity compared to 76 per cent of Liberal Democrat voters, 64 per cent of Labour voters and 68 per cent of UKIP voters.
Overall, respondents had a net positive opinion of +56 for femininity compared to +44 for masculinity.
There was a notable gap between the proportion of men in the UK and the United States who describe themselves as masculine, with 42 per cent of American men identifying with the term compared with just 28 per cent of British men.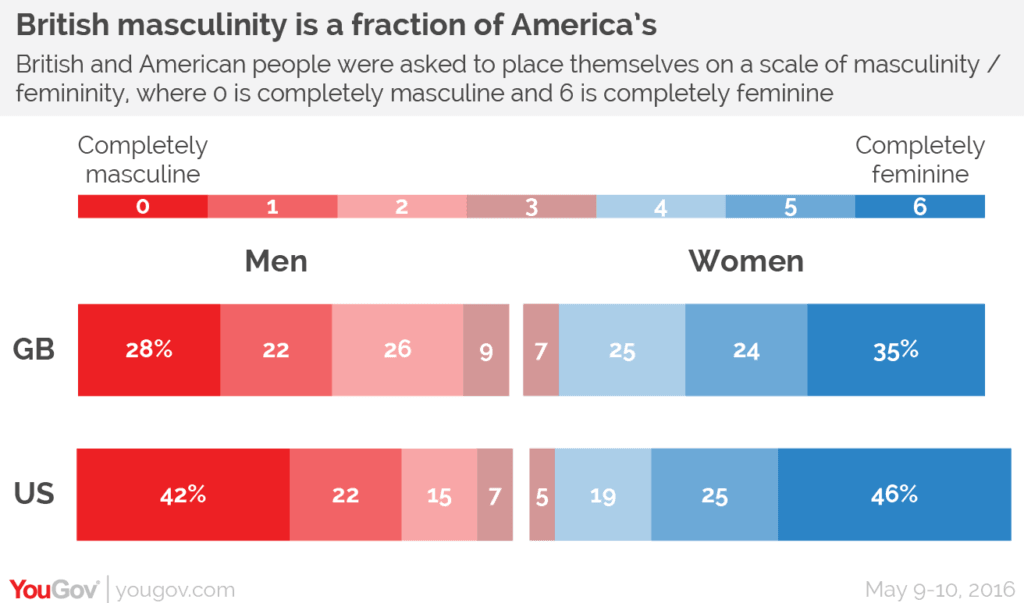 Finally, the polling organisation's survey asked people about their lifestyles.  They were questioned on a number of issues relating to their masculinity including: whether they have been in a physical fight; how easy they say it is for them to discuss personal problems with friends; and whether or not they have worn clothes intended for the opposite sex.
Reporting on perceptions of the meaning of the word, YouGov reports that, "contrary to expectations," their research found little correlation between identifying as more masculine and finding it harder to talk to friends or family about personal problems.
YouGov said that men (at 44 per cent), particularly young men (36 per cent), are less likely to say they find it easy to talk to friends about issues than women are (53 per cent).
At the top two levels of masculinity, meanwhile, they concluded men are more likely (at 64 per cent) to have had a physical fight than men who rated themselves less masculine.