A group of around a hundred masked Germans took to the streets of the city of Cottbus to protest North African migrants in what police are calling an illegal far-right march.
The march, which took place Friday evening around 10 pm in the second largest city in Brandenburg, saw the one hundred or so protesters march down the streets of central Cottbus holding a banner that said "Defend Cottbus."
The protesters, who police say are likely neo-Nazis though they have not been able to identify the group fully, were able to march down the quiet street unopposed Tagesspiegel reports.
Protesters were caught on film as they chanted various slogans like "resistance!" "the German youth rule here!" and "Nafris raus!" or "Nafris out!"
The term "Nafri" was used by the Cologne police to describe North African criminals. Many left-leaning politicians have claimed the term is "racist" and accused the Cologne police of racial profiling on New Year's Eve, despite the success of the police presence in stopping a repeat of the sex attacks from the year before.
Wenn das Gehirn im Stiefel steckt… pic.twitter.com/gasDzT8T7M

— Cottbus (@cottbus_stadt) January 14, 2017
The group also handed out a leaflet entitled "Cottbus Nafri Free" explaining their position. They claim it is "only a matter of time" before more German cities have Cologne-style sex attacks and called on people to speak out on the subject of mass migration and migrant crime. "If we want to preserve our way of life we must act," they write.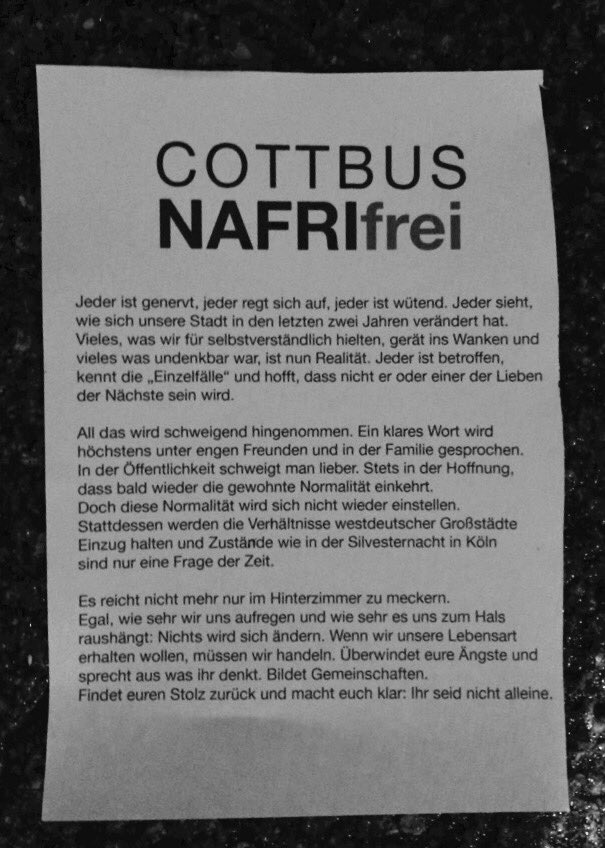 Reaction to the spontaneous march has been overwhelmingly negative from politicians across Brandenburg.
Ingo Senftleben, chairman of the Brandenburg faction of German Chancellor Angela Merkel's Christian Democratic Union (CDU) said," these are disgusting scenes that took place in Cottbus. These people try to spread hatred with riots and fear."
The CDU politician along with CDU mayor of Cottbus — Holger Kelch — warned that there could be further far-right demonstrations in the near future as the German courts prepare to make a decision on whether or not to ban the far-right National Democratic Party (NPD).
Thomas Jung, spokesman for the anti-mass migration Alternative for Germany (AfD) party in Brandenburg also released a statement saying, "It is worrying that the police have come too late for this unannounced march of extremists. On Friday it was probably right-wing extremists, tomorrow it may be left-wing extremists or Islamists." 
The AfD announced a support for a CDU motion to make an inquest in the regional parliament to find out how the march had gone on under the noses of the police and the domestic intelligence services.  
Follow Chris Tomlinson on Twitter at @TomlinsonCJ or email at ctomlinson@breitbart.com