Iran was heavily involved in nuclear weapons research, according to documents given to the International Atomic Energy Agency (IAEA) in 2005. To date, Iran has refused to acknowledge this past work on nuclear weapons, but IAEA reports leave no doubt the documents are credible and described research only suitable for a nuclear arms.
With the self-imposed deadline for a nuclear deal with Iran coming this week, now is probably a good time to recall that Iran has been lying about its nuclear ambitions for a very long time. In 2005, an IAEA member state turned over more than 1,000 pages of documents outlining a substantial nuclear research program in Iran. Known collectively as the "alleged studies documentation," a 2011 IAEA report describes the cache as containing "correspondence, reports, view graphs from presentations, videos and engineering drawings." The documents also contained "working level correspondence consistent with the day to day implementation of a formal programme." In short, proof Iran had a sustained nuclear weapons program.
After carefully examining the documents and gathering additional information, the IAEA confronted Iran with the documents in 2008. Iran sent the Agency a 117-page response that confirmed some of the fine details, such as names and places, but denied all the evidence showing a nuclear weapons research project had been underway. Iran claimed the documents were "forged" and "fabricated."
One of the details contained in the IAEA document cache was evidence that Iran had been studying how it could integrate its planned nuclear weapon with its own Shahab 3 missile (which has a range of 800 miles). Specifically, it wanted to create a firing mechanism that could detonate the nuclear payload in mid-air or upon impact. When confronted with this specific information (which may have included video), Iran claimed it was part of an "animation game."
The IAEA decided to show the missile plans to experts from other member states (not including the nation that originally gave them the documents). They asked these experts to look at the designs and assess if there was any other military or peaceful application for them other than launching a nuclear weapon. The results of this investigation appear as Attachment 2 in the IAEA's November 2011 report: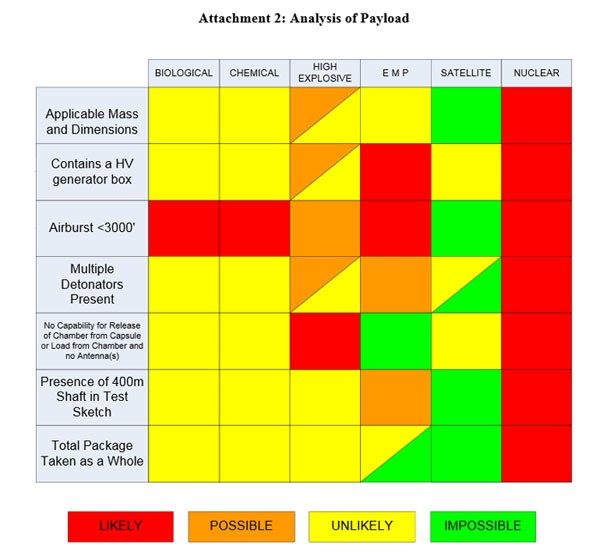 Clearly, the experts concluded there was no peaceful application for the designs (such as a satellite). And while some elements of the design could have been useful for other types of weapons, the overall combination of elements pointed to only one likely possibility: a nuclear payload.
In addition to the missile payload designs, the "alleged studies documents" indicated Iran was also researching detonators, neutron initiators, firing equipment for an underground test, and many other aspects of nuclear weapons research.
The 2011 IAEA report was an attempt to get Iran to come clean about its past work on nuclear weapons, but thus far, Iran has refused to acknowledge it. As recently as last week, IAEA Director Yukiya Amano has said that Iran still needs to come clean. In an interview with Judy Woodruff of PBS, Amano said, "Our information indicates that Iran engaged in activities relevant to the development of nuclear explosive devices. We do not draw conclusions. But we are requesting Iran to clarify these issues. …So far, there has been some clarification, but the progress has been very limited."