Two weeks ago, alternative energy company Solyndra, which received $535 million in "stimulus" loan guarantees from the Obama administration, collapsed. Solyndra was the poster child for the Obama administration's claim that it could create green jobs with taxpayer money. Now 1,100 more people are out of work and American taxpayers are on the hook for half a billion dollars.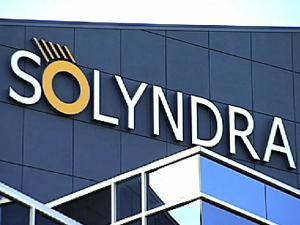 But while this ought to be an abject embarrassment for the dirigistes in the Obama administration, there's a much bigger story behind the Solyndra scandal. It involves a concerted effort by White House officials to improperly rush the Solyndra loan decision for political reasons.
The Washington Post had the exclusive story:

The Obama White House tried to rush federal reviewers for a decision on a nearly half-billion-dollar loan to the solar-panel manufacturer Solyndra so Vice President Biden could announce the approval at a September 2009 groundbreaking for the company's factory, newly obtained e-mails show.

The Silicon Valley company, a centerpiece in President Obama's initiative to develop clean energy technologies, had been tentatively approved for the loan by the Energy Department but was awaiting a final financial review by the Office of Management and Budget.

The August 2009 e-mails, released exclusively to The Washington Post, show White House officials repeatedly asking OMB reviewers when they would be able to decide on the federal loan and noting a looming press event at which they planned to announce the deal. In response, OMB officials expressed concern that they were being rushed to approve the company's project without adequate time to assess the risk to taxpayers, according to information provided by Republican congressional investigators.
The Post goes on to detail some of these email messages. Here's one of them:

"We have ended up with a situation of having to do rushed approvals on a couple of occasions (and we are worried about Solyndra at the end of the week)," one official wrote. That Aug. 31, 2009, message, written by a senior OMB staffer and sent to Terrell P. McSweeny, Biden's domestic policy adviser, concluded, "We would prefer to have sufficient time to do our due diligence reviews."
Now here's where mere incompetence turns into corruption. Want to guess the name of Solyndra's biggest financial backer? Tulsa billionaire and Obama fundraiser George Kaiser.
So, in sum, the Obama administration rushed through a half billion dollar bailout loan to a now bankrupt alternative energy company bankrolled by one of Barack Obama's top campaign fundraisers!
But wait, there's more.
The Washington Post article coincides, not coincidentally, with a House Energy and Commerce Committee investigation and hearing last week that is exposing the Solyndra issue as a major scandal for this administration. While we appreciate Congress' work, we think it is important that an independent investigation is conducted, free of politics, into this matter. Accordingly, Judicial Watch has launched a full investigation of its own. We've already submitted Freedom of Information Act (FOIA) requests to the Department of Energy (DOE), the Office of Management and Budget (OMB), the Treasury Department and the General Accounting Office (GAO) for records related to the loan guarantee, interagency communication regarding the loan and communications with Solyndra's private financiers.
While JW's probe is still in its early stages, here are a few things our experienced investigators have already dug up:

According to a July 2010 GAO report, "DOE's implementation of the [loan guarantee] program has favored some applicants and disadvantaged others in a number of ways." The GAO cites five companies DOE handed conditional financial commitments to before receiving reports from external reviewers. Solyndra was one of them.

Argonaut Ventures, LLC, controlled by Obama fundraiser Kaiser, owns 39% of Solyndra. Kaiser, the 64th richest person in the world, was an Obama campaign bundler who raised $50,000 for the Obama presidential campaign. He made no less than nine visits to the White House between March 12, 2009, and April 14, 2011, including a June 25, 2009, visit with Valerie Jarrett and former White House Chief of Staff Rahm Emanuel. A number of Solyndra officers have visited the Obama White House as well, including the company's CEO. (Yet another example of why JW is fighting so hard in court (with great success) to obtain ALL Obama White House visitor logs which are so important.)

Solyndra was never close to solvent. According to a document filed by the company with the SEC on March 18, 2010: "We have incurred significant net losses since our inception, including a net loss of $114.1 million in fiscal 2007, $232.1 million in fiscal 2008 and $172.5 million in fiscal 2009, and we had an accumulated deficit of $557.7 million at January 2, 2010. We expect to continue to incur significant operating and net losses and negative cash flow from operations for the foreseeable future…"

The government's interest rate on the Solyndra loan is significantly lower (at least 50% lower), than the interest rates given to other beneficiaries of DOE stimulus funds. For example Kahaku Wind Power received an interest rate of 3.406% from the federal government. Solyndra's interest rates ranged between 1.025 to 1.515%.

During a February 2011 restructuring, the DOE weakened its creditor position to benefit Argonaut/Kaiser. According to Forbes: "As its finances deteriorated, Solyndra restructured its debt in February. Argonaut Ventures, which owns 38.99% of Solyndra, led a group that agreed to make a $75 million loan available in exchange for the right to be repaid first if the company failed. Next in line is the U.S. government – i.e. the taxpayers – who are owed the $527 million given to Solyndra to build the robotic assembly plant known as Fab 2." But under the terms of loan agreement, the American taxpayers were, by law, first in line for repayment.
As I say, our investigation is ongoing. This is just the tip of the iceberg. For instance, there's a recent report in the Post detailing how the Obama administration was more concerned about how it might look politically if Solyndra failed than about the possibility of outrageous losses to the American taxpayer.
I have a perspective that some hack Republicans may not like. The DOE loan guarantee program is authorized under a horrible law, the Energy Policy Act of 2005, signed by President George W. Bush with the support of most Republicans (and then-Senator Obama). This law came out of the secretive Cheney Energy Task Force, which in order to expose its inner-workings Judicial Watch famously took all the way to the United States Supreme Court. Our investigations did find that the Task Force was little more than a special interest bazaar through which environmentalists, companies and industries could make the case for government subsidies of their pet projects and concerns. So it was no surprise that the illegally secretive Task Force resulted in a law designed to dish taxpayer monies to favored corporations and interests. In my experience, corrupt and secretive government processes lead to corrupt and wasteful legislation. That is true with Obamacare and it is true with the Bush energy law.
So it is also no surprise that a committed socialist like Obama would happily use the Bush energy law's provisions to spend billions to help companies like Solyndra. Judicial Watch took some flak from some of our conservative friends for opposing the Bush administration over this secret Task Force. The lesson out of all this for liberals who hate Bush and conservatives critical of Obama is that Big Government, Big Secrecy and Big Corruption walk together, hand in hand.