Election data compiled by Breitbart News on the Democratic Party's primaries and caucuses in 2016 and 2008 show that turnout in is down significantly, nearly 20 percent, from the last contested election.
The data also show that the about 4.5 million fewer people have voted in the Democratic presidential contest this year versus 2008.
This year's contest is a two-person race between Democratic Socialist Sen. Bernie Sanders of Vermont and former Secretary of State Hillary Clinton. Clinton is also a former U.S. Senator from New York, a position she held after eight years as first lady.
Hillary Clinton also ran for president in 2008, which makes this data all the more interesting: It's essentially a comparison up against her previous failed race, when she was the frontrunning Democratic presidential candidate until then Sen. Barack Obama of Illinois blew past her late in the game taking the lead before winning the nomination and then eventually the presidency.
Back in 2008, as Obama battled Clinton, a whopping 23,715,866 people voted in primaries and caucuses nationwide in the states that have already voted this cycle. Fast forward to the next time there's a Democratic primary for president, this year (since Obama was the incumbent president seeking reelection the primaries in 2012 were largely perfunctory), and turnout has dropped off significantly. Just 19,155,825 people have voted thus far in primaries and caucuses this cycle, a decrease of 4,560,041 voters or 19.23 percent.
The steep drop off is so significant on the Democratic side that the vast majority of states saw drops in voter participation in Democratic primaries and caucuses. The following contests saw less voters participate on the Democratic side in the primaries and caucuses than 2008's contests: Alabama, Arkansas, Florida, Georgia, Louisiana, Massachusetts, Mississippi, Missouri, New Hampshire, New York, North Carolina, Ohio, Oklahoma, South Carolina, Tennessee, Texas, Virginia, Utah, Wisconsin, Vermont, American Samoa, Hawaii, Iowa, Minnesota, Nebraska, Nevada, Washington state, and Wyoming.
Only a handful of states have seen increases in participation on the Democratic side, including Arizona, Michigan, Alaska, Colorado, Idaho, Kansas and Maine. With the exception of Arizona, Sanders won—and Clinton lost—each of those contests. That means the likely Democratic nominee, Hillary Clinton, has only increased Democratic primary votes in one of the states she won this cycle as compared with 2008's primary turnout. Every other state she has won this year has seen less turnout from last go-around.
The Democratic race started with slightly more fanfare than it's turned out to have, with former Maryland Gov. Martin O'Malley criticizing "royal" families in American politics while photos of him playing his guitar shirtless emerged. Even so, O'Malley failed to materialize as a serious contender, and he dropped out early in the process.
Former Sens. Jim Webb of Virginia and Lincoln Chafee of Rhode Island—who was also the governor of that state, and also once was a Republican—also ran and both dropped out as well. And since Sen. Elizabeth Warren (D-MA) declined to run against Clinton, as did Vice President Joe Biden, that essentially paved the way for Clinton to easily march to the Democratic nomination. The only competition she's faced this cycle has come from Sanders, who again is a proud socialist—a term that just a few years ago was as dirty a word as communist or fascist—with radically liberal ideas.
While Sanders has run what even Donald Trump ally Roger Stone calls a magnificent race—strategically deploying assets in key places, focusing on delegate accumulation and beating Clinton where it counts—he was never a serious challenger to the Democratic Party's queen. So, as the seriousness of the race dropped off quickly, so did voter participation.
For instance, in Texas, 50.06 percent less Democrats participated in 2016 than did in 2008. Back then, 2,874,986 Democrats voted in the primary—whereas this cycle only 1,435,895 Democrats voted. That's a drop off of 1,439,091.
Mississippi saw a drop off of 206,988 votes, or 47.68 percent, while Wisconsin saw a collapse of 111,715 votes or 10.03 percent and Virginia bottomed out with 20.40 percent, or 201,162, less votes this time in 2016 than last time in the Democratic primaries in 2008. Other big states like Iowa saw 68,355 less votes, a crash of 28.5 percent, in the caucuses and like New Hampshire's primaries saw 12.01 percent, or 34,538, less voters this time in 2016 than last go-around in 2008.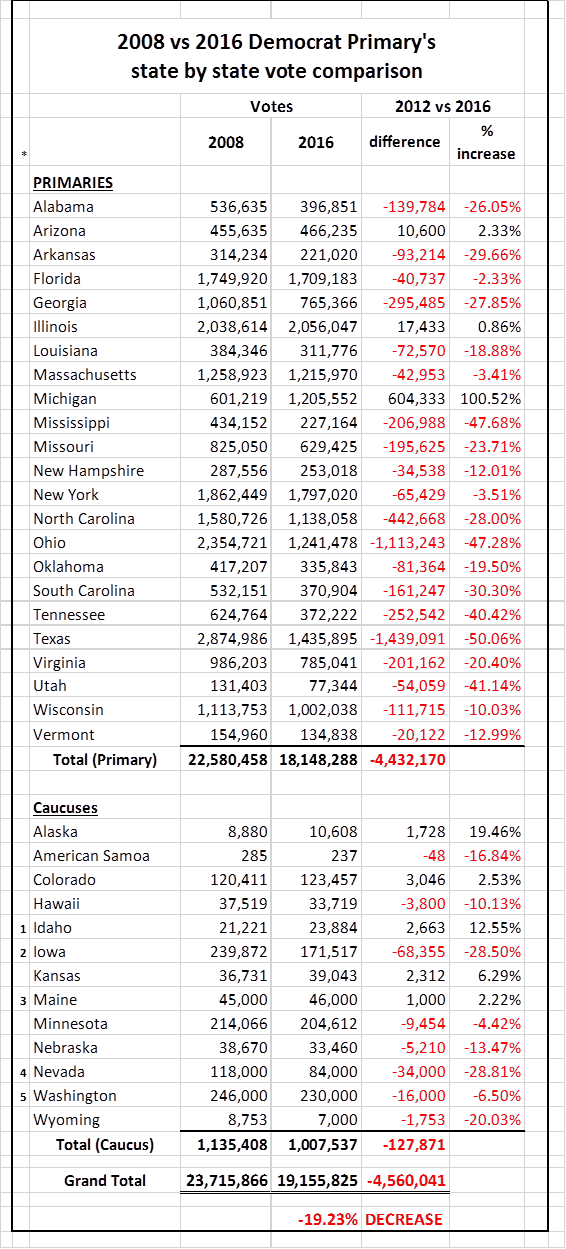 Breitbart News compiled this data analysis from information purchased from Dave Leip's Atlas of U.S. Presidential Elections. That data, available at USElectionAtlas.org, is widely used by academics and media organizations including the New York Times, the Economist, Harvard, Columbia, Cornell, and many more reputable organizations.
There are five caucus states where Democrats don't report to authorities, or to the media, official turnout numbers—where they only report state delegate numbers which are selected based off of the number of caucus-goers who show up. So, in those cases—Iowa, Kansas, Nevada, and Washington State—Breitbart News relied on the best information available for turnout of the general public to caucuses, whether it be press releases or statements from those state Democratic parties to media, or media estimates. Also, in the case of Idaho, there was a primary and a caucus in the state in 2008, while just a caucus in 2016—though the 2008 primary was entirely non-binding and inconsequential.
The following are links to back up each of the footnotes in the above chart.
1.) Idaho process:

2.) 2008 Iowa turnout and 2016 Iowa turnout:

3.) 2008 Maine turnout, and 2016 Maine turnout: 

4.) Both 2008 and 2016 Nevada turnout: 

5.) Washington state 2008 and 2016:

ALSO — NOTE: Wyoming, in 2016, had about 7,000 voters show up per a Tribune News Service report.
This is the third in a multi-part series in Breitbart News' election metadata analysis. The first examined a massive spike in GOP primary turnout in 2016. The second walked through how Mitt Romney, in 2012's GOP primary, received about 2 million less votes in states that have already voted than 2016 GOP presidential frontrunner Donald Trump.
Hear an interview about this story with SiriusXM host Stephen K. Bannon on Breitbart News Daily: