RALEIGH, North Carolina — North Carolina State football tailgaters flocked to Republican vice presidential nominee Gov. Mike Pence and North Carolina Gov. Pat McCrory ahead of the college football game on Saturday, some clad in Make America Great Again regalia.
North Carolina State student Ben Simons told Breitbart News that he is "Trump's number one fan" and has everything Donald Trump, referring to Pence's running mate Republican presidential nominee Donald Trump. Simons is a fifth year student who will graduate in May and had Pence sign a Make America Great Again foam finger.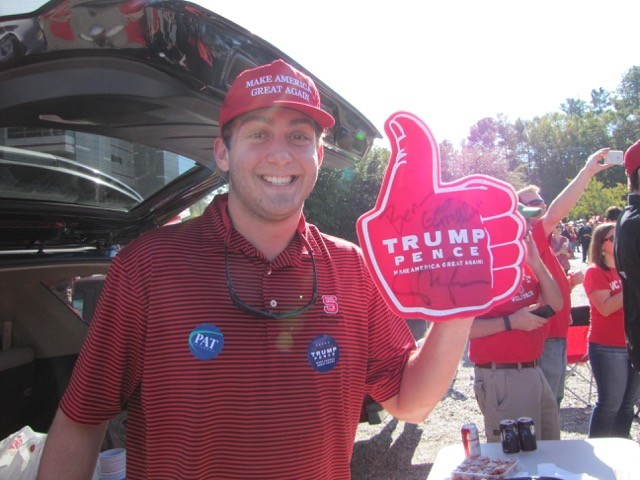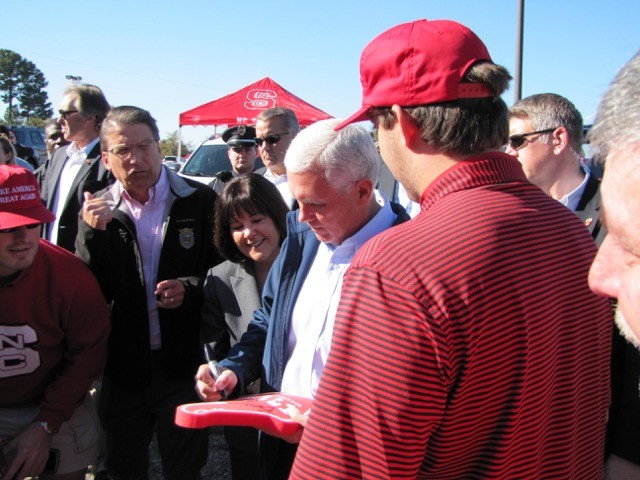 "I hate Hillary Clinton," Simons said of the Democratic presidential nominee.
"He speaks his mind, he says what he wants. He really does care about America. A lot of people give him a hard time about not liking America, but he loves America," said Simons. "I just love everything he stands for."
"He doesn't have to do this, he's got billions, but he still cares. So I really hope he does win," said the North Carolina State student.
A military service member offered Pence a challenge coin from his unit. Pence's son is a U.S. Marine. The service member said that challenge coins are given as a thank you for someone who does good things – when a unit commander gives someone a challenge coin it's a sign of respect.
Pence shook hands with a host of people packed around Pence and McCrory. Families, children, students and North Carolinians crowded in to get photos, have the Republican vice presidential nominee sign hats and other items and shake hands.
Gov. @mike_pence shaking hands with tailgaters at North Carolina State vs Boston College game #MAGA @NCState pic.twitter.com/TOmuj0P9PL

— Michelle Moons (@MichelleDiana) October 29, 2016
One young boy could be heard exclaiming, "This is not cool, it's amazing!"
Several families, students and other tailgaters got pictures with Gov. Pence and Gov. McCrory.
Gov. @mike_pence at @NCState v @BostonCollege game in North Carolina #MAGA one young boy says, "this is not cool, it's amazing!" pic.twitter.com/XV6tT09ERP

— Michelle Moons (@MichelleDiana) October 29, 2016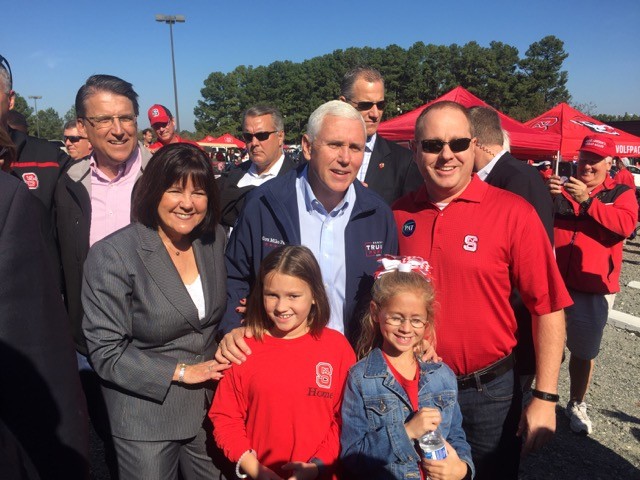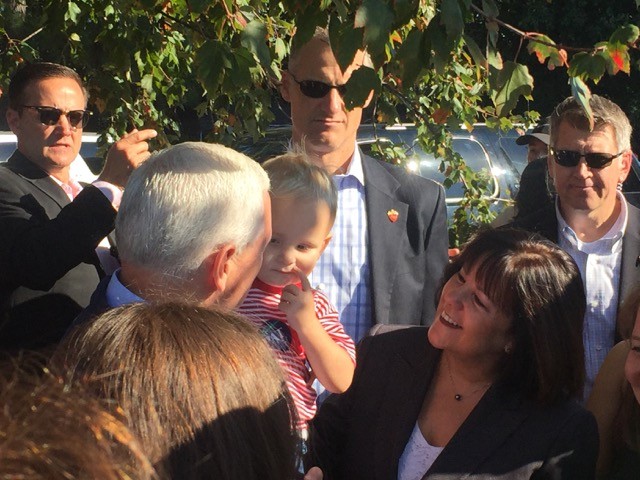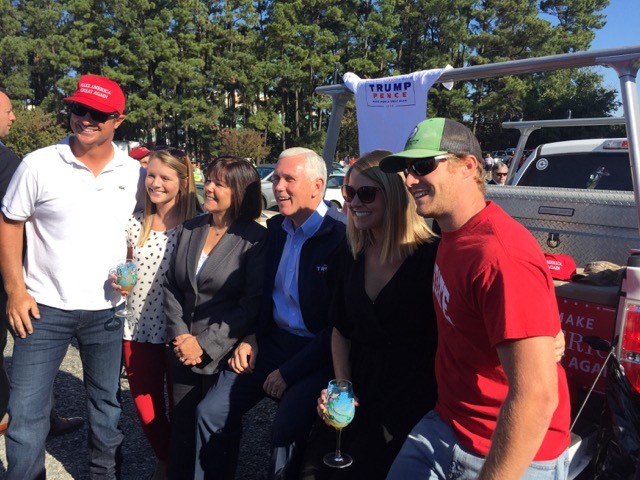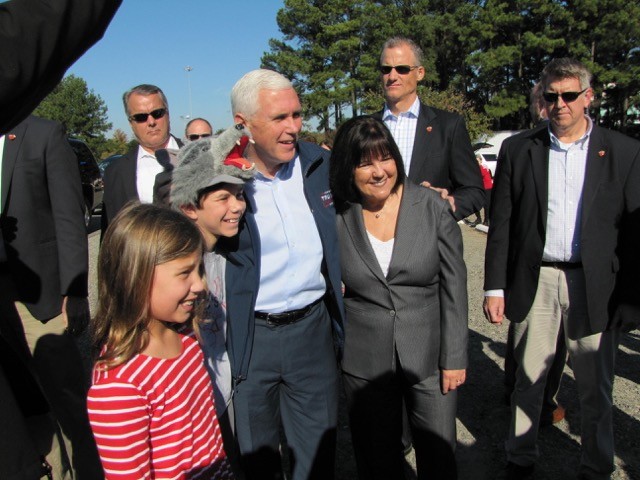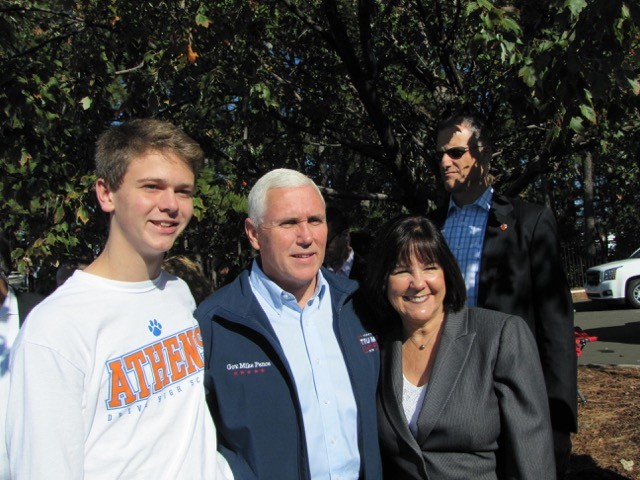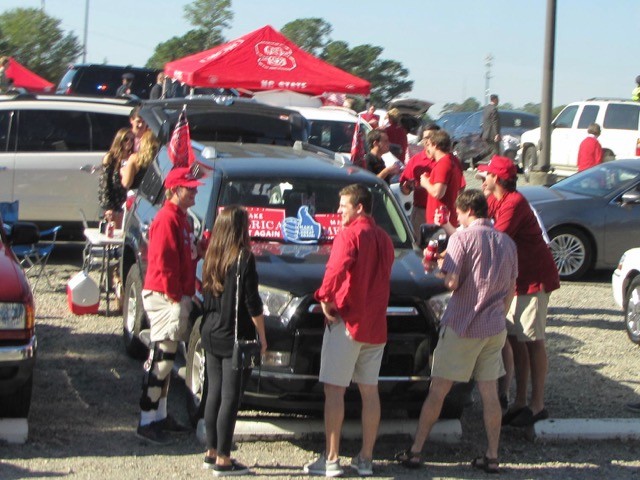 Actor Will Ferrell was at the same football game advocating for Democratic presidential nominee Hillary Clinton.
Follow Michelle Moons on Twitter @MichelleDiana