As liberals react in horror over Trump Attorney General Jeff Sessions' decision to ask for the resignation of 46 Obama-appointed U.S. Attorneys, an inconvenient fact has also surfaced. Jeff Sessions himself was fired by a newly elected president in 1993 when Bill Clinton won his first term in office.
The Department of Justice announced on Friday that U.S. Attorney General Jeff Sessions asked for the resignation of 46 U.S. Attorneys who were appointed during President Barack Obama's regime.
The Attorney General's actions are not uncommon. Many past presidents and their AGs have asked for the resignations of U.S. attorneys they were tasked with overseeing. In 2006 George W. Bush was attacked by liberals for firing seven U.S. attorneys. He was hardly the first. Both Jimmy Carter and Ronald Reagan fired a list of attorneys when they came to office. President Obama also cleaned house but at a slower pace, replacing many of the 94 U.S. attorneys one at a time instead of starting with a mass firing.
Despite the long list of past presidents who also fired U.S. attorneys, as they are legally allowed to do, CNN criticized the firing, reporting an unnamed source saying, "This could not have been handled any worse."
Upon the announcement, liberals took to Twitter to complain about the Attorney General's actions.
One liberal even tried to blame Sean Hannity for the AG's actions.
Firing of 46 US Attorneys by Sessions occurred day after Sean Hannity called for "purge" of Obama appointees https://t.co/LsVDpfYun5 pic.twitter.com/DaKpPFFydk

— Ari Berman (@AriBerman) March 10, 2017
But along with all the complaints, others noted that Sessions himself faced the exact same situation when President Bill Clinton entered the White House. After being appointed the U.S. Attorney for the Southern District of Alabama by President Ronald Reagan and serving through President George H.W. Bush, Sessions was also fired by an incoming president in 1993.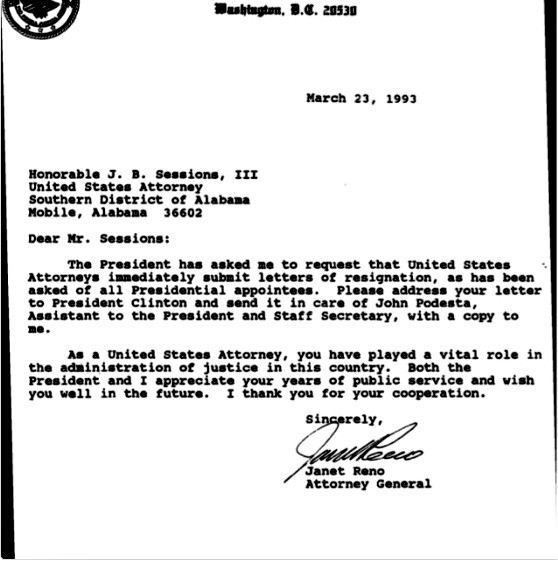 Follow Warner Todd Huston on Twitter @warnerthuston or email the author at igcolonel@hotmail.com.