To protest Milo Yiannopoulos' October 18 speaking event at Clemson University, a professor and a number of Left-leaning students and their respective organizations created the "Anti-Milo Event Committee" to plan a demonstration against the conservative speaker, according to audio recordings gathered undercover. 
I spent several weeks infiltrating the group of activists, a combination of left-wing Clemson professors and activists from Students for a Democratic Society (SDS). Students were caught on tape referring to Milo as "someone I would like to punch in the throat."
The event falls on Milo's birthday, which he has designated "World Patriarchy Day," illustrated with pictures of Harambe, the gorilla whose image Clemson administrators recently deemed too "racially charged" to appear on campus. 
My undercover audio evidence suggests that SDS is primarily working with Clemson professor Chenjari Kumanyika and graduate student A.D. Carson, the leader of the university's Black Lives Matter affiliate "See The Stripes." Other organizations that were contacted to join the protest include Clemson's Feminist Club and LGBT club "SAGA."
The Clemson chapter of SDS is composed of a small group of students and philosophy professor Todd May, who attends the club's meetings.
Per audio evidence of a September 29 chapter meeting, Clemson SDS president Dawn Lifsey said, "We're going to have an event planning committee that's just going to organize around the Milo thing… so we can work together with club, Chenj and A.D." 
Lifsey has stated that Yiannopoulos sounded like "someone I want to punch in the throat" and referred to the conservative celebrity as a Nazi. While also adding that she considered stealing the Yiannopoulos event posters and planned on vandalizing some of the flyers around campus, "I'm gonna' throw paint all over [the event flyer] or something."
Lifsey has also tweeted in response to the scheduling of the Clemson speaking event, "If somebody put a bullet in Milo's head I would donate to that person's bail fund."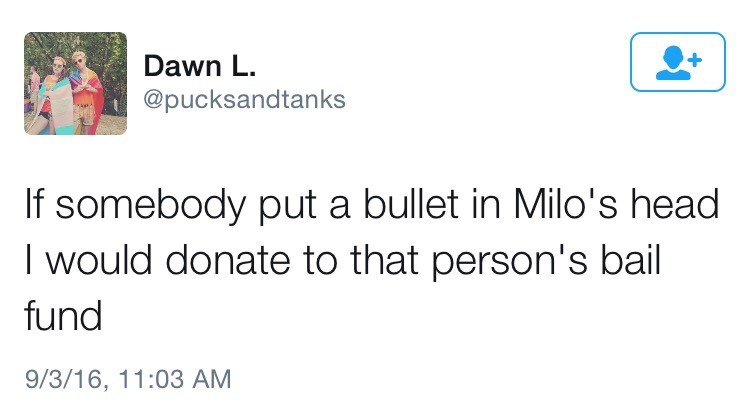 On the audio recording of the meeting, individuals can be heard mocking free speech, stating, "I know why Clemson is allowing [the Yiannopoulos' event], because 'freeze peach!'"
Kumanyika, the professor helping with the protest plans, is an outspoken Black Lives Matter activist and has been heavily involved in campus politics and controversies. He publicly criticized Clemson football coach Dabo Swinney in a viral article after the coach commented on Colin Kaepernick's national anthem protest. Kumanyika was also thrown out of a Donald Trump Clemson campaign rally for disruption.