The city of Baltimore is looking to sports to salve the wounds the city suffered from the riots following the funeral of Freddie Gray. On Monday, the Orioles will play their first home game in front of their fans since April 26.
The team postponed two games and held a third sans fans following the riots. A hundred or so spectators glimpsed segments of the win's action through locked gates. Major League Baseball then transferred the three home games scheduled for May 1-3 to St. Petersburg, Florida. Monday night's game against Toronto will offer Orioles fans a chance to cheer for their defending American League East champions once again as the team opens a nine-game homestand.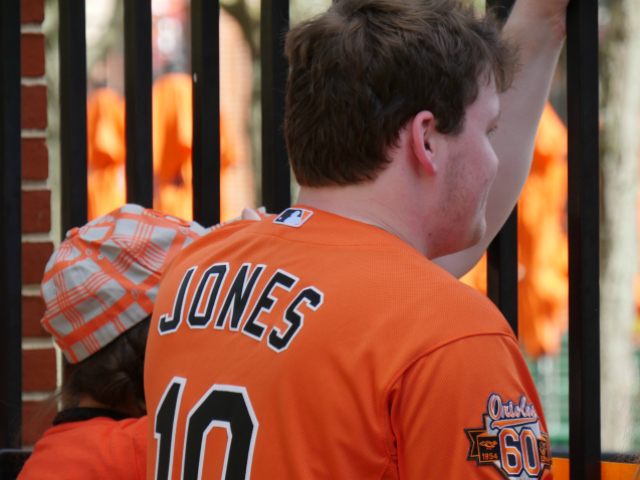 Greg Bader, vice president of marketing and communications for the Orioles, said, "We certainly recognize the role that we play in the community, and hope we would always be seen as a unifying experience."
Over the weekend, as the Orioles played against the Yankees in New York, first baseman Chris Davis commented on the schedule changes the team made responding to the riots, saying, "It's an unfortunate situation, but we're trying to make the best of it," adding that he though returning home might help the city heal: "I think it's something that will kind of help remedy what's been going on there. Being back and giving the fans an opportunity to see us play, and play some good baseball, will hopefully kind of revive their spirits."
In addition to the return of the Orioles, Preakness Week starts Monday, as the town gears up for the second leg of horse racing's Triple Crown on Saturday at Pimlico Race Course.
Despite the upbeat nature of the week, concern still exists that the protesters causing the riots might use the sporting events as a venue for more violence. Hall of Fame trainer D. Wayne Lukas confessed, "The thing that would worry me a little bit is the Preakness will be the showcase event for Baltimore, so let's hope (violent protesters) don't use that as an avenue to further their causes – whatever they may be."
Although Capt. J. Eric Kowalczyk, a spokesman for the Baltimore Police Department said he did not know of any upcoming demonstrations, Lukas may have reason for concern. The Rev. Jamal Bryant, who was heavily involved in the protests after Gray's arrest, insinuated that more protests may occur, blustering, "Don't be afraid of the protesters, be afraid of the police. The police have more instances of excessive force against citizens than the protesters do." To add fuel to the fire, last Wednesday Baltimore Mayor Stephanie Rawlings-Blake, in asking the DOJ to conduct a full-scale civil rights investigation into the Baltimore Police department, intoned, "We all know that Baltimore continues to have a fractured relationship between the police and the community."
Both the Preakness and the Orioles are preparing for the worst. Salvatore Sinatra, general manager of the Maryland Jockey Club, said, "We're paying attention to it. We've talked with our help and the police. We're going to have the armed services here, Homeland Security. We're going to make sure our fans are safe. I don't anticipate any problems." Bader echoed that the team has been cooperating with "all necessary state and local officials to ensure a safe and secure environment for all fans."
Orioles manager Buck Showalter expressed relief that normalcy might be returning, saying, "I think everybody's anxiously looking forward to getting back and getting on the field and getting back to the city, without a doubt for the right reasons," but refused to condemn any incipient protests, asserting." I want them to feel what they feel, not what we think they should or shouldn't. Nobody's been in their shoes. So you just want to be a positive force in people's lives."