A court order in an insurance case involving Penn State University includes a claim that the late Nittany Lions head coach Joe Paterno heard allegations of his assistant Jerry Sandusky's molestation of children in 1976.
PennLive reports that the court noted that an insurer of Penn State maintains that "in 1976, a child allegedly reported to PSU's Head Coach Joseph Paterno that he (the child) was sexually molested by Sandusky."
The order additionally mentions incidents involving Sandusky and children allegedly witnessed by members of the coaching staff in 1987 and 1988.
Sandusky served as an assistant under Paterno in 1966 and from 1969 to 1999. His role as defensive coordinator helped the Nittany Lions win two national championships, and his celebrity became so large, even as an assistant coach, that he authored several books and enjoyed a post-victory water-jug bath in his last game traditionally reserved for the head coach. After a 2011 arrest, Sandusky received a guilty verdict on dozens of molestation charges. A Pennsylvania court currently considers an appeal of the 72-year-old's convictions.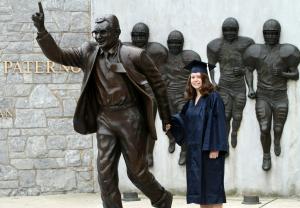 Penn State fired an 84-year-old Paterno midseason in 2011 as a result of charges of mishandling the case despite the veteran coach's state decision to retire after the last game of the year's campaign. The coach died months after his firing. The NCAA subsequently erased more than 100 Paterno victories, which no longer made him the winningest coach in college football history, and the school removed a statue celebrating him. But more recent reassessments resulted in a restoration of the wins, the statue, and the reputation. The allegation included in the current dispute, made by an insurer looking to avoid paying costs associated with the school settling lawsuits with Sandusky victims, threatens to inspire yet another public reassessment of Paterno.
"An allegation now about an alleged event 40 years ago, as represented by a single line in a court document regarding an insurance issue, with no corroborating evidence, does not change the facts," Paterno family lawyer Wick Sollers contends. "Joe Paterno did not, at any time, cover up conduct by Jerry Sandusky."