One racing legend replaces another for the next two weeks.
Jeff Gordon officially agreed to come out of retirement to race Dale Earnhardt Jr.'s vehicle as the driver normally behind the #88 car recovers from a concussion. Earnhardt still experiences nausea and balance issues after crashes in July and June. Gordon substitutes for Earnhardt at the Indianapolis Motor Speedway on Sunday and at Pocono Raceway a week later.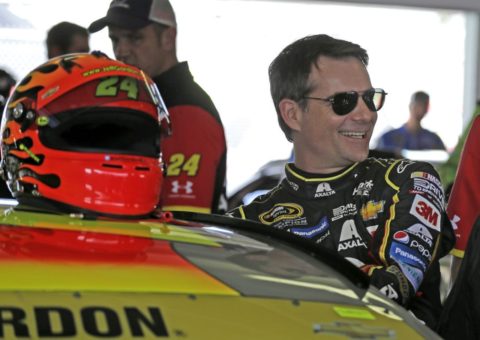 "Our focus is giving Dale all the time he needs to recover," Rick Hendrick, owner of Hendrick Motorsports, said on his racing team's website. "There's nothing we want more than to see him back in the race car, but we'll continue to listen to the doctors and follow their lead. What's best for Dale is what's best for Hendrick Motorsports and everyone involved with the team. We're all proud of him and looking forward to having him racing soon."
Hendrick called Gordon as the retired driver vacationed in France. The Rainbow Warrior explained that he planned an appearance at the Indianapolis race. Hendrick told him to bring his uniform. Gordon initially believed Hendrick jested.
A rival of Earnhardt's late father and of the stock-car racing dauphin, Gordon won the Sprint Cup Series Championship in 1995, 1997, 1998, and 2001 back when the government permitted NASCAR to call it the Winston Cup.
Gordon enjoys a business relationship with Rick Hendrick and raced for his team before retiring last year. Despite the layoff, #24 (is the new #88) enjoys some advantages over the competition. He owns five Brickyard 400 victories at Indianapolis and boasts six career wins at Pocono Raceway.