Most men have some familiarity with the saying "happy wife, happy life," and Tom Brady apparently has familiarity with it as well.
While many speculated over the "personal family matters" which caused Tom Brady to not attend the Patriots White House victory celebration on Wednesday, a tweet from Brady's wife, Giselle Bundchen, may have the answer.
On the day the Patriots met with President Trump, without Brady, Bundchen tweeted out a link to an upcoming protest against Trump's environmental policies: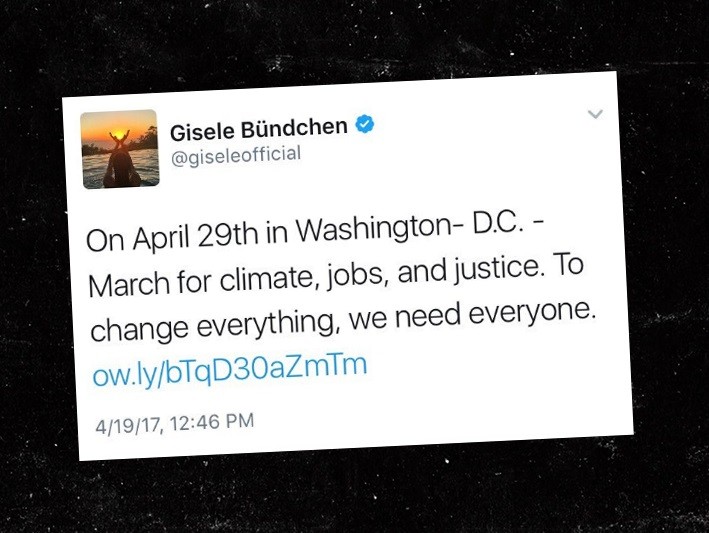 The link extends to a video promoting the "People's Climate March," a protest not coincidentally set to take place on Trump's 100th day in office.
While Brady openly called Trump a friend during the campaign, and famously kept a "Make America Great Again" hat in his locker, Gisele made it clear that she seemed to feel America was just fine without Trump.
Wednesday's tweet from Gisele strongly suggests that the Brazilian supermodel put significant pressure on Brady to miss the White House visit for political reasons.
According to The Hill, "Bündchen has supported many environmental causes throughout her career. In 2008, she began a project called "Forest of the Future" to begin replanting the Brazilian rainforest, and in 2011, the International Green Awards named her its most environmentally friendly celebrity."
It's important to note that Brady never actually said he would vote for Trump. When asked about his voting preferences during the election, the Super Bowl MVP said: "Obviously there's a lot of headlines to make, and I've tried not to make a lot of headlines."
Oops.
Follow Dylan Gwinn on Twitter: @themightygwinn