Online left-wing activist group Sleeping Giants, which made a name for itself by trying to demonetize Breitbart News by orchestrating campaigns of harassment against advertisers, has for the last two years repeatedly insisted that their efforts are not political. Recent activity, such as the activist group endorsing candidates in the upcoming midterm elections, demonstrates unequivocally that they are liars.
In an interview with GQ in March of 2018 (prior to Matt Rivitz identity being revealed as a founder of Sleeping Giants), an anonymous "Sleeping Giants" member once again downplayed explicitly political motivations, saying that Sleeping Giants rejects the criticism from some organizations that "This is just a political thing."
More recently, Rivitz repeatedly insisted that his organization was not especially political–but was instead about fighting "hate."
A New York Times report about Rivitz and Sleeping Giants published in July indicates that Rivitz sees Sleeping Giants "as an apolitical crusade against hate speech."
In September, Rivitz once again said that the silencing was not political. "A lot of the Breitbarts of the world, they can claim that they're being silenced because they're on the right. But they're being thrown off a lot of these platforms because they're being super racist. To me, if they want to conflate those two things, then let them do that," he told Recode.
Sleeping Giants is not being honest. They were formed on or about November 16, 2016, in direct response to Republican success in the 2016 election. They have also recently begun targeting Fox News star Tucker Carlson.
In fact, the left-wing activist group only goes after politically-conservative targets. And, on September 17th, 2018, they published the following clearly-political tweet: "We don't wade into political races really, but this one matters. Steve King is a fucking racist. Donate and support @Scholten4Iowa."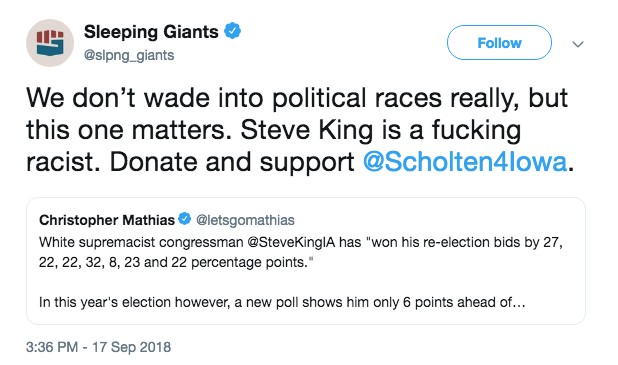 Despite evidence to the contrary, Sleeping Giants continues to insist the group is not politically motivated.