The Resurgent, a blog run by "Never Trump" pundit Erick Erickson, has published its first hit piece on Deep State cheerleader Evan McMullin, ending a nearly 3/4-year bromance between Erickson and the failed spoiler candidate in 2016's presidential election.
Watch the evolution of The Resurgent's McMullin coverage in 10 headlines from the site too conservative to support Donald Trump in his ultimately successful fight against Hillary Clinton: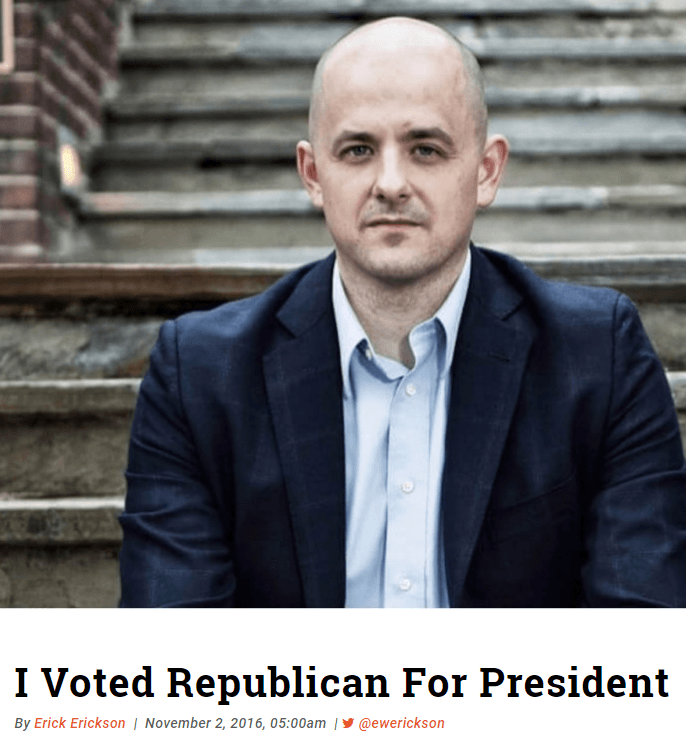 The latest article, by blogger Chris Queen, attacks McMullin — who the author voted for — after he took yet another shot at President Trump based on a conspiracy theory that the Commander-in-Chief is subservient to Russian President Vladimir Putin.
From The Resurgent:
I voted for Evan McMullin in 2016. I couldn't bring myself to vote for Donald Trump, especially when I was confident that Hillary Clinton wouldn't take Georgia. I desperately wanted to vote for Austin Petersen as a Libertarian, but that party went with Gary Johnson instead. So I felt like my only choice was Evan McMullin was the only candidate I could stand behind, and I wrote him in.

…

Since the election, McMullin's message has become somewhat of a more nuanced version of the eight-year-old's argument: "Donald Trump's a jerk." Unlike so many conservatives who are at least willing to give Trump the benefit of the doubt and call balls and strikes when necessary, McMullin is operating from a hardline Never Trump stance.

Late Tuesday night, McMullin quote-tweeted a tweet from the president, adding a comment that should make conservatives recoil in horror.
Read the rest of the story here.