Former Dallas Cowboy and current free agent defensive end Greg Hardy sat down for a one-on-one interview with ESPN's Adam Schefter, denying accusations of domestic violence committed against his former girlfriend Nicole Holder in 2014.
In the interview, which aired Tuesday on ESPN2's "NFL Live," Hardy said he was raised to never hit women.
"I've never put my hand on any women," Hardy said. "In my whole entire life no, sir. That's just not how we're raised."
Hardy was found guilty by a judge for assaulting Holder and threatening to kill her, but he appealed for a jury trial. The case was later thrown out when Holder was a no-show to the appeal case.
Deadspin posted pictures of Holder's back after she was thrown against a bathtub wall, tossed on a futon covered in guns and choked.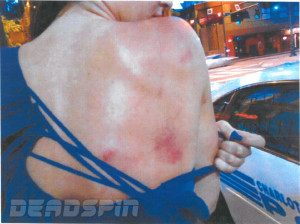 Partial interview transcript as follows:
SCHEFTER: "You say you did nothing wrong, you're innocent and yet the pictures of her that surfaced would seem to suggest a woman who had some type of physical contact. How do you explain that?"

HARDY: "I will stop you there and say that I didn't say that I didn't do anything wrong. That situation occurred and that situation was handled but … saying that I did nothing wrong is a stretch but saying I am innocent is correct. Yes sir."
Follow Trent Baker on Twitter @MagnifiTrent