Texas is sending fifty-two new Department of Public Safety troopers to the Texas/Mexico border region. The new troopers are part of the State's efforts to beef up border security by providing more permanent law enforcement resources along the border region.
The new troopers graduated Friday from an accelerated eight-week training program that was previously reported by Breitbart Texas. The "Advanced Commissioned Trooper Trainee School" is designed to take individuals who are already certified police officers and move them through the accelerated training program. The normal training program for new troopers with no previous law enforcement experience is twenty weeks.
The program is part of Texas Governor Greg Abbott's plan to add 500 new troopers to the DPS over the next few years. "We cannot be naïve to the threat posed by drug cartels, transnational gangs and human smuggling and traffic operations," Abbott affirmed in his February State of the State Address. "In the face of such evil, we cannot respond with apathy, but resolve."
The graduation's keynote speech was delivered by Texas State Representative Richard Raymond (D-Laredo), according to a DPS press release obtained by Breitbart Texas. Raymond serves as chair of the House Human Services Committee and is a member of the House Judiciary and Civil Jurisprudence Committee.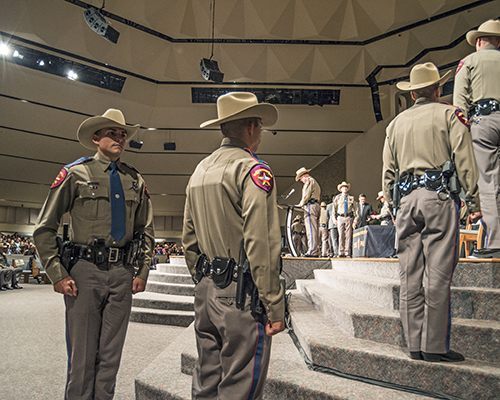 "These exceptional recruits – and former peace officers in their own communities – have courageously answered the call of duty not once but twice; and they have stood up to the extraordinary challenge of becoming Texas Highway Patrol Troopers. Texas truly appreciates their unwavering commitment to protect and serve others, and we are proud to have them serving this great state."
Many of these new troopers will be headed into Raymond's border district.
"Before today, each of you was an established peace officer in your own right, having already made the selfless commitment to serve and protect your communities, and today the Department of Public Safety is pleased to now call you Texas Highway Patrol Troopers," Texas Public Safety Commission Chair Cynthia Leon told the new troopers. "Welcome to the DPS family, and I wish you all the best as you continue this incredible journey."
"Whether at the local, state or federal level, we are all law enforcement brethren working toward the same goal of keeping our communities safe; and DPS recognizes and deeply values the essential expertise and training you received as peace officers before joining this department," DPS Director, Colonel Steve McCraw said. "Each of you is a highly qualified professional, and DPS is grateful for your continued commitment to protecting this great state."
The DPS is now looking for applicants for academy classes that are scheduled to begin in January and March. For more information on how to apply, visit www.joindps.com.
These new DPS troopers will now begin field training in Regions 3 and 4. These regions include the entire length of the Texas/Mexico border.
Bob Price is a senior political news contributor for Breitbart Texas and a member of the original Breitbart Texas team. Follow him on Twitter @BobPriceBBTX and on Facebook.