Editor's Note: Breitbart Texas traveled to the Mexican States of Tamaulipas and Coahuila to recruit citizen journalists willing to risk their lives and expose the cartels silencing their communities.  The writers would face certain death at the hands of the various cartels that operate in those areas including the Gulf Cartel and Los Zetas if a pseudonym were not used. Breitbart Texas' Cartel Chronicles are published in both English and in their original Spanish. This article was written by "A. C. Del Angel" from Reynosa. 
REYNOSA, Tamaulipas — Cartel gunmen in this border city have been carrying out a series of attacks on state police officers. The ongoing attacks have already killed one police officer, while spreading terror and chaos throughout the city.
The attacks began on Sunday, when as Breitbart Texas previously reported, cartel gunmen tried to ambush a police convoy. Tamaulipas police officer Rodolfo Montes died from the gunshot wounds he sustained during the firefight. His fellow officers chased the cartel gunmen throughout the city. The chase caused chaos when lookouts from the Gulf Cartel began setting off a series of roadblocks in an effort to slow down authorities.
Mexican marines and cartel gunmen clashed in the Casa Bella Neighborhood soon after the gunbattle. The military used a Blackhawk helicopter to provide air support to the troops on the ground during the operation.
Rather than slow down, the violence against police officers has only increased this week. The most recent series of gun battles took place on Wednesday when a group of police officers with the Fuerza Tamaulipas task-force were patrolling the Juarez neighborhood. A group of cartel gunmen tried to ambush them and injured one police officer in the process. The gunmen managed to elude capture.
Also on Wednesday afternoon, a group of cartel gunmen tried to ambush a convoy of state police officers in the  border city of Ciudad Mier. It remains unclear if there were any injuries of casualties in the attack.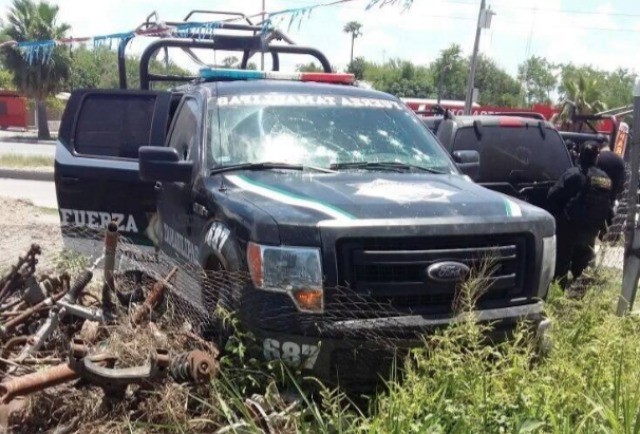 A new series of clashes took place on Wednesday night in the Jarachinas neighborhood where cartel gunmen and authorities clashed. As authorities responded to the area, a Mexican military helicopter flew overhead in an effort to dissuade cartel gunmen from rushing to the area to back up their fellow gunmen.
Three cartel SUV's fled the area while authorities seized two others that the gunmen abandoned. Authorities set up a roadblock/checkpoint along one of the main avenues of the city in an effort to track the gunmen. The move disrupted traffic for the average citizens in the area. Military personnel spread out into the nearby neighborhoods as they searched for the gunmen. Throughout the city streets, cartel lookouts once again placed hundreds of road spikes in an effort to slow down authorities.