FALFURRIAS, Texas — Border Patrol agents continue to find vehicles with dozens of illegal immigrants stuffed inside tractor trailers as human smugglers continue their efforts to evade federal authorities.
In three days, U.S. Border Patrol agents have found 40 illegal immigrants stuffed inside trucks. In the most recent case, agents found 14 illegal immigrants who had been stuffed inside a tractor trailer filled with onions.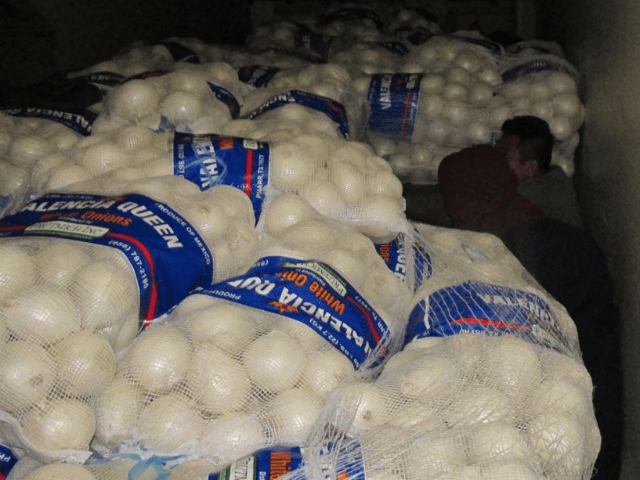 The detention took place Tuesday night at the Falfurrias Border Patrol checkpoint approximately 80 miles north from the Texas border. The checkpoint presents the last barrier for human and drug smugglers looking for a way into northern cities.
According to information provided to Breitbart Texas by Border Patrol's Rio Grande Valley Sector, on Tuesday evening, agents encountered a driver and a passenger from El Salvador who were moving a shipment of onions.The two men were legal permanent residents. A Border Patrol K-9 alerted authorities to the trailer where agents found the 14 immigrants stuffed among pallets of onions.
One day prior, Border Patrol agents in Falfurrias arrested Francisco Armando Cerda, a commercial truck driver who had 26 illegal immigrants stuffed inside the cabin of his truck. Court documents obtained by Breitbart Texas revealed that in addition to the illegal immigrants, agents also found close to 120 pounds of crystal methamphetamine hidden.
On Sunday, agents had a similar encounter when they arrested commercial truck driver Sammy Garcia. Court records obtained by Breitbart Texas revealed that Garcia appeared nervous at the time he pulled up to the inspection station in Falfurrias. The man's nervousness and certain inconsistencies in Garcia's story prompted agents to take a close look at his truck. An X-ray of the vehicle revealed that five illegal immigrants had been hiding inside. The illegal immigrants were from Colombia, El Salvador, Mexico and and Guatemala.
Ildefonso Ortiz is an award winning journalist with Breitbart Texas. He co-founded the Cartel Chronicles project and you can follow him on Twitter and on Facebook.